Management Apprenticeships deliver better managers across the nation. They play an essential role in developing the high skill, high wage economy that the UK wants and needs, but their future is uncertain.
If you feel as strongly as we do, act with us and share your story.
Apprenticeships that Develop World Class Managers
CMI knows that management apprenticeships, particularly higher level degree apprenticeships like the CMDA, are a vital lever to drive personal development and national productivity.
But what's really exciting is how management apprenticeships are driving social mobility and diversity, and ultimately reshaping the face of the future of management in the UK.
Management Degree Apprenticeships are at Risk
The Education Secretary, Gavin Williamson MP, has asked Jennifer Coupland, CEO of the Institute for Apprenticeships and Technical Education (IfATE), to review the level 7 Senior Leader Master's Degree Apprenticeship (SLMDA) standard, to ensure it is meeting its intended aims and providing value for money. He has asked the IfATE to report back by 1st June with its findings. Management degree apprenticeships are a policy innovation that the government should be proud of. Revoking the level 7 standard will be counterproductive to the Government's agenda to boost prosperity, raise productivity and 'level up' the UK. That's why we're calling on everyone who believes in the value of management degree apprenticeships to join our campaign and become a vocal champion of the SLMDA.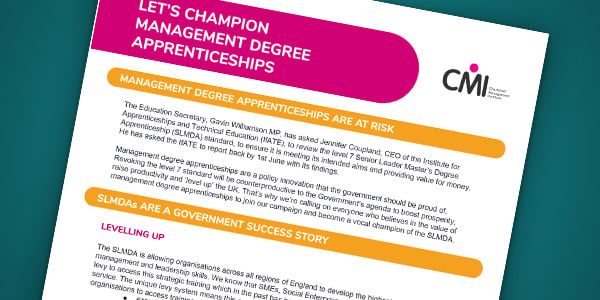 Tell your story
CMI works day in and day out with inspirational leaders - those who have overcome barriers; those who have made a real difference to their business, their organisation and their community - that's why we know that management apprenticeships work.
We need your help to take this message to Parliament. We want to help policy-makers understand the transformative effects that your management apprenticeship has had on your life, so that these opportunities continue to be available for the next generation.
So this year, we're encouraging you to write to your local MP to tell them your story. Tell them what your apprenticeship means to you, what it's helped you achieve, and how its changed the way you look at your job.
And if you're an employer who has seen first-hand the impact that management apprentices can have? Tell your MP that you're a local apprenticeship champion who wants other businesses in the constituency to feel the benefits.
Invite others to help
Share the campaign to spread the good news about management apprenticeships.
#ApprenticeManager