A collection of diverse, ambitious and emerging leaders who want to inspire and influence the world around them.
Thank you for joining us at Future Leaders Fest 2019! Let's work together to make real change for the future by holding onto the stories we've heard and connections we've made.
Didn't make it to an event? We've got you covered! Download our free Career Kick-Starter Toolkit with practical advice and tips from the week. You can also catch up on highlights from 2019 below.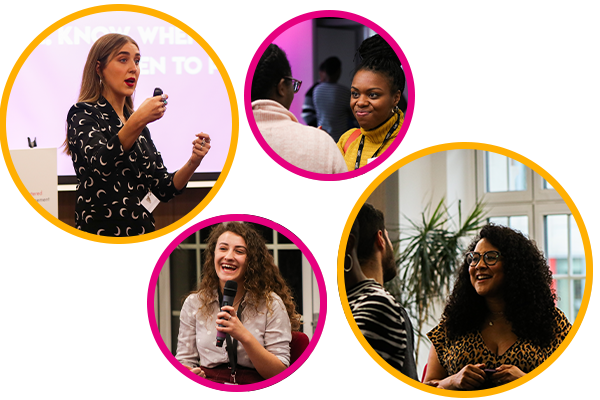 Catch up
We've gathered some of your burning questions from Future Leaders Festival 2019 and asked some of our CMI community to provide hints and tips to help you build your career. Did you catch our live stream event? We spoke with experts from the CMI community on how the future of workplaces will look and their responses to feedback on issues including sustainability and how prepared we are for the 'fourth industrial revolution.'
Still got questions? Check out our Future Leaders Blog for more insight!
View all posts
Future Leaders Festival
Radical Workplaces. The Future of work.
Did you watch our live stream event?
Catch up now
Future Leaders Festival 2019 Roundup
Future Leaders Fest 2019 brought together a group of bold and ambitious individuals to hear inspiring voices such as political activist and writer, Gina Martin, and authors of the bestselling book, Slay in Your Lane, Yomi Adegoke and Elizabeth Uviebinene. These influencers brought this year's Disruptive Leadership theme to life by sharing what the future of leadership looks like to them.
We also had an amazing time at locations across the country, including an evening of pizza and networking at The Innovation Hub in Leicester, and an interactive workshop in Bristol on how to make an impact in an ever changing world. Students had access to creative organisations such as Buzzfeed and WhiteHat, as well as the opportunity to explore topics with Middlesex University's People Leader's Network.
Don't miss out on the Future Leaders community!
Future Leaders is CMI's membership community for young people - a group of diverse, ambitious and emerging professionals who are proactively looking to get ahead in their career. Join us via our social channels below to get all the recent updates; content; news and events.