Four A's for future leaders
---
The Four A's for future leaders Campus CMI and Study Flex event was held on Tuesday 15th December at our CMI office in London with over 60 delegates attending.
---
CMI and StudyFlex have worked together for a number of years, with StudyFlex being one of the main providers of the Campus CMI qualifications, which are delivered for 14 -18 year olds.
The main purpose of the event was to celebrate the success of all students receiving a Campus CMI qualification and inspire those who are about to undertake one, as well as the opportunity to meet new people, inspire others and also meet a Gold Medal Olympian.
The event also gave the young people attending the opportunity to contribute to one of CMI's new research reports working with the EY Foundation, through sharing of experience in education and what is needed to move them towards a career as a professional manager.
Working in groups, they looked at the four 'A's' for future leaders, which enabled them to take away new ideas that would help with developing their future employability.
Aspirations and ambitions
Apprehensions
Attitudes
Apprenticeships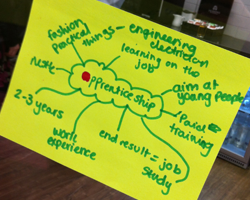 ---
Thank you to everyone who took part and made it such a successful day.
Special thanks to David Hemery for sharing insights into what it takes to win a gold medal and how everyone can make the most of their talent.