The secrets of symbiotic innovation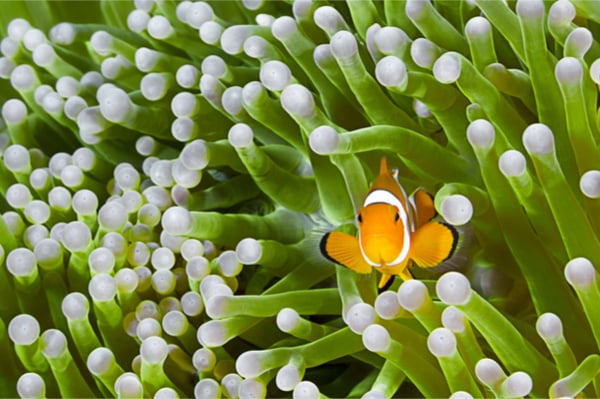 A special magic can happen when large and small companies work together. Here's how to spark the fire of true collaboration
Stuart Rock
When the John Lewis Partnership announced the launch of JLAB in 2014, it was a curious novelty. Termed a 'corporate accelerator', the concept was to fast-track the growth of promising young retail technology companies.
Through a competitive pitching process, the JLAB programme would give start-ups access to John Lewis's resources and know-how, as well as hold out the juicy prospect of the retailer becoming an equity investor.
John Lewis has just embarked on its fourth year of the JLAB programme. This year it includes its grocery business, Waitrose, for the first time. The chosen start-ups will be 'embedded' for 12 weeks, receiving support from senior-level mentors, and free workspace in John Lewis's head office in Victoria and Waitrose's head office in Bracknell.
The finalists will have access to a 'microfund' of up to £200,000.
John Lewis's partner on the development of this programme was innovation consultancy L Marks, itself the creation of serial entrepreneur Stuart Marks. He started the venture in 2012 with the intention of creating partnerships between large companies struggling to innovate and small, young companies fizzing with ideas but struggling to find a route to market.
L Marks turns out to have been a fizzingly good idea itself.
It is helping to run similar accelerator schemes for companies including BMW, IAG (BA's parent company), distribution giant Wincanton and hedge fund Winton Capital.
It's not just working with large corporates: one partnership is HouseMark Evolve, which offers support to start-ups looking to break into the social housing market.
What was a novelty has become a rage. According to innovation foundation Nesta, more than half of the 163 accelerators on its database are currently funded by corporates.
"The increased corporate interest in accelerators is one of the key factors that have driven the rapid growth of such programmes in recent years," it notes in its new report on the sector for the Department for Business, Energy & Industrial Strategy.
What's driving this?
Corporates are setting up or investing in accelerators to solve business problems more quickly, to access new capabilities and channels, to refresh their corporate culture, and to create attractive brands.
"There is huge potential and genuine benefit in collaboration, as corporations struggle to innovate," says Dr Chris Haley, executive director of policy and research at Nesta, and co-author of the recent report. "The ability to collaborate speedily and effectively with an organisation that is very different to your own is a real source of competitive advantage."
Innovation isn't the only area for imaginative collaboration between corporations and SMEs. There is scope for much closer collaboration in the field of training and skills too.
In recent years, BAE Systems has been working closely with companies in its supply chain to build up the smaller companies' skills base.
"It's absolutely crucial for BAE to have small and medium-sized companies that are strong and resilient for the future," says Richard Hamer, education director and head of early career programmes at BAE Systems. "For every person we employ, the supply chain employs three.
"If our supply chain has got problems, we have got problems. If we can help them get the skills they require and successful apprenticeship programmes, it is a mitigation of risk for us."
One scheme, funded under the old Employer Ownership of Skills project, whereby BAE made available its capacity, resources and expertise to deliver 'over-training' for apprentices in companies in its supply chain, was very successful, Hamer says.
High levels of course completions, along with positive feedback from employers and apprentices alike, all indicated that it was a successful and productive initiative.
The introduction of the Apprenticeship Levy means that there is currently a hiatus in this form of collaboration. There are restrictions on the use of the first-year funding from the Apprenticeship Levy but thereafter Hamer is hopeful that it will be possible to provide 10% on top that can be focused on the supply chain.
"We take on 600 apprentices annually ourselves," he says. "We need to do the maths and look at the contracting model, and our supply chain would need to be happy with it, but covering 50 or so apprentices could be credible and achievable."
It is hard to tell just whether these deep levels of collaboration are taking root across corporate Britain. But a couple of things are clear: not everyone is doing it, and the ability to collaborate can be learned and improved. Nesta's report, Scaling Together, which studies the barriers to corporate-start-up collaboration, notes that many firms "have no collaborative programmes at all with start-ups, while others are struggling to implement their own initiatives".
Attitudes to risk and an institutional fear of opening up to external innovation also play their part. "Our national psyche is wary of sharing," observes Stephen Irish, commercial managing director of battery-technology firm Hyperdrive Innovation, "and UK companies err on the side of caution." (He cites German companies as the benchmark for best practice in collaboration.)
Conversely, fast-growing entrepreneurial businesses will experience frustrations and challenges when collaborating with large corporates – the different speed of decision-making, say.
As one founder of a fast-growing company – mindful of the protocols surrounding his company's partnership with a FTSE 100 enterprise – puts it: "There are always trade-o s. There are brand guidelines to observe. You have to run everything past them. You have to be absolutely on note all the time, and you just have to get used to it."
These are often hard lessons to learn for an entrepreneurial business.
"Entrepreneurs have to know when to compromise," observes Nesta's Haley. "They need to be teachable, as well as driven."
"It's all about forging good personal relationships and understanding the context," says Scott Woodley, co-founder of Tutora, an 'edtech' business. "You must be very open about what you need. We are learning as we go along."
However, the growth in corporate accelerators has not slowed in recent years. Nesta estimates that 45 new accelerators were created in 2016 alone. "Judging from the current rate of growth, we are not yet at 'peak accelerator,'' says Haley.
He predicts that there will be more outside of London and more in highly specific niches – there are already 12 specialist fintech programmes, including the Bank of England's FinTech Accelerator.
Of course, some of this activity may just be an example of the latest corporate fashion. Some corporate accelerators will be mere me-too exercises, driven by the PR agenda rather than intrinsically linked to the needs of business units.
Perhaps big corporations will always underestimate the risk of not innovating (just ask Xerox).
But Brexit provides a powerful business imperative for large British companies to seek out and make the most of working closely with the brightest and best. We must all get better at collaboration.
Stuart Rock is founding editor of Real Business, the UK's first magazine for entrepreneurs, and the 'Business is Great' campaign
Read the full article, including three inspirational case studies, in the Summer edition of Professional Manager
Powered by
Professional Manager