Article:
Aberthaw: a personal story of managing a large-scale redundancy
Written by Matthew Rock
Wednesday 07 July 2021
Julia Heslop tells us how she managed a large-scale redundancy programme with empathy and dignity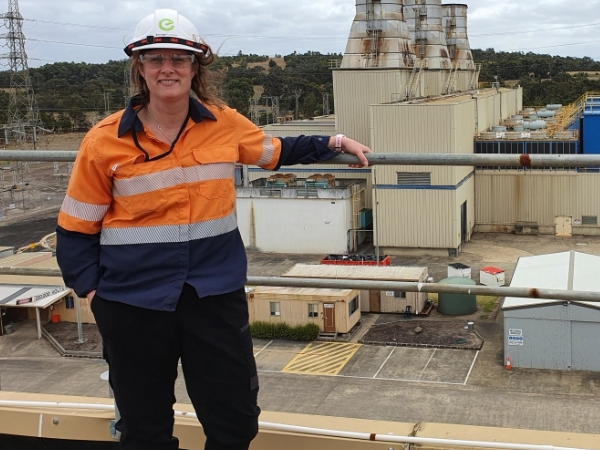 Julia Heslop will never forget 2 August 2019. At the time, she was an operations manager at Aberthaw Power Station in south Wales. She and all 150 employees there knew that the coal-fired plant was going to close at some point, but most were expecting it to happen in the autumn of 2021. Instead, Julia got an email at 7:30 that morning asking her to come in to the plant for a meeting at 8am. There, she and other team members received the news that the plant would be closing in March 2020. The process of informing the staff and ultimately decommissioning the plant was to begin straight away.
The next few months would test the Kiwi manager, who was 39 at the time, to her limits. But, drawing on deeply held personal values, the relationships she'd built up with colleagues over a number of years and the support of her own managers, today Julia looks back at the process with satisfaction at a management job well done.
The hours and days immediately after the plant's closure date was confirmed had a huge emotional impact. Many employees were not on site and therefore needed to be told by phone. Julia and her fellow managers had to call each person individually to break the news. "I had sheets and sheets of names to call. To begin with, I didn't know whether I was strong enough to do it. I spoke to one young man who'd just got married and others who were going through divorce. It was really tough."
The core value she drew on was empathy. "I always tried to put myself in my team member's shoes and do what I could to support them both practically and in terms of understanding their emotional reactions," she says. And the emotions were intensified because Julia and her fellow managers were also affected. "We were being made redundant ourselves while helping others."
The power station has been part of the fabric of south Wales since 1971. Many people in the area are Aberthaw through and through. As well as the power station itself, a whole way of life was being reshaped.
The following 18 months were "incredibly difficult", says Julia, and were made worse by the first lockdown in March 2020. But there were also positive moments. "Every time a member of my team secured a new role was a high point for me," she says. Through the change programme, more and more people did find new jobs or were guided into retraining.
The aim was to tailor the support to the affected station staff. "Aspirational discussions" were held with every team member so they could personalise their training and redeployment to meet individual needs. Julia regularly met up with the station manager and other team leaders to talk about each individual in their teams and how they could best support any who were struggling.
As time went on, many of the affected employees found their confidence and began to find future opportunities. Some took 18th Edition electrical contracting qualifications; others transitioned their energy knowledge into the renewables sector. The vast majority found new roles. "It's easy to underestimate people who have come from 'heavy' industry, but they have great skills in innovation and real public-service values," says Julia, who's now working at the Jeeralang Power Station west of Melbourne in Australia.
Julia has a background in chemistry – she has a DPhil from the University of Oxford – but she has always invested in herself more broadly too. "I joined CMI to bulk up my management and leadership side," she says.
Looking back at her Aberthaw experience, she says she has learned some crucial lessons about leadership during tough times:
Lean on your close colleagues who are going through the process with you for support to keep your energy high. Be there for them too.
Regular, consistent communication with your team to give them as much certainty of information as you are able to about all the parts of the process (eg, redeployment options, how retraining opportunities will be delivered and so on). This needs to be a consistent message from upper management down through team leaders.
Make sure you look after yourself as well and take the opportunities for support that you're offered. You can't take everything on your own shoulders. Think strategically about what you are able to influence for your team and do whatever you can to bring that about.
Julia is still in touch with friends, colleagues and fellow managers from that time. "The little nuggets of thanks and feedback from my team members for how I helped and supported them make me feel happy that I did my best by them."
This article was originally published in CMI's award-winning magazine that's available free to members. Check out the benefits of becoming a full CMI member here. 
There are some fantastic resources about managing the redundancy process on CMI's ManagementDirect (free for CMI members). You'll also find resources on our Career Development Centre. 
If you've been affected personally by redundancy, you may find CMI's Redundancy Support Guidance useful.
You might also like these posts on this topic:
Don't miss out - get notified of new content
Sign-up to become a Friend of CMI to recieve our free newsletter for a regular round-up of our latest insight and guidance.
CMI members always see more. For the widest selection of content, including CPD tools and multimedia resources, check out how to get involved with CMI membership.