Article:
Early career advice for post-Covid job seekers
Tuesday 27 April 2021
We asked recruitment experts the all-important question: what really makes someone hireable?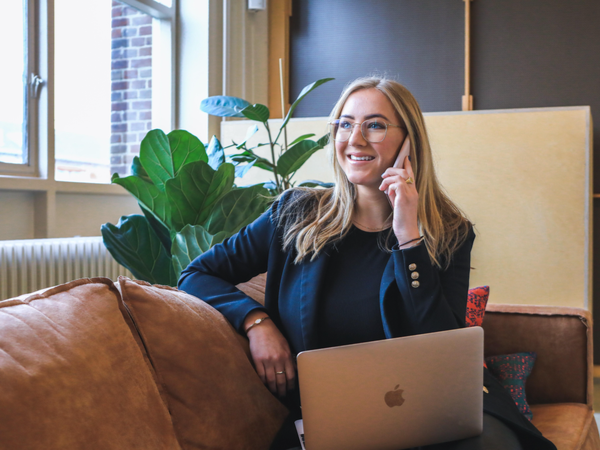 The job market is currently congested with fresh graduates and early-career professionals itching to move up the ladder (or simply get on it). While many sectors are still suffering from long-term turnover effects of Covid-19, which will impact their ability to hire fresh candidates, many sectors are booming – and are looking for applications just like yours.
But how has the job market changed during the pandemic? Have the rules changed? How can we make our application stand out, when each job posting may be overwhelmed with strong candidates?
"Today's highly competitive job market became even worse thanks to Covid-19," says Armin Lukosius, a final-year student at Swansea University, who chaired this event with CMI Wales regional board. "But we're going to figure out what a successful candidate needs to make them stand out from the rest of the crowd."
Short-term experience opens up long-term opportunities
Sophie Galley is an early careers recruitment specialist at global consultancy firm Turner & Townsend. After graduating from university with a business management degree in 2008, Sophie entered the job market while the UK faced a recession. "It was very difficult to find a role at that point; everything was very competitive," she says. "I did apply for some graduate programmes but I wasn't successful with a lot of my applications. I really struggled to find different opportunities – so I decided to do temp work, and found an admin role within the NHS. When you get into organisations of that size, it really does open doors in terms of available [jobs] because you've got that experience on your CV."
After working at the NHS, she went on to be employed by TeachFirst and TfL – all short-term jobs that helped her develop her career and open more doors. She "fell into" recruitment by being offered a role at Turner & Townsend while it was still in its infancy. She was interested in joining a company and seeing how it established itself, and in doing so was able to develop her skills along the way.
Think non-linearly
Paul Gibbons is engineering director (UK and Ireland) at Hays; he recruits for multiple sub-sectors of engineering such as nuclear and power generation, civil engineering, and the professional services sector. "The power, nuclear and utilities sectors face ever-growing demand for people," he says.
Paul says it's important to recognise that not everyone's career is a straight line, and can often be a winding road. "It [doesn't always] flow from going to school to university to then going into a job," he says. "I was a prime example of that: I finished my A-levels and decided I wanted to go into the Marines, which was a great experience, and then left the Marines and moved into operational sales. I worked for Vodafone as a national business development manager, but as a weapons engineer by trade, I always had a passion to move into recruitment [for the sector]."
Techniques to prove you're the right candidate
Nicola McNeely, partner at Harrison Clark Rickerbys (HCR), is head of their clients in the technology sector. Having been a lawyer for more than 25 years, she knows how difficult it can be to find your break in the sector.
She says it's vital for candidates to stand out and prove they're the best person to hire: "the calibre of candidates and applicants we get [at HCR] is just exceptional. So you need to persuade us that you're the right person to hire."
Reflecting on her own entry to the job market, she highlights the importance of work experience. "I did a bit of work [experience] in-house and I did a bit of temping work as a legal secretary and a receptionist in public-sector organisations; basically I then pushed my way into the legal services divisions and got some experience because I didn't have family working in law. It's a very elitist profession to this day." Her experience, some of which was international, helped to strengthen her CV and make her stand out from other candidates.
Her other big advice is: get used to being turned down. "I got lots and lots of rejections before I managed to find my first job," she says.
Try and create your own opportunities
You may find that your dream organisation isn't currently hiring – but don't let that stop you being proactive and reaching out. While you shouldn't send an email with the expectation of receiving a job offer, you may be able to start building a relationship with the organisation or even pave the way to work experience.
"I genuinely think that if you;'re the right person, and you put yourself out there and in the right place, you can create a role for yourself," says Nicola. "I've demonstrated that throughout my career. Anyone that shows initiative will turn heads. I've had junior people approach me and ask me for work experience, emailing me out of the blue to say 'I've heard about what you do, I'm really interested in the fact you act for this company and that company, can I just come and do some work experience with you?'  If someone reaches out to me and does that, I'll always try and accommodate them."
She recalls her first day of her training contract when a new partner joined the firm. He was considered top of his field in corporate law, and Nicola wanted to become a corporate mergers and acquisitions lawyer. So she proactively knocked on his door, expressed interest in his field, and offered to help him should he ever need anything. The next day, he hired Nicola as his trainee. "I put myself out there, I knocked on his door, and I wasn't afraid to do it. Unless you show initiative, it just won't happen."
You can watch this webinar in full here.  In coming weeks, we'll also cover top tips for assessment days and interviews and helpful hints for writing CVs and cover letters. 
Don't forget that CMI members can access our Career Development Centre as part of their membership benefits – with a CV360 feedback tool and interview simulator, it has many incredible resources to help you shine as a candidate and boost your employability. Try them today!
You might also like these posts on this topic:
Don't miss out - get notified of new content
Sign-up to become a Friend of CMI to recieve our free newsletter for a regular round-up of our latest insight and guidance.
CMI members always see more. For the widest selection of content, including CPD tools and multimedia resources, check out how to get involved with CMI membership.