Article:
Four Ways This Futuristic Rewards Consultancy Maximises Staff Retention
Written by Robert Hicks
Tuesday 18 September 2018
Staff Retention is the Reward Group's Business This is How the Firm Keeps Its Own Staff Happy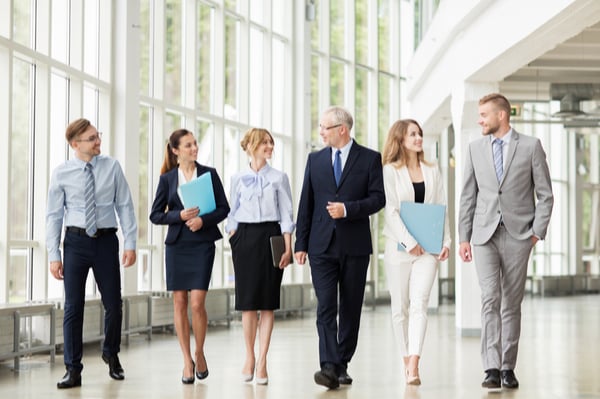 Reward Gateway helps more than 1,750 of the world's leading companies to attract and retain their best people by using an employee engagement platform that unites benefits, communications and surveys in one hub. Finding good staff is hard, keeping them is even harder. So what do we do within our own business to retain great staff members?
We have lots of different ways, but I will share four popular methods:
1.  RETENTION HACK: BOOST COMMUNICATION
The first tool we use is free, and is available to everyone. It is open and honest communication. The more we talk to our staff, the more we tell them. And the more we share, the more engaged with us they are.
Communication starts at the top, with our CEO Doug Butler blogging each Monday and sharing business updates with all of our staff. His blog is the most-read section on our employee engagement platform, 'boom! for RG People'.
We have a range of other tools that leverage and amplify communications and keep them transparent, including a dedicated 'Ask the Leadership Team' section on our platform. At a recent all-staff conference, one of these questions resulted in us committing to a full annual diversity report.
2.  RETENTION HACK: PUT WELLBEING FIRST
The second thing we do is to focus on wellbeing. Some examples of how we support our people include: flexible working; 35 days of paid time off globally (including public holidays) with the ability to buy more; a wellbeing allowance and a global employee assistance programme (EAP). We want our staff to be rested, to have a personalised focus on wellbeing and to have the support of the EAP when they need it.
3.  RETENTION HACK: RECOGNISE TALENT
The third aspect of effective staff retention is having a continuous recognition mindset, with the power to reward good work given to everyone in the business. We encourage both peer-to-peer and manager-to-peer recognition to happen on a daily basis via our social recognition wall, where eCards and, sometimes, monetary awards are displayed publicly across the whole organisation. This means that everyone across the business, in every location, can give and receive a 'thank you'.
It means we're able to showcase individual and team achievements meaningfully. Aside from a small number of greetings-led eCards, the rest of our eCards are all tied to one of our eight company values. They help our teams to say 'thank you' based on a behaviour that's had a positive impact on business goals.
4.  RETENTION HACK: STYLE THE WORKPLACE
Our final staff retention hack is the workspace. Where you work is important, and in addition to encouraging engagement, we also must consider the way in which changes to a workspace can impact productivity and happiness. Changes that disrupt an employee's existing behaviours and habits can be incredibly negative.
Our employees could be working in one of our offices around the world for up to 40 hours a week, and so we want them to work somewhere where they feel comfortable and where they feel able to do the different kinds of work we all do.
Within each of our offices, we've set out a 'workplace vision' that sets out our priorities for that space and what we want it to reflect. These objectives capture the key ways in which our workplace functions and supports employee engagement. At Reward Gateway, these objectives are to:
Build culture
Showcase Reward Gateway
Connect people
Enable success
Support flexibility
Throughout each of our offices, we have mapped 'work modes' to different areas, so our employees know which spaces to use in order to be most effective at the task they're focusing on. For example, if you're sitting in the 'Plugged in' zone then it's likely to be because you need to sit, focus and concentrate without any distractions. If you're sitting in the 'Buzzin' area, you're ready to collaborate, generate ideas and do some more lively work.
None of our employees, including the leadership team, have a fixed desk and it's common to see everyone moving around to different parts of the office throughout the day depending on what they're working on at the time. Some of the most popular areas of our offices include our wellbeing café in London, the Garden Room in Sydney and London, the Library in Boston and our working staff kitchen in Birmingham. We are working on two new office projects for our staff in Rochester and Plovdiv, and are excited about making these spaces even more engaging for our staff.
This brings me to my conclusion. All of these tools and practices are aimed at engaging our staff. And it is engaging them that is the key to keeping them. We know we cannot keep everyone, but during an employee's time with us, we want them to be supported to be the best they can be.