The benefits of volunteering to charities is clear for all to see, but volunteers and their employers can also benefit from the process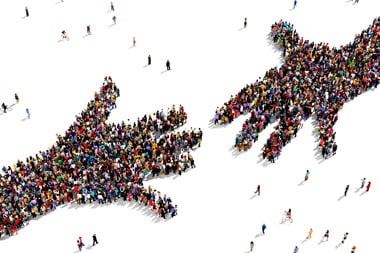 From spending an afternoon helping children at the local school to a couple of days beautifying a nearby landmark, such volunteering endeavours are proving to be key factors in helping businesses (of all sizes) attract and retain talented, ambitious and socially conscious workers.
The arrival of millennials to the workforce, the heightened access to the latest news through online and social media and public dismay at recent corporate scandals have played a part in developing a business environment in which doing good and doing well are increasingly aligned.
Approximately 70% of FTSE 100 companies already have a volunteering programme, not to mention numerous other limited firms. More than 2,000 UBS volunteers give 17,000 hours of their time to the community, workers at Manchester Airport Group delivered over 4,000 hours of providing skills, training and work inspiration to young people, and Sage employees helped raise the reading levels of over 230 pupils over the last 18 months.
Smart companies have realised that dedicating themselves to big ideas with a clear sense of purpose has become a fundamental ingredient of success. The support of volunteering can be a valuable tool to promote the core values of the company and engage with the local community, which over the longer term can translate into can stronger supply chains, access to a wider pool of talent and consumer engagement.
Trevor Lynn is the Floral and Produce manager at a Sainsbury's store in Norwich, and also the founder of not-for-profit enterprise Mow & Grow, which offers a free gardening service for elderly and vulnerable people, and provides work experience and training for local volunteers.
As well as raising over £100,000 for over 70 charities and winning various community achievement awards, Lynn's success has provided an avenue for Sainsbury's to present itself positively to potential customers.
He said: "When I founded Mow & Grow I found myself telling our volunteers about Sainsbury's values, such as 'individual responsibility, team delivery', as these are things our volunteers can relate to in the work we do. I live and breathe Sainsbury's values in everything I do, so I carry them back to Mow & Grow."
Individuals participating in the initiatives cannot help but be enthusiastic and proud of making a positive contribution to a particular cause, which is likely to feel good when they return to the workplace.
Advertising copywriter Debbie Feit spent a month working at a mental health organisation, and dedicates quality time to an issue close to her heart.
"It was a rare chance to marry what I do for a living with the life I'm living," said Feit, whose son struggled with mental health issues in the past. "He's in a healthy place, and I welcomed the opportunity to help other families."
Besides morale and confidence, volunteering can also help staff develop new skills including communication, team-building, self-awareness and creativity. Furthermore, it can broaden an employee's network of contacts by meeting new people from different backgrounds and stimulate creativity by breaking up their work routine.
Also, employees actively engaged in community programmes are more satisfied and committed in their work, driving benefit straight to the bottom line.
Entrepreneur Marcus Lemonis, best known as star of The Profit on CNBC, has made staff volunteering an integral part of his business ventures by insisting his employees volunteer 32 hours a year. Claiming that it builds character among his workforce, he said: "Once you begin the process [of volunteering], you become addicted to it. What I heard back from employees was: 'You changed my marriage!' 'You saved my life!'."
Recruitment and staff retention also receive a boost. A new study commissioned by the Chartered Institute of Personnel and Development found that 65% of workers would choose employers that support volunteering. And even the Government has backed the trend, pledging to force businesses and public bodies with more than 250 employees to give staff up to three days a year to do voluntary work.
However outside of the large blue chip companies' support for employee volunteering is not as prominent. The CIPD report carried out by The National Council for Voluntary Organisations (NCVO)'s Institute for Volunteering Research identified lingering issues preventing more companies and charities not working together, such as a lack of understanding between charities and companies about the costs and benefits involved.
The study found that some firms are unwilling to contribute to the costs involved in hosting volunteers, as some businesses are unhappy that charities often overlooked the additional benefits of a one-off placement, including the potential of sponsorship or support from the company in the future.
Equally, the research revealed a gap between the qualities that charities require and what employees are looking to do. For example, many charities benefit from skilled volunteering, such as help writing strategies, but feel that people are less likely to volunteer in their professional capacity than for typically unskilled volunteering tasks such as painting or gardening.
Justin Davis Smith, executive director of volunteering at NCVO, said: "Employer-supported volunteering could potentially offer huge benefits for the voluntary sector and businesses alike – however, this research shows that without clear communication around expectations and the resources involved, many of those benefits could be lost. We need to recognise that volunteering isn't free – there is a cost to the charity in terms of staff time, resources and supervision – yet the right kind of volunteering could outweigh those costs tenfold.
"The government's commitment to introducing three days' volunteering leave offers a game-changing opportunity, but we will need to get the systems and processes in place to make the most of it. Resources will be required to create meaningful opportunities and to ensure that volunteers are properly managed and supported, so that placements are beneficial to everybody involved."