Article:
Improve remote working practices to minimise staff sickness
Wednesday 23 August 2017
Technology can help remote workers feel included in the team, and more likely to contribute effectively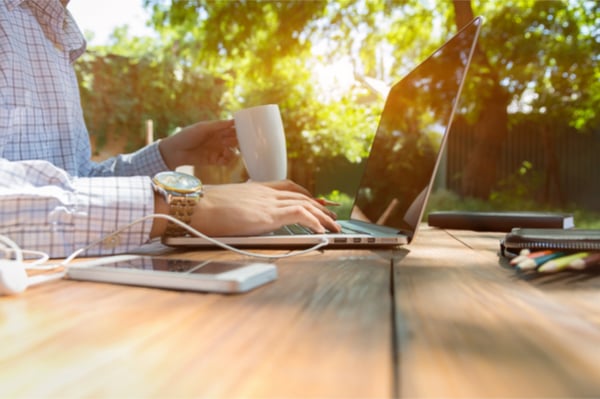 UK organisations lose over £100m every year because of work-related stress, depression and anxiety, a figure which could soar in the coming decade if poorly managed nomadic working practices continue, a mental health organisation has warned.
"Nomadic, remote and flexible working practices are the norm today," said Paul Finch, CEO of A People Business. "Unfortunately, if poorly managed, it can accentuate mental and physical health problems for a number of reasons.
"Infrequent or impersonal contact with your team and managers can make it harder to talk about issues and also weakens the informal support network that working environments frequently provide. Despite videoconferencing and similar technology, sometimes there's no substitute for a good chat over a cup of tea."
Remote working is often considered as a 'reasonable adjustment' for staff suffering from stress and depression, or for staff who are unwell. However, this will only work if remote workers remain part of the team and are well managed.
Absence Management expert Adrian Lewis of Activ Absence explained: "Working from home can be very isolating, so it's important that Managers set clear guidelines for what is expected work-wise and reward and praise remote workers like you would other members of the team, even if it is only a regular email.
"Make sure your technology helps establish who is working when, it is important other staff don't assume remote workers are available 24/7 – and make sure that they are treated like team members, invited to company functions and included in newsletters. Remote workers should also have the ability to access the company handbook, plan and book annual leave and have regular meetings – even if they are only over Skype."
Here are Lewis's practical top tips for companies to ensure successful remote working.
Ensure employees working remotely know what's expected of them in terms of activity or performance. Agree how they can be contacted and set expectations around communication – i.e. a daily phone call at the start of the day.
It's important not to lose sight of the fact that people are still part of the team and regular team meetings or events should involve everyone, even if this means a degree of flexibility and people coming into the office when they don't usually.
All team members need to know where everyone is at any one time. This should be visible and recorded in a centrally accessible electronic diary that should break down any barriers that prevent the employee being contacted.
Good communication is essential for flexible and remote working to work successfully and this must be maintained between employee and line manager/teams members. Others need to know the employee away from the office is actively busy working.
Technology is essential - make use of the latest electronic instant messaging tools, including webcams to keep in touch while working at home. Working at home can be isolating so this can help maintain an 'office' environment – albeit virtual - as well as ensure people are working.
Working remotely shouldn't make a difference to how people are rewarded or praised for tasks done well or completed on time or ahead of schedule. Equally if people are not completing things on time or tasks are not done as agreed take time to understand the reason and assess if further support or assistance is required so they do not feel completely isolated.
Don't forget to include all employees on any electronic communication that includes work news, success/wins, activities, company news to ensure that they still feel part of the organisation and are not forgotten.
Finally, make a note of any improvements in productivity and wellbeing of employees, as well as any areas that could be causing concern every three months. It's important to nip any issues in the bud as soon as you can.