Article:
Your KPIs: Do You Know Them; Do You Track Them; Do You Care?
Wednesday 03 August 2016
KPI's are an important measure of business and organisational success, but get them wrong and disaster could be just round the corner.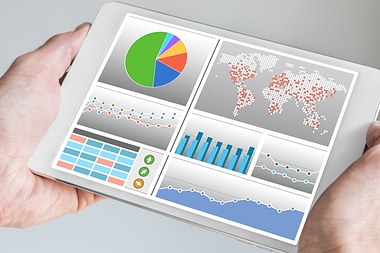 Key Performance Indicators (KPIs) play an important role for many companies, forming a strong basis to execute a strategy that helps differentiate themselves from their competitors, drive sales, profits and stimulate long-term growth.
But if you fail to manage them properly, they could be seriously damaging to your company's growth.
Managing can be a minefield at the best of times, and KPIs are a key measure of how effectively a project or workforce has performed in relation to identified, required and agreed-upon strategic objectives.
Measurements tell a manager how much or how many of something there is, while metrics begin the comparison between the different measures (such as the total revenue over time). KPIs, however, work by applying the metrics and measurements to targets applicable to a particular organisation or industry.
A vital feature of KPIs is that they are meant to be built upon, and can be scaled as quickly or as slowly as your company requires.
Without KPIs, managing projects, large teams and resources can be much more complicated, as being able to measure and quantify goal attainment and achievements is difficult.
Yet, new research has shown that nearly half (49%) of small and medium sized business owners have failed to identify any KPIs. According to data released by live TV dashboard application Geckoboard, even those firms that did establish KPIs most commonly only looked at them on a monthly basis and one third of businesses (31%) also said that the key numbers they tracked were never reassessed.
The result is that SMEs are stunting their own growth by failing to apply consistent and strong KPIs to their management practices, the report said.
Describing the process as "widespread data denial syndrome", the study found that more than a third (39%) of SME's failed to meet all of their growth targets in 2015.
Paul Joyce, CEO of Geckoboard, said: "With so much available data, entrepreneurs are forgetting to identify which metrics and data are most important to their business using KPIs. This unfortunately means they're struggling to focus their business on what matters for success. "If you're not keeping a close eye on critical business metrics and sharing progress against those KPIs with your team , how can you expect your business to grow? You could also be missing out on important signs for future growth or even worse, signs of trouble ahead.
"There are so many things that are outside of an entrepreneur's control, but establishing and tracking key company data is not one of them. Businesses that don't learn to follow suit are limiting their chances of growth before they even get properly started."
The open, accessible and measurable nature of KPIs means they can be great tools for bosses looking to implement an integrated performance management system to promote and improve effectiveness of the workforce, especially for managers who are planning, monitoring and reviewing an employee's work objectives and on his or her overall contribution to the organisation.
But the Geckoboard study showed that a lack of available metrics and information is also making it harder to motivate and focus team members. Half (50%) of British staff admitted that their overall performance was compromised when they were not made aware of key company information and metrics.
Business Performance Coach Karen Louise explained that KPIs can help managers provide accountability and a morale boost to staff.
"Without KPI's revealing vital statistics about performance, you run the risk of making inaccurate decisions about employees during reviews," she said. "You may assume that an employee is performing poorly because he/she has punctuality issues or a perceived lack of company engagement, but you have no quantifiable proof.
"A KPI may reveal that your assessment is incorrect and the perceived "poor performer" may have some favourable stats and delivers good results. On the contrary, poorly performing employees can hardly argue their case if their KPI stats show unfavourable readings. Essentially, KPI's encourage accountability for both employees (if they're not performing) and employers (if KPI's are deemed unreachable).
"Employee motivation and job satisfaction are extremely important in order to improve company performance and culture. It can often be difficult to motivate your team when set targets can only be achieved once a quarter or once a year. It can be quite rewarding and motivating for employees to receive positive reports for meeting certain KPI's in the interim. The results are often instant."
"It creates a sense of purpose and keeps them focused on meeting their goals," she added
KPI's Provide Rewards
One quarter (24%) of businesses surveyed by the Geckoboard study, however, reported that they are taking KPI measurement very seriously, by monitoring their KPIs in real-time.
Real-time KPI tracking is a more recent phenomenon, which allows managers to record, track and report daily KPIs rather than monthly, quarterly or annually.
Paul Yarwood, CEO of the data reporting and analytics company Hubble, said the availability and access to vital business-related information, such as about lower costs or better service from other suppliers, through the internet mean that company bosses need daily KPIs about the factors that could influence customer choices, and about the company's readiness to respond to their decisions.
"Compare today's real-time business demands to driving a car: you have an objective to reach a certain place at a certain time, and you have views through the windshield, GPS screen, a rear view mirror, and a dashboard," he said. "The GPS that is telling you your estimated time of arrival is a key indicator, because it tells you how you are doing right now. But you can ignore the data coming in from the odometer, which tells you how many miles the car has already traveled (but that would become a key indicator if you were scheduling a service).
"If you see a traffic camera ahead, suddenly the data from the speedometer becomes key. If you see a sign saying "last fuel for 100 miles," then the fuel gauge is suddenly key – while a flashing blue light in the rear-view mirror will change all of your priorities. Such KPIs are vital to help businesses, and especially CFOs, optimise performance." As such, the research also found these businesses were reaping the rewards of careful tracking, with three quarters (74%) of businesses that monitor KPI's in real time hitting all their growth targets, almost twice the average.
The best examples of data-driven companies tended to be managed by a new guard of younger business owners (aged 20-44), who were twice as likely as older business owners to monitor KPI's in real time.
Real time KPI monitoring was also most common in London compared to the rest of the UK, where nearly half (45%) of SME owners said they monitor KPIs in real time.
For managers looking to implement real-time KPIs into their organisation, quality and not quantity is essential.
As illustrated by EY's performance research, while real-time KPIs can benefit everyone in a company, each team member needs to remain focused on a specific set pertinent to their role, level and ability to respond to real-time KPIs.
Therefore, KPIs should be simplified and kept short, simple and easy to access and review.
The general rule of thumb is that an organisation should have no more than five or six KPIs developed at an executive or leadership level, but each department will have their own.
And it is important that each individual or team measured by KPIs are fully briefed on the context of what they are being measured against and how it fits within the broader business strategy and goals.
Bosses are advised to pick KPIs which can grab employees' attention to make sure that everyone is moving together in the right direction and delivering value to the business.
Business dashboards are tools that can be used to visualise KPIs, allowing all parties to immediately get a sense of how well the organisation is meeting its KPI targets.
Powered by Professional Manager