As we emerge from the Coronavirus pandemic, many organisations will need assurance that they're engaging with high-quality, competent consultants. Enter the new Chartered Management Consultant award (ChMC)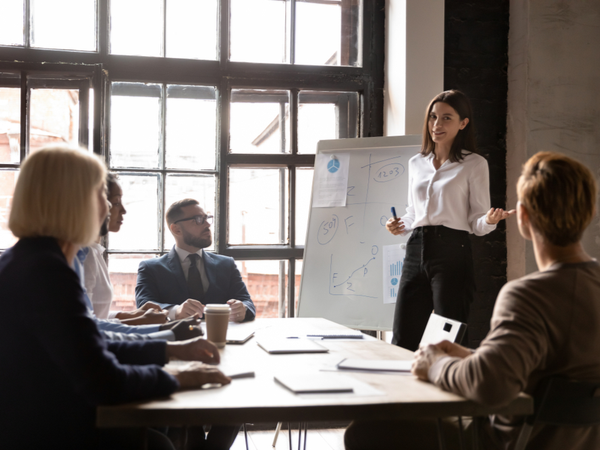 Management consultancy is a profession that has a significant impact on all aspects of business and public services. It plays an important part in private and public-sector success through the provision of high-quality, timely and effective management solutions.
In our latest Better Managers Briefing, the topic of our conversation was the new Chartered Management Consultant award (ChMC), an exciting professional recognition for the profession that enables management consultants and firms to differentiate themselves and inspire client trust and confidence.
Open to all, from experienced professionals to young practitioners, the award provides a benchmark for career excellence to which management consultants can aspire. Central to the ChMC is a competency framework which sets the standards for individual consultants and their organisation's training and development programme. Some 300 consultants have already achieved chartered status and another 1,500 are on the journey. The award is supported by 23 leading firms, including PwC, Deloitte, KPMG and IBM as well as many individual consultants.
To explore the significance of the new award further, I was joined for the latest CMI Better Managers Briefing by two members of the ChMC oversight board members: Sir Gareth Rhys-Williams, government commercial officer in the Cabinet Office and a long-standing CMI Companion; and Charles Newhouse, global consulting director at BAE Systems AI (Applied Intelligence) and one of the pioneering chartered consultants.
Boosting consulting firms of all sizes
A chartered engineer by background, Gareth says professional accreditation is an important underpinning for any industry. "It's great to know that the people you're going to be working with are competent." The government, for example, wants to work with firms of all sizes to identify the most appropriate expertise for given projects; having the ChMC will help to create a much more level playing field whereby purchasers of consulting can be assured of quality and thereby make the right selection.
Gareth believes the ChMC will also benefit clients who may be using consulting services for the first time. "The award works as a kitemark that assures them the person offering to complete a piece of work for them knows what they're talking about and can really help their business. It's a win-win."
Charles admits he has always looked enviously at colleagues in professions such as engineering or accounting who have enjoyed the opportunity to work towards professional qualifications early in their careers. "Having something equivalent in our industry is so important to give consultants a goal to work towards," he says. "But I think it's also really important to help buyers understand actually what good consulting looks like."
Helping attract diverse talent
Any award, such as the ChMC that allows people to flourish and progress where previously they couldn't, or faced obstacles, has to be positive, says Gareth, who argues that it is possible for an industry to be both inclusive and set high standards. "Setting a high bar and providing the training to help people get over that bar is absolutely vital," he says. "I don't think we should shy away from this being tough and requiring the continuing professional development once the ChMC has been earned."
Charles says he has sympathy for young people joining the industry during this time of pandemic, lockdown and social distancing requirements. "We all remember those pivotal and influential characters that we worked alongside in our early career. Replicating that in a world where new recruits don't get as much direct experience is a challenge," he says. "I think it's really important for young people joining our profession to understand that they are working in an industry that can and will help them work towards an internationally recognised award, such as the ChMC."
Continuing to raise standards
During the process of gaining his ChMC award, Charles says he found it a "hugely cathartic exercise" to reflect on his career to date. "For experienced professionals, it's a wonderful opportunity to really test yourself and see that you meet the exacting high standards set by the industry.
"However, it's also important to note that the award is not just a one-off, where you pat yourself on the back, then forget about it. An important part of the ChMC is questioning each year how you are developing yourself. Is it appropriate to the trajectory of your career? Are you staying fresh and current? We all know that what makes you marketable and valuable to your clients today will eventually become obsolete. It's important therefore to demonstrate that you take continued professional development seriously."
The pandemic has caused consultants to reconsider how they consult, explains Charles. "Consulting is a very inter-personal, intimate profession where consultants expect to spend large amounts of time with clients trying to understand the challenges of work alongside them. These are interesting times, but challenge is what we live for as consultants."
To find our more about the new Chartered Management Consultant Award (ChMC) ward, visit our ChMC hub. 
You can watch the conversation back on CMI's You Tube channel.
You might also like these posts on this topic:
Don't miss out - get notified of new content
Sign-up to become a Friend of CMI to recieve our free newsletter for a regular round-up of our latest insight and guidance.
CMI members always see more. For the widest selection of content, including CPD tools and multimedia resources, check out how to get involved with CMI membership.