Article:
My Week Trying To Be The Most Productive Human Alive
Wednesday 20 November 2019
Phone apps, time-tracking tools, even e-sticky notes... I spent one week integrating these productivity tools to see how they helped (or hindered) my productivity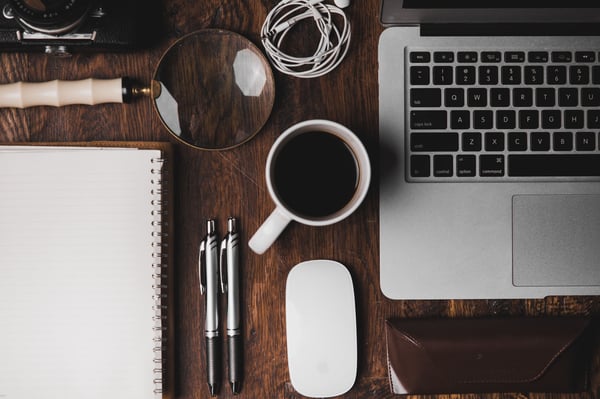 Every professional app under the sun is sold to us as the key to becoming more productive. There's an entire sector dedicated to 'personal productivity services', where you pay for a tool that claims to help you become better, faster, and stronger. They say that they can save you time, or even do all the repetitive heavy lifting for you – but do they actually help?
I decided to test out some of the tools that claim to supercharge your productivity. So it didn't get too difficult to manage, I stuck to four apps:
Google Keep: I'd never heard of this tool before – but seeing as most of my workflow goes through Google Drive, this seemed like a logical place to start.
Toggl: This is a time-tracking website, where you create new 'projects' and time how long it takes to complete them.
Diigo: Advertised as a research tool, you can highlight and add comments to web pages with this Chrome extension.
Habit List: This is the only phone app that I'm using this week. You set daily tasks to be reminded on – I chose to track my water intake, clear my email inbox daily, and write a daily handover note to myself.
Day One
The to-do list from Google, called Google Keep, acts as a crossover between Trello and your traditional pen-and-paper to-do list. It's very simple to use and, because I already had a Google account, took only a few minutes to get started. I'm already going back to it automatically to add a new item or configure an existing one. You can colour code and assign tags, and sort into different priorities by dragging and dropping.
The first day of handover note-writing proved useful, as it made me get to grips with Google Keep and put it into context of larger or smaller projects; writing them down on paper made me evaluate which ones were most pressing, and likewise tasks which should be on my radar but not immediately actioned.
Honestly – a lot of day one was setting up new accounts and verifying my email. My first bit of advice is not to do this all in one day: adopting them incrementally would definitely be much easier.
Day Two
I'll admit that the Google Keep tool is beginning to become a bit overwhelming. Although I'm colour coding and assigning tags, I have to look quite hard to find the task I want to amend or tick off. It's a bit of a mess to look at as there are so many tasks to complete, and I'm starting to miss my notepad and pen approach. Especially as my daily handover note to myself is in a different order and phrased differently, it can be slightly annoying to marry up the two platforms.
The Habit List app has come in useful today – it reminded me to drink water at the set times, which enabled me to have a screen break and hydrate. As I keep my phone away from my desk and on silent, I do have to check it to see if a push notification has appeared, though.
Day Three
The Diigo tool had its first use today – when doing some research, I could easily highlight points I wanted to come back to and made notes as I went. I did find (whether through human error or technical difficulty) that if I exited a page my highlights and comments went somewhere into the e-ether – but keeping the tab open was worth keeping my notes for. (It is worth stressing that when I accidentally closed the tab I did lose the comments I'd spent around an hour adding onto various pages. The success of this tool is quite limited!)
Today, I didn't look at Habit List once. While the notifications were helpful, I forgot to set reminders which meant I wasn't prompted by the app. Toggl has also proven itself less useful than originally thought – it is more hassle to open the tab, start timing, and begin my task, than just to begin my task. As I also reply to emails throughout the day, hunt down files and check notifications on my shared Google Drive, this tool isn't reflective of or complementary to my way of working, which is generally more reactive and fluid.
Day Four
Google Keep – though still growing in size every day – is becoming increasingly useful: where once I had a neat list on Monday and an A4 page of scribbles, crosses, and slanting ad-hoc tasks as the week went on, I now have 'sticky notes' with all my commentary within them.
Habit List has gone to the back of my mind – though, having mentally thought about the three little things I want to achieve every day, I'm finding that I'm doing them without the need for the app's prompts.
Day Five
Google Keep has continued to be useful, while the other tools have continued to be more hassle than they're worth.
Although not a direct result of Habit List, I have managed to make my inbox easier to manage. I have a bad habit of keeping everything in the main inbox, making it a challenge to find anything. Due to this little resolution of keeping it tidier, I've got more subfolders and am keeping a few minutes near the end of the day to file away anything I don't immediately need to go back to.
Four Final Thoughts
I have been productive this week, but I don't think that the combination of these tools has led to a particularly noticeable increase. Where I'm trying to integrate new ways of working (through time-tracking, for instance) into my day to day, they actually slowed me down; I work best when I can switch between tasks to keep my day varied, so focusing on one task for long periods of time doesn't work for me.
Alongside the intention of keeping on top of my inbox, I'm stopping tasks to reply to emails that I can in under five minutes, which means that I can file it away as soon as it's done with and not let it linger with my other emails.
The tools that streamline processes I already have in place (such as Google Keep's to-do list or Diigo) have made a difference. While I'm not sure I'll completely move over to an online to-do list, I think I will have a basic list on my trusty A4 notepad and more detailed notes on the Google Keep app.
One of the big drawbacks of all of these apps is that you need to remember to use them in the first place! For online resources this is somewhat manageable, as you can set your computer up to launch specific programmes when you turn your computer on, including designated websites. For the other tools, though, I sometimes felt I needed to set another reminder on my phone to get me to check the productivity app. (Which is, of course, completely ironic.)
For more help prioritising your time, read about the ultimate life hacks you can use at work.
Image: Unsplash Ian Dooley