More than four months since the beginning of lockdown, the onus is on going back to work. What skills do leaders need to reopen Britain post-Covid?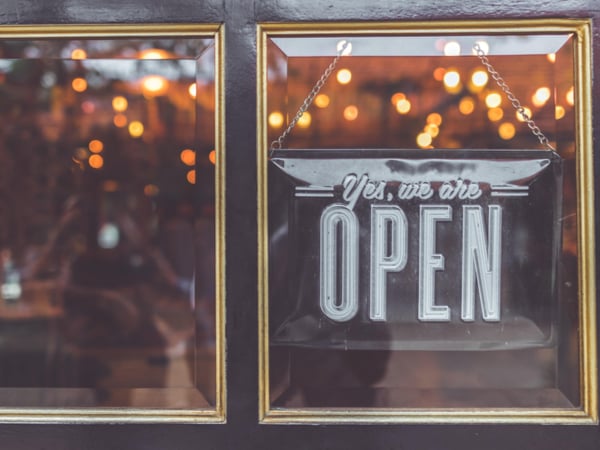 As the government eases lockdown restrictions, the challenge facing business is how to reopen in the most unusual circumstances. Not surprisingly, the necessary working practices forced upon organisations present significant management and leadership challenges.
For the 31 July CMI 'Better Managers Briefing', we discussed these issues with two Chartered Companions of CMI; Mike Clasper CBE, chair of SSP Group and Coats and a past president of CMI, and Kathryn Austin who's chief people and marketing officer at Pizza Hut.
From crisis management to competitive advantage
The crisis has led to decisions that can ultimately lead to more positive outcomes, improved business performance and enhanced customer experiences. However, both leaders agree that the normal rules of business decision-making simply don't apply.
Necessity is forcing organisations to streamline decision-making. "That speed to market through being able to make decisions much faster and cutting out functional silos is something we've talked about for many years but we've never been forced to put it into practice. Now we have to be comfortable with it. There's no going back," Kathryn says.
Despite the pressure to act decisively and quickly, sometimes a more considered approach is called for, Mike says. "The new normal won't be the old normal. We've got to be really sensitive when we see people struggling with that decision-making process in a world of such unbelievably high levels of uncertainty. Be honest about the uncertainty. Don't feel obliged to be certain if you're not."
Diverging leadership pressures
During the crisis, the pressures on boards and executives diverge. The leadership team is in constant fire-fighting mode: "It was very much about in-the-moment decision-making; not prevaricating over small points of detail but getting to the big things that need to be decided," Kathryn says.
Meanwhile, non-executives need to think about some of the bigger strategic issues. It's about finding a balance that doesn't load up the executives with excess pressure that stalls quick decisions but that also doesn't disengage the board. "Getting that balance right is really difficult," Mike admits.
Clarity in a rapidly evolving landscape
A big challenge over the past few months has been to create clarity to staff at a time when the messages from government have changed almost minute by minute. Communicate with employees, Kathryn urges; understand what they're scared about and decide what to do to protect them. "Tell people what you know, what you don't know, and reassure them about what you can. As managers it's about treating people like adults."
The need for agility
Agility is key to not just weathering the storm but reaping competitive advantage, whether it's the ability to successfully manage a disrupted supply chain in the case of Coats, or responding quickly to changing events as a result of the pandemic. Removing complexities that don't add value will help with agility and improve performance results, but it won't affect the offering to the consumer, Mike says.
Being forced to introduce new systems out of necessity has highlighted that an obsession with data-led testing can stall action. "We've learnt that it's about not being held back by absolute perfectionism," Kathryn says.
Resilience is critical
The ability for senior leaders to cope with ambiguity and have strategies in place that they can count on when things get bad. "It's that emotional resilience more than anything else that will enable companies to get through this."
Those individuals in supportive roles – boards and chairs – need to step up to being a sounding board that instills confidence, Mike urges. "It's about being there so somebody can come and say, 'I'm not 100% sure I've done the right thing. What do you think?'"
Resisting the urge to reset working models
"I definitely think I'm making sure that we don't slip into just habits of wanting to meet in an office space to sit around a large table at a socially responsible distance on the computer anyway. Let's make sure we build jobs with purpose," Kathryn says.
How else is the smart use of technology and positive experiences of home working forcing organisations to question working structures? Some organisations are changing their models of delegation so that decision-making near the front line can happen.
"Trusting in a smart way is something that we have got to learn," Mike warns. "Don't allow that complexity just to drift up when the good times return."
You can watch the discussion in full here. Why not tune into this Friday's talk, too?
You might also like these posts on this topic:
Don't miss out - get notified of new content
Sign-up to become a Friend of CMI to recieve our free newsletter for a regular round-up of our latest insight and guidance.
CMI members always see more. For the widest selection of content, including CPD tools and multimedia resources, check out how to get involved with CMI membership.