Article:
What coming out taught me about great leadership
Wednesday 30 June 2021
Chartered Manager Michael Thirlaway learned early on that an open and personal approach to management led to inclusivity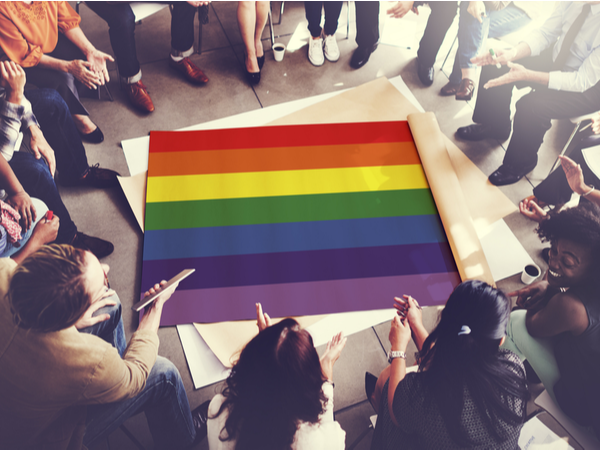 Michael Thirlaway CMgr came out as gay at age 16. At the time, he was working part-time in a warehouse, and decided to be totally open about his sexuality. Some of his colleagues were quite vulgar in their responses to him, and others asked questions that were borderline offensive, but he made a decision to talk to them openly, no matter the question. He found that over time, the tone of the conversation changed. Those who had asked the rudest questions and made the worst comments as a joke came to him later on with genuine questions that they were afraid to ask anyone else.
"I realised quite early on that I couldn't be offended by what people were asking," he says. "I needed to be open and appreciative of the fact that they were willing to talk to me about it. It shaped me quite early on to realise I've got to be exceptionally open and visible, in order to build trust."
This approach has stayed with him throughout Michael's career. He is extremely self-aware and aims to engage with his team in an emotionally intelligent way. He is currently general manager at convenience foods producer Greencore, having risen up the ranks since joining the company in 2013.
"It made me lead almost from the back rather than the front," he says. "I was very much about really understanding the colleagues who work for me, recognising their talent, lifting them up, to the point where people did what I wanted them to do, because they wanted to do it. Then, life became really easy. We became a really high performing department."
Early on in his career, Michael was driven to do a good job, and put in the work for it. While that still drives him, so does self-improvement and the need to make the workplace open and inclusive. So many people wear 'masks' to work for self-preservation, he says, but in doing so, they're holding back. An office environment that allows people to be themselves is more productive, and morale is consistently higher. "If you're an employer, you want 100% of somebody, and there's always a risk, if they're hiding themselves, you're only getting 70%."
There will always be issues that come up, Michael explains, but they're much easier to deal with when people are connected on multiple levels, rather than just a hierarchical one.
"When people are so open and they're willing to ask questions, you can produce the most creative environments, because nothing's off limits. You can only live within the known constructs that we have. Until you have an integer in your life that gives you more information or creates that change, you'll only ever know as much as you knew the day before."
Greencore has been fairly active in addressing LGBTQ+ issues, and has put Pride front and centre over the past month. Michael is passionate about the progress that's been made.
"This is the first time that we've changed the logos, and across the sites we've actually run Pride events. Because it's that moment, it's the state of change in education. When you're dealing with 15,000 people, some may have never come across it in their lives before, because of the cultures that we employ. That's really crucial to me, that it's there, and it's authentic."
Education about the issues is the biggest gap in how diversity and inclusion is handled in the workplace, but things have come a long way since Michael's time working in a warehouse. We must continue that progress if we're to create a truly inclusive environment for people to work in.
"We spend more time than ever now at work. The Covid-19 pandemic has probably exacerbated how important social capital is within the workplace. I think that is something that perhaps over the next two years we will see companies try to change: how we fill those gaps in social capital."
How to be an ally
"There are some simple things that you can do in terms of promoting yourself as an ally, whether that be a little symbol in your office, an LGBT flag somewhere so that people can see that there's representation and you're actually offering allyship. Look at the calendar – we've just seen the anniversary of the Stonewall Riots today, and it's celebrated now. With Pride Month coming to an end, it's a chance to utilise that to really show that you're inclusive, and aren't just paying lip service with your employee branding.
"Create specific listening groups with your colleagues. That's a way to make a space where people feel more comfortable to open up and share their personal experiences. That's how you find out that colleagues have relatives that are gay. People open up about their own experiences and you realise how much we've got to share."
At CMI, we believe every organisation should be diverse and inclusive. Find out what work we're doing with our CMI Race and CMI Women networks.
You might also like these posts on this topic:
Don't miss out - get notified of new content
Sign-up to become a Friend of CMI to recieve our free newsletter for a regular round-up of our latest insight and guidance.
CMI members always see more. For the widest selection of content, including CPD tools and multimedia resources, check out how to get involved with CMI membership.