Article:
What Managers Can Do to Prevent Bullying in the Workplace
Monday 02 February 2015
Bullying Does Not End in the Classroom, It's Arguably Just as Bad in the Office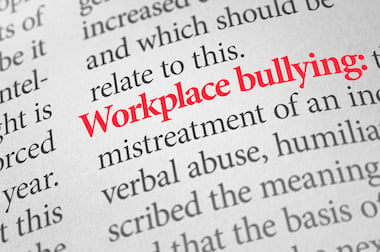 As opposed to stereotypical playground fights and taunting, adult bullying takes on many different forms of intimidation; with offensive behaviour and harassment affecting workers from the shop floor to the C-Suite. And bullying damages both the employer and staff, as its presence is a sure-fire way to create a toxic working environment of high-absenteeism, low-productivity and victimisation, and will eventually evaporate company profits.
A new Family Lives survey reveals just how deep an issue bullying is for many workers and how it is imperative that managers know how to eradicate the issue. The respondents, 70% female and 30% male, reported that two-thirds of workers had witnessed bullying at work. More specifically, 43% of workers felt bullied by their line manager, 38% by a colleague and 20% by senior management or a chief executive. In over one in three cases, the targeted offensive behaviour was prolonged for more than a year.
Bullying can range from spreading malicious rumours or gossip to giving someone unachievable or meaningless tasks. In most situations (73%) the bullying was verbal – including threats – and 60% of staff also saw it manifest in social cases; through being excluded, ignored and isolated by assailants.
The effects of bullying in the workplace are obvious. Victims experience a substantial decline their self-esteem, work ethic, confidence and enjoyment of working. Some dread waking up every morning for work so much that they drug themselves to help numb their senses to the experience. Others are driven to deep depression, also neglecting their social, family and personal life. Three-quarters of respondents said that workplace bullying affected their family life and close relationships. Just under half were forced to obtain medical advice or counselling because of the bullying.
Employers will also suffer from this, as they can expect significantly higher sickness rates, high employee turnover with the resultant training costs, exceedingly low workforce morale and poor industrial relations. The survey reported that 91% of workers do not believe their organisation handles bullying adequately.
The research reveals how many sufferers feel alienated from their company and are scared to ask for help from other staff. In addition, 48% of victims often feel they must put up with the bullying as part of their job, while the shortage of jobs and financial dependence on their current job prevent 78% from standing up to workplace bullying. However, 44% of respondents did feel they needed to take official action to get the bullying stop.
Therefore, managers have a key role to play in diligently assessing the wellbeing of their staff and being actively willing in offering confidential support. In the study, an unnamed worker who had experienced bullying at work recalled: "Sent home after unfounded complaint received, never to return again. No procedures followed, no right of reply. Line manager said I admitted guilt when I hadn't. Denied any information. Procedures not followed. Ignored my request for an informal grievance against perpetrator. Ostracised for two months by all staff and trustees. Stress led me to having panic attacks and a full blown tonic-clonic seizure. Secondment terminated. Suffered severe anxiety, and signed off sick for about 18 months. Have written professional evidence of being in positive mental health before this happened."
What Can Managers Do?
Family Lives has produced some practical steps for bosses to take in order to tackle bullying in the workplace. These include:
Enforcing a strong anti-bullying message in the organisation's vision, values and aims, and making it prominent in all employee ethical literature and communication channels
Ensure employees that all allegations of harassment or bullying will be taken seriously, confidentially and that grievances or complaints of harassment will not be ignored or treated lightly and will be investigated impartially and by external independent mediators if necessary
Hold bullying awareness days for employees, informing staff how to make a formal grievance, who they need to speak to (normally their manager) and what will happen after the incident has been reported. Provide staff with examples of 'bullying behaviour' allowing staff the opportunity to become more aware of how their own behaviour may be affecting others
Encourage, but not force, managers and employees to address colleagues displaying possible signs of embryonic bullying behaviour before a situation escalates and becomes difficult for all parties to manage or achieve a workable resolution
For more thoughts on bullying, check out these resources at Management Direct (login required).