It's 25 years since the first digital faces appeared in writing. We asked you whether emojis are appropriate at work, and you said they're fine – apart from in one context… And it has implications for your policies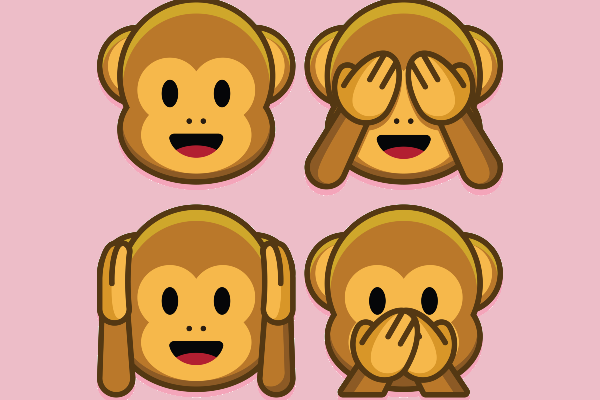 As ever-more work takes place in the digital space, so does communication. And as we know, a picture is worth a thousand words – which is why emojis have embedded themselves so solidly in our digital communications, with the 😂 emoji even winning Oxford Dictionaries' Word of the Year back in 2015.
The world loves emojis: they are celebrated each year on World Emoji Day (17 July 📅  – the date shown on the calendar emoji) and more than 100 new ones are added to the ever-expanding library each year, chosen by the Unicode Emoji Subcommittee from proposals submitted by the general public. The next batch, Emoji 15.0, is set to arrive in September 2022.
The story of emoji
Back in the late 1990s, around the same time that emoticons – sideways faces made out of punctuation, such as 🙂 or :'( – were developing in the early Anglophone internet chatrooms, another form of digital face was starting to catch on in Japan: kaomoji (literally "face characters"). These are similar to emoticons, but not turned sideways: ¯(ツ)/¯.
Gradually, it became more and more popular to send picture messages on mobile phones, but this used up a lot of data. So, to address this problem, in 1997 Japanese company SoftBank decided to encode 90 of the most commonly used pictures as the equivalent of text characters – meaning, for example, that you just had to type in the code 2764 to display a heart ❤️. 
It wasn't just a fad. By 2010, 608 symbols had been standardised and incorporated into Unicode. Wanting to appeal to the Japanese market, Apple and Android then introduced emoji capabilities to their phones in the early 2010s. By 2015, the 😂 emoji had surpassed the 🙂 emoticon – and emojis (e "picture" + moji "character") as we know them today have only grown in scope and popularity since.
They've embedded themselves in our lives so thoroughly that it's hard to imagine life without them. And given the proliferation of remote and flexible working, many of us are now communicating more with our colleagues in writing than vocally. It raises the question of whether emojis, GIFs and stickers are appropriate at work – or not...
Do emojis belong in the workplace? 🤔👨‍💻
❌ More prescriptive members of the population are likely to feel that emojis have no place in workplace communications because they're not formal enough and could come across as unprofessional. A 2017 study even found that using smileys generally doesn't increase perceptions of warmth, but instead makes you appear less competent.
There's also the possibility for misinterpretation and miscommunication, which could harm relationships. For example, women are more likely than men to interpret emojis such as 🤔 as a form of criticism, according to a 2020 study. They can also be used differently in different cultures: ​​what may be intended as an innocent 👍 could be an insulting gesture to someone else. That's not to mention possible generational divides in usage.
The most effective emoji when it comes to motivating users at work are 👍💪👌
– Adobe 2021 Global Emoji Trend Report
✔️ At the other end of the spectrum, language change is an immutable fact and maybe we should just embrace it. Google's suite of digital products now even lets you react to a colleague's work with an emoji instead of a comment. In fact, linguists think that emojis have embedded themselves so successfully into our written communications because they fulfil a number of functions from spoken language that are missing in written text, including gestures, active listening and facial expressions 🆒.
There's also some evidence that emojis do actually help to build relationships by making you seem more approachable and friendly. Adobe's 2021 Global Emoji Trend Report found that the vast majority of emoji users thought that emojis are an important communication tool for fostering unity, respect, empathy and understanding; make users seem friendlier, funnier and cooler; and help with communicating across language barriers.
In the workplace, Adobe's report also found that the majority of people felt that emojis helped share ideas quickly, made team decision-making more efficient and reduced the need for meetings and calls.
Log in to see the results – and what they mean for managers
Register for Free Access
Not yet a Member, Subscriber or Friend? Register as a CMI Friend for free, and get access to this and many other exclusive resources, as well as weekly updates straight to your inbox.
You have successfully registered
As a CMI Friend, you now have access to whole range of CMI Friendship benefits.
Please login to the left to confirm your registration and access the article.