Article:
Women Rank Better On These Leadership Traits
Wednesday 28 November 2018
These are the real differences between male and female managers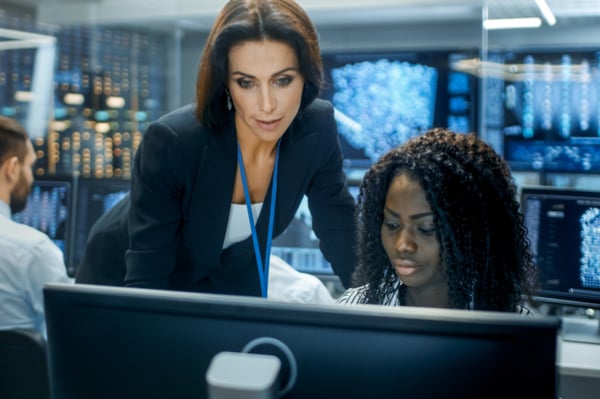 The latest midterm elections in the United States saw a record number of women winning political office, mirroring the increase in the number of female politicians appointed to the UK Parliament last year.
Amid a UK drive for similar gender advances in corporate boardrooms, a recent study by Pew Research Center shows female leaders are rated more highly on some management traits than their male peers. However, worrying examples of gender bias exist too.
The America-based survey of 4,587 male and female adults asked participants to identify the prevalence of different management behaviours. Overall, 57% of respondents said men and women in top positions in business and politics have different leadership styles.
Research Findings: Women Create Empathetic And Respectful Environments
Firstly, female leaders were said to show greater emotional intelligence and interpersonal skills.
These qualities could be said to shape positive working environments. 43% of people believed women in business were also better at creating a safe and respectful workplace. In contrast, just 5% of participants thought men were better at doing so.
Similarly, women were identified as key to promoting diversity at work. 35% of those surveyed said women are better at valuing people from different backgrounds. When it comes to politics, 61% of respondents thought women leaders were more compassionate and empathetic, and nearly one-third felt women were more ethical.
Disturbing Gender Bias
While the survey may have recognised positive management behaviours shown by women, it unearthed some shocking biases too.
Men and women are more likely to praise the management abilities shown by their own gender. One-in-four women (27%) told researchers that women have a better approach, while 10% said men are better. Among men, 22% believed they made superior managers: 15% said women do.
CMI has recognised that in order to facilitate the progression of women in the workplace, men need to become agents of change and support the opposite sex. Both men and women are welcome to join the CMI Women network, while the research report A Blueprint for Balance concluded that men need to call out, challenge and change behaviours and perceptions that could see women denied more responsibility.
Assertive Women Are Often Ignored
Examples of harmful perceptions were highlighted in the Pew Center survey itself. The study revealed that only half of those surveyed felt assertiveness and ambition is helpful to women who are trying to get to the top, compared to around 70% of respondents who believed it is positive for men. Earlier this year, the CMI Women Facebook forum established a similar trend. Members highlighted that women were choosing 'intentional invisibility' at work for fear that a direct, confrontational management style could hold them back.
Even more worryingly, in the Pew Center survey respondents said they believed that being physically attractive helps women to get ahead in their careers. Some 60% of people believe good-looking women are more likely to excel in politics, and 69% think this is the case for the business world too.
Want to help improve equality at work? CMI Women is a gateway to events and research that aims to end gender discrimination