Case Study:
How one professional services firm is getting ready to welcome back employees
Written by Ian Wylie
Monday 29 June 2020
We speak to the law firm Reed Smith about the safety measures they're putting in place in their building (which you may remember from the bond movie, skyfall)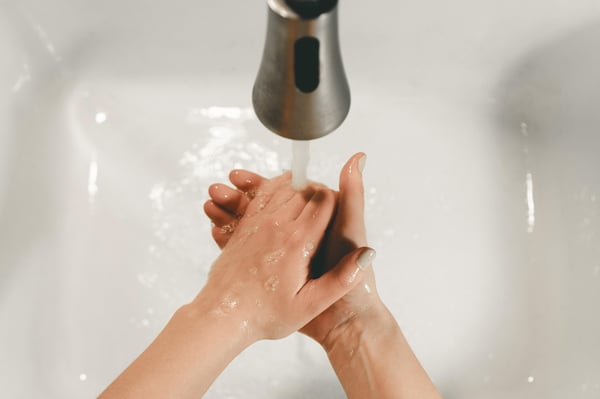 The Coronavirus pandemic has turned many working lives upside down. Logging on from home, being furloughed, holding meetings by Zoom – to be honest, most of us have just been happy to stay safe and be able to protect ourselves and families from the virus.
But now that some workers are being encouraged to return to their normal workplaces, what can they expect from this "new normal"?
Almost two-thirds of workers say they are anxious about returning to the office, according to one survey, with four in ten respondents saying they are worried about being able to properly socially distance while in the workplace. Other concerns included fears about commuting (38%) and the office not being clean enough (37%).
So, what could your office look like when you return? Reed Smith is an international law firm, led in Europe by managing partner and CMI Companion Tamara Box. The firm is headquartered in the City of London but has more than 30 offices around the world.
In the middle of June, the firm began its first phase of re-opening the London office on a voluntary basis, ensuring that its lawyers and staff could adhere to social distancing rules and work safely in the office. "Our primary goal remains protecting the health and safety of everyone at the firm," explains Mark Matthews, Reed Smith's European operations director. "While the London office will be accessible, unless there's a compelling and management-approved business need to visit the office, we expect the majority of our lawyers and staff will continue working remotely."
Any future return to the office will, for the foreseeable future, be voluntary, he says, other than for exceptional circumstances.
At its HQ in Broadgate Tower – the building used in the James Bond Skyfall movie to represent a Shanghai skyscraper – Reed Smith is, for now, sticking with earlier government social distancing guidelines and keeping everyone working at least two metres apart. Additional social distancing plans have been drawn up for the open plan working areas, as well as common areas such as kitchens, bathrooms and print pods to ensure that these high-contact areas are as safe as possible.
Hand sanitiser is available on all floors and in dispensers at all entry and exit points. Face masks are available and must be worn in communal areas when moving around the office. Safe waste and recycling facilities are also being provided for face masks on each of the floors. All floors are being cleaned on a daily basis and deep-cleaned weekly. Any surfaces that are touched repeatedly are being treated with a special anti-viral detergent that keeps the surface viral free for 28 days.
Reed Smith is reminding its employees that public transport should be avoided, in line with government advice, and is installing extra bike racks to ensure there is enough capacity for any new cyclists.
Everyone coming to work will be required to complete a "safe environment form" for each working day they are in the office.
Reed Smith is one of 16 tenants in Broadgate Tower, and Matthews says he expects the landlord to lock the revolving doors at the front, but leaving the access door next to the revolving doors fixed in the open position. The number of people permitted in each lift will be limited and clearly displayed.
"We're taking a cautious approach in order to ensure that our services and those of the Broadgate Tower are able to cope with additional people in the building in line with government advice," says Matthews. "We'll review this situation weekly with a view to considering further changes or restrictions as and when we consider appropriate or necessary in line with government advice."
It's work, but not as we know it – at least for a little while longer.
Checklist 056 in ManagementDirect (available free to CMI members) is a health and safety risk assessment checklist.
You might also like these posts on this topic:
Don't miss out - get notified of new content
Sign-up to become a Friend of CMI to recieve our free newsletter for a regular round-up of our latest insight and guidance.
CMI members always see more. For the widest selection of content, including CPD tools and multimedia resources, check out how to get involved with CMI membership.