Find out how one of the innovative companies featured in leadership and culture at work: the CMI/Glassdoor Top 20 paved the way for continual growth.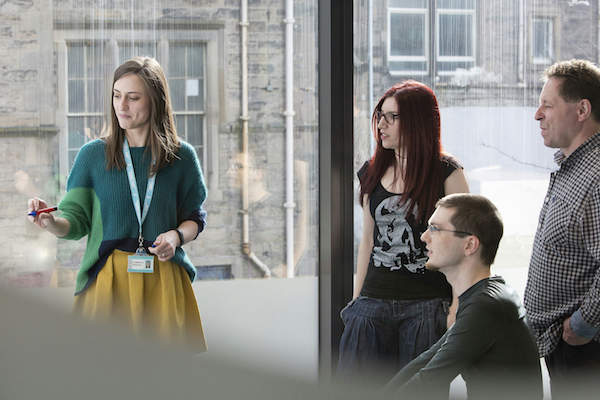 Let me set the scene. It is 2015 and Skyscanner had experienced consecutive years of double-digit growth, at a constantly accelerated pace. Our business was gaining ground rapidly, we had established ourselves as the leading metasearch in markets across the world, but were finding the way we used to work wasn't delivering what we wanted, at the speed we wanted it.
Something needed to change. That's where our growth transformation came in; a monumental shift in both structure and methods of working.
It paved the way for continual growth and has allowed us to work in the agile, lean way of a small start-up, even as a business of over 900 people across multiple time zones and ten offices
Breaking the mould is not easy. But change isn't optional. And the results and impact of that change make it worth it. Here's our story.
Step 1: take an honest look at yourself
Like many organisations, we were previously structured into typical marketing functions. We had the usual departments like a PR team, social team and a commercial team. Each member of the social team was responsible for running a market, but they all sat in the same area of the office limiting their ability to collaborate with their content counterparts who were also grouped together on the other side of the office.
Generally, they planned together and reported back to others who worked in the same market. Sounds reasonable, right? We certainly thought it was, and believed that we were optimising on a global scale.
And we were, in some ways. We were still growing, still succeeding. But looking at this structure with a critical eye, the truth was, we were trying to force one solution on all our markets. The result? High levels of waste and limited impact at a local level.
As a business that prides ourselves on being 'global yet local', this jarred. For example, we knew that releasing a campaign on the Best Time to Book flights works well in the UK in January, when Brits typically do their travel planning for the year. But running the same campaign at the same time in, say, Spain, where flights are typically booked closer to departure, didn't make sense. In doing so, we lost impact.
Plus, aspects of marketing that could scale for impact and efficiency very effectively were devolved to teams who didn't have the expertise or strategic overview to deliver them at the appropriate scale.
While conventional wisdom suggested our structure should be enabling hyper efficiency, we knew we could do better.
So as a first step, take a critical look at your structure and your business; What are you doing well? What are the unspoken blockers or obstacles to being even better?
Step 2: tailor a squad structured to you
We had seen our engineering colleagues re-organise themselves for exactly the outcomes we were looking to achieve: lean and agile delivery, separation of concerns between teams, and complete autonomy within a team to enable rapid iteration and impact. They had squadified.
The Squads and Tribes model distils ownership of areas to small teams of around four to eight; eight being the maximum number of people we believe can work together without bureaucracy.
This approach is a natural fit with Skyscanner; it accelerates growth and allows our teams to function as individual start-ups, with a high level of empowerment and flexibility.
The Skyscanner model of Squads and Tribes pulls from lean principles and agile practice, continuous testing and improvement, TOC (theory of constraints), and even insights from the world of manufacturing (Toyota production system).
Each Tribe has a mission statement, and Squads work to deliver that mission in their market. There are clear external measures of success. A Squad is a cross-functional autonomous team within that Tribe and they too have a clear and agreed mission.
In short, Squads must have a mission to keep them on track with focus to help them prioritise work that will help them achieve them. But, they need to be flexible enough to adapt with and for the business so we regularly review our missions, goals and direction so that we're iterating all the time.
Each Squad is made up of a core team of specialists and separate managers. However, such specialists have increasingly become 'T-shaped' and are able to work across specialism areas.
Squads work in alignment with their Tribe and will have their PO (Product Owner) represent them at Tribe meetings to update other teams and ensure they're working towards the 'bigger picture'.
There tends to be a Tribe Lead to help drive this vision but strategising takes place from the bottom up so a lot of their time is spent listening and learning before testing updates to the structure or goals.
Here's the important bit: this structure needs to be tailored to you and your business. We tailored the method our engineering colleagues used for our own marketing teams and would advise anyone looking to take up this style of growth to do the same.
We continue to relook at how we're structured to ensure we're adapting for travellers' needs, our partners and our business.
Step 3: keep questioning, keep changing
Squadification proved to have phenomenal impact on our marketing activities. However, take note: this isn't a solution that can be packaged into a neat little box, tied up with a bow and be left sitting pretty. We take the view that change is constant: what worked for us yesterday can quickly become painful today and will likely be broken tomorrow.
Today, over two years on, we're again looking at how we can improve our existing structure. We need to continue to build our capability, so we've optimised our structure once more to support people's skills growth from both a discipline and leadership perspective.
If your organisation is dynamic and ever-changing, your approach to your structure needs to be the same.
Grow with us
Learn with us by signing up for our to hear more on our growth journey and exciting job opportunities available across our global offices.