Press release:
CMI Women Celebrates 50 Years of Leading the Charge for Women in Management
Thursday 26 November 2020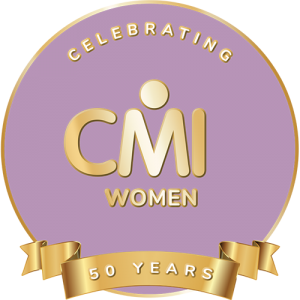 Alison Rose, Chief Executive of Natwest Group Plc, and Paul Polman, Co-founder and Chair of IMAGINE joined Dr Heather Melville OBE CMgr CCMI, Chair of CMI Women, Ann Francke OBE, Chief Executive of CMI, and guests to celebrate the 50th anniversary of the Chartered Management Institute (CMI)'s CMI Women network. Falling during the Covid-19 pandemic, CMI Women's 50th Anniversary celebration was held in the spirit of the debate over what the continued impact of the pandemic may be on gender diversity in the workplace.
With evidence that the Covid-19 crisis is disproportionately affecting women - be it through their chosen professions, or care responsibilities - advocacy, networks, and practical action are more important than ever. The CMI Women network today offers various ways of mitigating the impact of the pandemic on women in the professional sphere: allyship, sponsorship and mentoring, research, and raising awareness of issues impacting women in the workplace. These topics were addressed by keynote speakers Alison Rose and Paul Polman, as well as other panelists and network hosts including:
Lord Mark Price CVO CMgr CCMI, President of the Chartered Management Institute;
Jo Moffatt CMgr CCMI, Deputy Chair of CMI Women and Practice Director at Atkins;
Angela Owen CMgr CCMI, CMI Women Board member and founder of Women in Defence UK;
Dr Jummy Okoya FCMI, CMI Women Board member and multi-sector HR and positive psychology consultant.
Dr Heather Melville OBE CMgr CCMI, Chair of CMI Women said:
CMI Women is focused on developing the world's strongest pipeline of female managers and leaders. We provide members with a comprehensive schedule of events and networking opportunities, access to support through our online career development centre, evidence reports and best practice developed by CMI and our wider community, as well as access to the CMI Mentoring platform. But our network is not exclusive to women - we encourage men to join and act as allies and agents of change, to become everyday champions of women at work.
In her keynote address, Alison Rose, Chief Executive of Natwest Group Plc, said:
The good news is that when it comes to building diverse and inclusive businesses and communities, we can all play a part, and the rewards are significant for everyone. Whether it involves making sure women have the same opportunities as men to develop their career, for example. Or making sure men have the same access to family-friendly policies and flexible working opportunities – and feel just as supported to access these as women.
In his keynote address, Paul Polman, Co-founder and Chair of IMAGINE, said:
I am delighted that CMI Women are celebrating the achievements made in the last 50 years and projecting a vision for the future of women in management and leadership in the next 50 years. This year, 2020, has been so incredibly difficult for so many people. But not all of us have experienced the same levels of difficulty - ask yourself if you, like me, have been protected on an island of prosperity within a sea of poverty; have you benefited from privilege in ways that others have not? Well, let's respond by all collaborating with optimism to create a vision for the future that includes everyone. It is now the decade for action, and we must act together.
In discussion at the event, Ann Francke OBE, Chief Executive of CMI, said: "Tonight we're celebrating 50 years of CMI women, which is a great milestone indeed. But are we going to have gender balance in the next 50 years?" Advice for achieving this included leaders working to embed the fundamental principle of treating people fairly in the workplace, and taking the time to understand the views of people with different backgrounds and experiences in order to promote inclusion and positive change.
For aspiring female leaders - regardless of their industry - advice included: using one's differences as strengths to stand out in the workplace; putting yourself first in order to better look out for others; and dedicating time to self-investment through gaining knowledge and looking after one's wellbeing.
For more information on CMI Women, and advancing gender diversity and inclusion in the workplace, visit the CMI Women Network page.
Notes to editors
About the Chartered Management Institute (CMI)
The Chartered Management Institute (CMI) is the Chartered professional body for Management and Leadership, counting 143,000 managers and leaders in its membership community. There are currently over 10,000 Chartered Managers and growing.
Backed by a unique Royal Charter, CMI is the only organisation able to award Chartered Manager status - the ultimate management accolade, which is proven to boost individuals' career prospects, management capability, and impact in the workplace.