The warning signals that a team member is showing symptoms of stress and burnout – and how to step up as their manager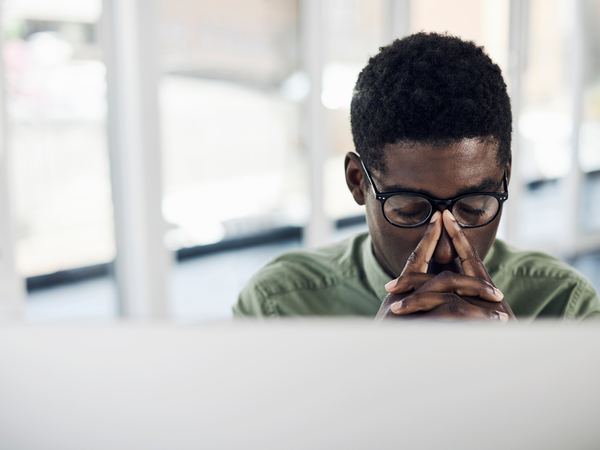 Many employees are feeling burnt out due to the stresses of living through COVID19. As an employer, what can you do to offer support and help them through the transition to hybrid working?
Three-quarters of people are struggling
Dealing with life since March 2020 has been a lot, so it's no wonder that employees are feeling the strain.
At Kooth – the organisation bringing you Qwell - we've seen an 89% increase in adults coming to us for mental health support, with 39% saying they feel down, depressed, or hopeless nearly every day. That's a rise of 28% compared with 2019.
These are worrying statistics for employers, particularly as many people are now returning to the workplace where they're facing yet more change. A Gartner survey found that 82% of companies plan to move to a hybrid workplace model – arguably the greatest social change in office history.
Think before you ask questions
Against this backdrop, how can you help employees deal with burnout and cope with the latest workplace changes?
Lisa Kramer, a business psychologist at Kooth, suggests taking a step back and considering how a wellbeing question might land before you ask it.
She says: "If a manager doesn't have a good relationship with an employee, leaping in with a wellbeing question like 'How are you feeling?' or 'How well are you coping at the moment?' can do more harm than good. You might be the last person they want to confide in. People can also be wary of losing face if they tell the truth about feeling under stress. They might worry that their line manager will think they can't cope and that they could be next up for redundancy."
This doesn't mean avoiding wellbeing questions altogether. Lisa adds: "If you're not the right person to ask those kinds of questions, you may choose to enlist the help of a colleague who has a better relationship with that person instead."
Build a culture of psychological safety
Lisa also highlights the importance of creating a culture of wellbeing and psychological safety at work.
Psychological safety means being able to show yourself without fear of negative consequences of self-image, status or career. In psychologically safe teams, team members feel accepted and respected.
Do this by:
Creating a "psychological safety" contract, where employees are clear on how you will support their mental health and what you expect from them in return.
Putting employees' mental health and wellbeing at the heart of your company's values.
Ensuring that everyone knows and supports these values by having 'ambassadors of change' and key figureheads around the business who champion mental health and wellbeing.
Making wellbeing conversations part of performance reviews.
Giving employees access to mental health first aiders or wellbeing officers for additional support. In a small organisation, identify a wellbeing lead as a first port of call.
Back to work concerns
As people start coming back to the workplace, there are some common concerns that are likely to be on their minds. They might want to know if you're carrying out any type of risk assessment. For example, they might want to know whether you have a strategy in place for dealing with conflicts between colleagues, such as pro- and anti-vaxxers; how you're planning to help people deal with their anxieties; and what guidance is available to help them get to grips with the new ways of working.
Communicate often – and listen, too.
Communication is key here, especially when people first come back to work and need the most reassurance. "Make sure you have one person who's clearly leading your communications," says Lisa. "Let people know what you're planning to do and gather feedback on how people feel about your plans. And don't ask for feedback if you're not ready to act on the results!
"Send out weekly updates and check in to make sure that people are okay. Even if you're a fast-moving corporate business, attention and support go a long way to make people feel valued and cared for."
Signs of stress/distress
In addition to checking in on people to find out how they are, you should watch out for obvious signs of distress, such as:
Excessive paranoia, worry, or anxiety
Long-lasting sadness or irritability
Extreme change in moods
Dramatic changes in eating or sleeping patterns.
Sometimes, it's obvious when people are suffering. For example, someone who was previously a chatty, open person might become quieter and more reserved.
But it can be tricky to detect when employees are having a hard time. "Some people who are suffering or disengaged can carry on for quite a while, apparently as normal. You might only become aware that something's wrong when you notice reduced work performance," says Lisa.
"Also, it can be difficult to help people who haven't told you that they're feeling under pressure. This is why reaching out to an anonymous service like Qwell can be a lifeline to many."
Encouraging wellness
As part of your corporate wellbeing programme, you could introduce yoga workshops and meditation sessions, or simply encourage people to take regular breaks during the day or go out for a walk and enjoy time in nature. All of these are proven to reduce stress and help people achieve more balance in their lives.
Know your limits
Everyone wants to look after their people, especially given all the challenges we're facing during the pandemic. But it's also important to recognise when you're not the best person to offer help.
"You may not know how to deal with someone who's suffering from stress yourself, but you do need to know where to signpost them for help," says Lisa. "This might be your mental health first aider, your wellbeing officer, or someone outside the organisation who can offer professional support and guidance."
"Also, remember to look after yourself. You're living through the pandemic, too, and you have your own stresses to deal with. Make sure you're doing what you can to support your own mental health."
CMI's Better Managers Roadmap, including a whole section on employee wellbeing, is designed to equip you, as managers and leaders, with the skills, tools and knowledge you'll need as we move to a world of hybrid and flexible working, backed by our findings from our research, and the global CMI Community.
CMI has partnered with Kooth, the UK"s leading online mental health platform, to provide our members with a free, safe and anonymous space for online support and counselling. You can find out more here or watch this great 'It's okay not to be okay' webinar for team leaders and managers.
For more articles on this and lots more, head to Qwell where we also offer other tools such as an online journal and mood tracker – and access to our team of experienced mental health and wellbeing practitioners. The service is anonymous and free.
You might also like these posts on this topic:
Don't miss out - get notified of new content
Sign-up to become a Friend of CMI to recieve our free newsletter for a regular round-up of our latest insight and guidance.
CMI members always see more. For the widest selection of content, including CPD tools and multimedia resources, check out how to get involved with CMI membership.