Article:
'Better together': why we've asked all our people to come back to the office
Written by Mark Rowland
Tuesday 23 November 2021
Should you insist that people come back to the office? Or consult about the best hybrid working model? Opinions among managers are mixed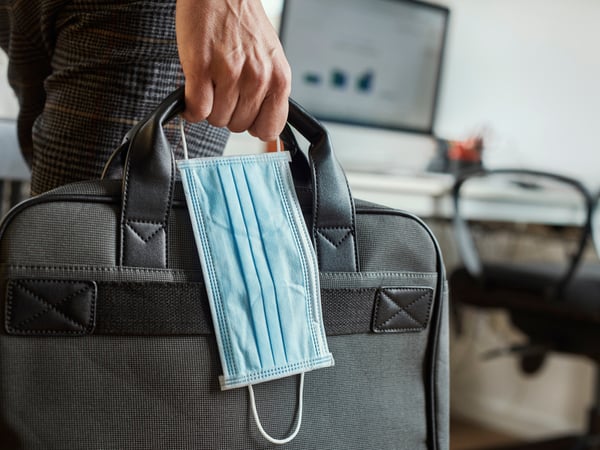 The leadership team at business answering services company Moneypenny decided on a fairly bold move in early September: staff were to come back in the office full time from 11 October until Christmas. Some exceptions were made for those who were particularly vulnerable or nervous about a return to work but, for CEO Joanna Swash, it was important to have the vast majority of people back in its Wrexham head office.
Bringing everyone back for three months was a risk, Joanna admits, but she believes that the company needs time together to reunify its team and cement its company culture. For one thing, the company had also recruited around 250 people since July 2020, none of whom had been in the office. And, as restrictions eased in 2021, some workers were drifting back into the office while others stayed at home. Joanna had started noticing a cultural drift between the two groups: "These two different culture trucks were developing."
As a result of asking everyone to come back to the office, only 15 out of a workforce of about 900 haven't come back to the office full time.
But not everyone has taken such a radical step
When high-end pet food company Lily's Kitchen consulted with its employees to develop its post-Covid working model, it found that 87% of staff were keen to work between one and three days in the office, says Georgina Cameron, HR director at the company. At the moment, people are primarily working from home, with the option to book a desk in the office if they need it. "Looking forward, we anticipate people being in the office two days a week on average, and to continue working from home for the remainder of the week."
Whatever your plans, everyone agrees communication is key
To encourage the Moneypenny team back into the office, Joanna Swash opted for some very honest communication. She spoke with every member of staff about what had gone well, what had gone less well, and what kept her awake at night.
Two-thirds of managers that have moved back to the workplace consulted with their employees about the return
Managers Voice Pulse Point poll, July 2021
Georgina Cameron agrees that maintaining a constant line of communication is critical. At Lily's Kitchen they've gone for what she calls a "continual dialogue" with staff. "We want to make sure our colleagues feel safe and happy to work in the office. Consulting on return-to-work policies in a continual dialogue with staff, as opposed to making unilateral decisions. That ensures we are listening to our colleagues and implementing initiatives that suit a balanced and holistic approach."
And you should be mindful of health concerns
Employees should feel comfortable and happy when making a return to the workplace, says Vicky Walker, HR director at private health insurance provider Westfield Health, which has done a lot of work on employee well-being and returning to the office. "Employers should listen to what their employees want, while keeping this in line with the company's strategy."
What Covid measures are managers taking?
Managers told CMI in September that the most popular Covid-secure measures are: providing sanitisation stations, regular deep cleaning of shared workspaces and continuing with social distance at work.2 Nearly 80% of managers say that their organisation would keep Covid-secure measures in place beyond the removal of all Covid restrictions.1

A poll conducted by CMI in July found that managers were almost split down the middle as to whether the vaccines mattered to safety, with 54% saying it did matter.1 One in five managers say their organisation is asking staff to voluntarily disclose their vaccination status, primarily to help to manage risk and protect staff in and around the workplace.2

1 From Managers Voice Pulse Point poll July 2021
2 From Managers Voice Pulse Point poll September 2021
Joanna expected some staff would not be able to come into Moneypenny's office and was mindful of individuals' health issues. "It's that balance between the health responsibilities that we've got, the responsibilities to the business and our clients, and the fact that we've all got to ensure that our business survives a pandemic," she says. "As leaders, that's been the hardest piece – to find that happy path through that maze."
The future of the office
After three months in the office, Moneypenny plans to launch a hybrid working model in January. And with the possibility of the UK government implementing Plan B (the reintroduction of stricter measures) over the winter, workers across the nation could soon be heading back to their home offices.
Just over a fifth of managers reported that Plan B has delayed their organisation returning staff to the office
Managers Voice Pulse Point poll, October 2021
As the pandemic situation continues to evolve, we may well see ebbs and flows of staff back in the office – as each business finds its own path to a new normal.
Image: Shutterstock/nito
Take part in the Managers Voice Polls
CMI members can make their voice heard by joining the Managers Voice community, whose opinions and feedback shape the support that CMI delivers to its members and ensures the voice and needs of professionally qualified managers are heard at a national level. Interested? Join today.
Register your interest now
Become a CMI member today
You might also like these posts on this topic:
Don't miss out - get notified of new content
Sign-up to become a Friend of CMI to recieve our free newsletter for a regular round-up of our latest insight and guidance.
CMI members always see more. For the widest selection of content, including CPD tools and multimedia resources, check out how to get involved with CMI membership.