Article:
From intern to CEO in five years – and still learning
Wednesday 28 April 2021
After becoming CEO, Max May decided to embark upon an apprenticeship to fill in his knowledge gaps – here's his story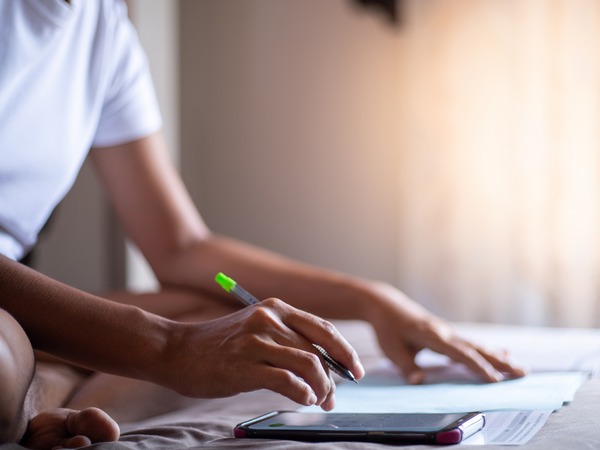 Max May is chief executive of the north Yorkshire-based charity Rural Arts, which delivers creative opportunities to rural communities across the county, such as workshops, exhibitions, performances and events. He's also an apprentice! Here's Max's story, and why it's never too late to start learning.
Meet Max
Max first joined the charity as an intern after completing a theatre studies degree from the University of Glasgow. He wanted to find a job in the creative industries locally, but the opportunities were few and far between. Though surprised that a small charity in a rural area was offering a paid internship, he leapt at the opportunity.
After six months as an intern, Max was promoted to communications and engagement officer, which he did for a year. However, he had dreams of working on a larger scale, so moved to London and took a job with a theatre company.
"In an organisation that size, sometimes you can only get promoted if your boss leaves, and I wanted to develop my management and leadership skills more quickly," he says.
While in London, Max completed a couple of leadership courses that bolstered his management and leadership skills and gave him a career confidence boost. The structured time away from the workplace enabled him to think about his approach to work and to his team, and he met coaches who helped him develop his skills along the way.
After Max had been in London for three years, the founder of Rural Arts, who had run the charity for 27 years, announced she was retiring. So Max applied for the role.
"It was the programmes and coaching that enabled me to say 'I can do this'. And also – I think something we need to remember – we only succeed when other people support us," he says.
Learning at the top
After successfully becoming chief executive of Rural Arts, Max knew that he couldn't rest on his laurels.
"I'm really honest about not knowing everything," says Max. "I think that's one of the most important things that has enabled me to develop so much and so quickly."
His honest appraisal of his skills and experience, as well as his enthusiasm for training and developing skills, led him to start working towards a Senior Leaders Management Degree Apprenticeship (SLMDA) with York Business School.
"I think maybe starting during the pandemic wasn't the best of my choices," says Max, who is also in the middle of a rebrand, a website relaunch, and is leading a larger-than-usual team due to the need for both in-person and digital programmes due to Covid-19.
"I'm finding it so interesting. I wish I had the knowledge I'm gathering now when I joined Rural Arts. Things like: you can't over-communicate change; and making sure you've got a coalition of people that believe in your change – those types of things I now know would have made life so much simpler," says Max, who is almost halfway through the apprenticeship programme.
His advice to anyone looking to mirror his success is to take the opportunities – both to learn but also to put theory into practice. "The leadership programmes that I went on were absolutely amazing," he says. "But I only developed because I was given opportunities to use the lessons in the workplace."
The power of apprenticeships
Max tries to bring this spirit into his leadership at Rural Arts. The charity offers around ten entry-level opportunities each year through apprenticeships, internships, placements and work experience programmes.
"Rural Arts has a really strong internship and apprenticeship programme built on the legacy of people like me," he says. "Currently, 60% of our staff were either interns, apprentices or work placements. From my perspective, I felt I had to go to London to get progression opportunities, but it's something we're committed to changing. One of our aims at the moment is to retain and train talent, because we do suffer from a brain drain down to London and across to Manchester."
We agree with Max that investing in your people's training is a fantastic way not only to earn loyalty from your staff and incentivise them to remain in your organisation, but also ensures you have an engaged employee base with excellent skills at every level. You can find out more about management apprenticeships and whether they're right for you here.
You might also like these posts on this topic:
Don't miss out - get notified of new content
Sign-up to become a Friend of CMI to recieve our free newsletter for a regular round-up of our latest insight and guidance.
CMI members always see more. For the widest selection of content, including CPD tools and multimedia resources, check out how to get involved with CMI membership.