Article:
How can managers support their staff to work safely at home during Covid
Tuesday 29 September 2020
Here are the top three things managers need to know to help their staff feel safe and supported while working from home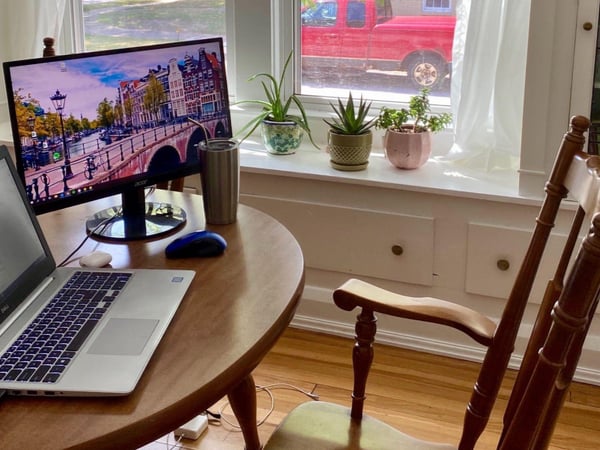 With the new angle of government messaging urging those who can work from home to continue to do so, we look at the health and safety need-to-knows for managers.
"Organisations must get used to home working. With the number of new Covid-19 cases rising exponentially once again, the UK government has made it clear that it will be our reality for the foreseeable future," says Andrew Mawson,  founder of Advanced Workplace Associates (AWA), a global change management consultancy. AWA runs the Advanced Workplace Institute, which serves as a professional network and research body.
"Business leaders need to understand that in this new normal, the old rules no longer apply," he says. "A long-term move to home working requires leaders to rethink how they manage their virtual teams. Managers risk damaging their employee wellbeing, motivation and morale if they do not make emphatic changes to the skills, behaviours and practices that underpin their organisations."
Be aware of burnout
"Firstly, there is the risk of overwork rather than underwork, as has been the unfair stereotype of home workers for so long," Andrew continues. "The barriers between the office and the home have broken down completely; people may struggle to switch off. They may even overcompensate out of a misplaced sense of guilt. But leaders no longer have the visual and social cues of an office – the casual chats by the coffee machine or lunch in the breakroom – to help them understand how colleagues are doing."
Having a group team call once a week isn't going to give you an accurate indication of your people's wellbeing. Try to get a rounded picture. And be aware of what happens when people burn out, and read what happened to one Google employee as their stress became overwhelming.
Stay connected 
Perhaps now more than ever, meaningful connection will make all the differences to professional relationships. "Leaders need to find new ways to keep people connected and to create the kind of bonds that allow teams to flourish," Andrew says. "New research from the Advanced Workplace Institute and the Centre for Evidence Based Management has found that factors such as social cohesion, trust and perceived supervisory support are fundamental to the effectiveness of virtual teams.
"As such, it's vital that leaders make use of the digital tools at their disposal. Organising regular video calls will provide people with opportunities to catch up about work as well as socialise and learn about one another. Doing this means social cohesion and trust do not dissipate. An environment of trust and transparency will also ensure that everyone can speak openly about their needs or concerns and that there is a clarity around expectations and boundaries. Moreover, leaders need to reconsider the support they offer virtual workers. Without the psychological safety of the office, people may feel ignored or unsupported. So, it's down to the managers to find new ways to reward and incentivise their teams."
Practical Risk
By law, employers are responsible for the health and safety of all employees, including those working from home. During the pandemic, it's very unlikely that employers can carry out usual health and safety risk assessments at an employee's home. However, an employer should still check that:
each employee feels the work they're being asked to do at home can be done safely
employees have the right equipment to work safely
managers keep in regular contact with their employees, including making sure they do not feel isolated
reasonable adjustments are made for an employee who has a disability
Know your resource
There's a wealth of information about the nitty-gritty elements of health and safety, We've rounded up some of the top sources below.
ACAS
Worksmart
HSE
Gov.uk
People Safe
If you found this article useful, check out the other exclusive benefits of CMI membership.
CMI Members can log into ManagementDirect and search for other health and safety and risk assessment checklists - try searching for 'Checklist 056' to get started.
You might also like these posts on this topic:
Don't miss out - get notified of new content
Sign-up to become a Friend of CMI to recieve our free newsletter for a regular round-up of our latest insight and guidance.
CMI members always see more. For the widest selection of content, including CPD tools and multimedia resources, check out how to get involved with CMI membership.