Article:
International Women's Day advice: How to own your career
Wednesday 10 March 2021
We spoke to influential and inspirational women from the CMI community for their stories of building career success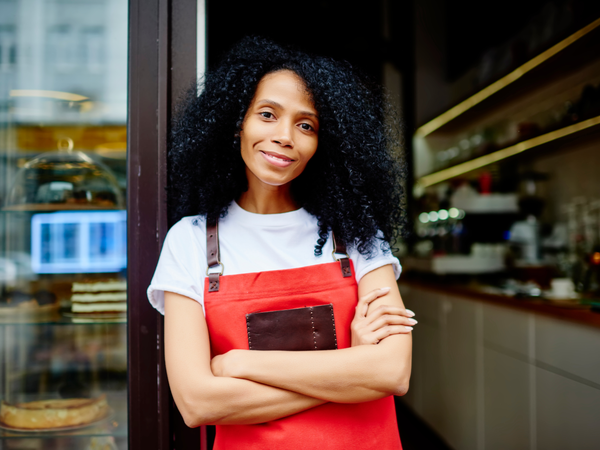 In celebration of International Women's Day, we asked for stories, advice, and insider knowledge on their organisation's gender equality initiatives from within the CMI community. Their advice has a common thread: you already possess the skills to make a positive impact on your career.
Let's start with Katherine Robinson, senior business development manager at Boots UK. Her success story  comes in the form of personal development: "I supported the delivery of a self-reflection tool to members of our business resource group over a 10-week period with a social enterprise The My Way Project," she tells us. This project seeks to 'play an active role in closing the unemployment and self-employment gender gaps affecting women in the community' which widened due to the Covid-19 pandemic. Her advice to women seeking to succeed? "Lift your head above the parapet and speak up, create allies within your organisation – everyone has a part to play in gender equity."
This business resource group, Katherine says, is a key way that Boots UK supports women's success in the organisation. On top of this, the organisation also has "diverse slates in interviews, inclusion as a business value and diversity, equality and inclusion targets that are linked to bonuses."
Step out of your comfort zone
Carey Philpott is head of communities and business development at SATEDA, a charity that aims to end the cycle of domestic abuse and rebuild lives, through education, support and advocacy. She tells us that her organisation "empowers women to step out of their comfort zones and embrace change and challenge, helping them to grow much further than they thought possible." This is an approach she recommends in all areas of life.
Carey says that the organisation's majority-female workforce has been supported by flexible working policies: "most of the workforce are part-time working between school hours." They were able to successfully iron out any kinks early on, as SATEDA "mobilised working from home a week before the national lockdown in March 2020."
Widen your inner circle
Jo Richardson CMgr MCMI, associate dean of research and innovation at De Montfort University, says that relationship-building opportunities have led to success for women in her organisation as they've strengthened professional networks.
"As co-chair of our university's Women's network, we have provided support throughout the pandemic through a range of online workshops, conferences and meetings – for example, last Summer we ran an online 'DMU Women Revive' event that included wellness sessions, creative writing and coaching," she says. "We have regular meetings and events throughout the year; one session recently focused on domestic and family violence, where we heard from our own expert researchers, and invited guest speakers. We have also initiated a new online 'Menopause cafe' during lockdown, as a space where women could talk about issues and work-related challenges – this has resulted in the drafting of a guide, which will be produced imminently."
Representation matters
Lauren Garvey CMgr MCMI works at Golder AU, an engineering and environmental services firm, and also says that flexible working has enabled herself and other women in the organisation to continue to flourish in leadership roles over the past year. They've also enabled "work-sharing, to allow parents/carers to support home-schooling or supervision while still keeping their job and not having to use accrued leave."
She does note, however, that one thing the organisation could improve on is to engage in discussions about roadblocks – and with that said, her piece of advice for any women seeing this in their own organisation is to speak up.  "If you don't ask or say, then you won't see a change. Seek out other women or allies to support you, including a mentor," Lauren says.
Don't underestimate women's resilience
"The biggest success I can think of is the sheer resilience we – both myself and my organisation – have displayed, in the face of this pandemic," Neha Kirpalani, who's involved with QS Women's Network. Adapting to home working and balancing home and life was a big ask. She's now got a "formalised mentorship relationship with my managing director. It's been a rollercoaster of accelerated growth and learning, as well as challenges and frustrations, and proud of how I've been able to navigate this journey with strength and hope."
When asked how her employer could further support women more to enable them to succeed in their role, Neha Kirpalani believes there's room for improvement. "Primarily [they should] hire more women, especially people of colour, and provide them the tools to succeed: greater flexibility, equal pay, the ability to work in a different country or region to learn and expand their skills." Though, she does commend her employer for their newly instituted diversity and inclusion network and their women's network: "We're already great strides in promoting women at the workplace, and have even had several pilot #IAmRemarkable sessions, run by fantastic internal facilitators," she says.
Fix each other's crowns
Amanda Boswell works at Syngenta, an agricultural technology and innovation company, and says that on top of her employer supporting the women they employ, that female empowerment is exactly what Syngenta does.
"We're an industry leader in supporting vulnerable women in agriculture (Kenya farmers a great example)," she says. "We regularly address women's challenges in farming, recognise and embrace International Women's Day and women and girls in science, and we promote the stories of women in power (like Ngozi Okonjo-Iweala, World Trade Organisation's first Nigerian female director general)."
When it comes to offering advice for women to find their own success, Amanda has a clear piece of advice: "fix each other's crowns, don't pull each other down." She recommends developing strong professional relationships with other women: "acting as mentors and sponsors for one another will be key to finding strength. Never give up demonstrating your value to the organisation – we are sometimes not bold enough to let our work do the talking and accepting the praise, so be accepting of the thank you and remember you are worth it."
Give yourself permission
Kelly Milburn, a self-employed coaching consultant and tutor, has three key bits of advice for any women needing a confidence boost:
"One: grant yourself permission to ask for help. Two: be brave and ask to have a conversation about what you need or think you need. Three: Be prepared to be supported and challenged and to raise awareness of any limiting mindset at play," she says.
Thank you to everyone who got in touch for this article. Please do reach out to us if you have any news you'd like to share with the CMI community and to be considered for an article with us.
We've also hosted a range of events to celebrate International Women's Day – check them out today.
You might also like these posts on this topic:
Don't miss out - get notified of new content
Sign-up to become a Friend of CMI to recieve our free newsletter for a regular round-up of our latest insight and guidance.
CMI members always see more. For the widest selection of content, including CPD tools and multimedia resources, check out how to get involved with CMI membership.