Should You Have Fixed 'office Days'? How About Sharing Your Job With Someone Else? Or Flexible Hours, Even. Managers Will Be Grappling With These Questions as We Return to Work. We Spoke to People Who Have Worked Out Some Effective Solutions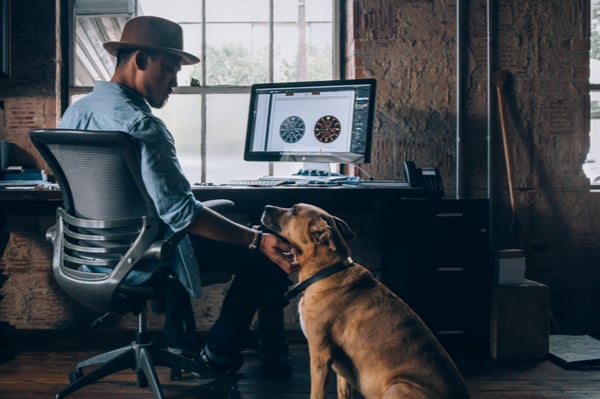 We recently looked at how to request flexible working and what type of working patterns might suit you best. To follow this up, we've talked to a group of people who have successfully implemented flexible and remote working practices into their organisation and found all sorts of benefits.
Set 'Office Days'
Aaron Rudman-Hawkins, managing director of The Evergreen Agency, believes that businesses have now realised that they don't have to have all of their team in the office every day, and that companies and their employees have proven they can work remotely with relative ease.
"I am already seeing more companies relax their rules when it comes to office-based working. Many are adapting a policy of a split office/home," Aaron says. "This is something we have always had at The Evergreen Agency. We have a policy of up to two days per week working from home if an employee wishes to do so. Some take up this offer, some do not. It's entirely each employee's choice. The way we're able to manage this is to have one to two set days that are 'office days' where everyone must be in. For us those days are Mondays and Wednesdays so we can have big team meetings and client meetings."
Aaron's colleague George Pritchard, head of SEO at The Evergreen Agency, has been working with Aaron for nearly two years, and together they've grown and built a successful agency. Creating the right office culture with the work/life balance has been a vital part of this. "I am a Dad of two and I live 60 miles away from the Oxfordshire office, so it was crucial for my set-up to allow for that," says George.
"Having two core days in the office to bond with the team, have planning sessions, and host meetings is great. To have those set days at home to work around being a father, to cut the 90-minute commute, and be able to get my head down on intense focused tasks – is perfect. It makes a difference not only to me but the whole team. We acknowledge that people have a life outside of work, and we offer a structure that plays to their strengths and mental wellbeing."
Part-Time, And Allowing the Team to Choose Their Days
Liz Sebag-Montefiore, director of HR consultancy 10Eighty, told us that her return from maternity was the catalyst for more flexible working: "I requested a flexible working pattern as I wanted to drop the boys off at nursery/school at the beginning of the day and collect at the end of the day, three days a week. The other two days I am at home with the boys. I love working part-time and it works really well for me because I can do the job I love (helping people have job satisfaction) whilst being a mother and seeing the boys develop. I am very flexible but have clear boundaries; it worked well taking calls when the boys had naps, but sadly they're of an age when they don't nap anymore during the day!
"More of our team are part-time than full-time. You absolutely get more from your team if they can choose when they work; they are more engaged and go the extra mile. In order for this to work, you need to have a manager who trusts you. I've now been working part-time for nearly six years; nothing has changed – I still work my three days a week (when I have childcare) and actually look forward to seeing the boys after three days at work back to back! I'm realistic in what I can achieve each week and it's working brilliantly!"
Job-Sharing
For George Blizzard and Nicky Regazzoni, co-founders of The PR Network, job-sharing was the most effective way of fulfilling both their professional and personal responsibilities.
"My job-share is perhaps the thing I'm most proud of in my career," says George. "Now in our 15th year, Nicky and I have managed to continue striving towards a successful and rewarding career, building the company we're really proud of, without compromising on our home life and our five children."
"The beauty of our job-share is knowing that when I switch off my email and phone, someone I trust implicitly is picking up where I left off," explains Nicky. "I never have to worry about work, as I know George is handling it when I'm not there. It takes time finding the right person and working out your work style, but once you've done that, the rest is easy."
By sharing the load, both in terms of input and hours – but also perhaps more importantly in terms of brainpower and perspective – they've been able to achieve so much. "I know I couldn't have got here without her," says George.
Nicky says that the job-share presents business opportunities in the form of client satisfaction: "[they] have always benefited from having us both involved. Although we have a really similar outlook on life, we do bring a slightly different style or perspective to each situation, a diversity of thought that often benefits the issue we're trying to solve."
Flexitime
For Kulwinder Kaur, who is an employment and family law solicitor for Tiger Law, her organisation's flexitime allows her to fulfill her care-giver responsibilities – but it's not an opportunity unique to her at the company.
"I currently work Monday to Friday in order to meet the business needs and provide a good level of service to clients. Our core hours are 9am to 5.30pm but there is a great deal of flexibility in terms of start/end times for all staff," Kulwinder says. "This allows the staff and the business to prosper – happy staff means greater productivity! From September onwards, when my child is back in school, my hours will be 9-3pm with Wednesdays off, as I will be completing a further course. The principal, Vanessa Challess, is forward-thinking and a great business leader, and ensures that her staff have a good work/life balance. Tiger Law is making big waves in the legal sector, it's really an exciting time to have joined the fabulous tigers."
The Secret is Trust
When it comes down to the nitty-gritty of working out your flexible working system, one thing matters above all. Bex Friis-Jansen, digital PR and SEO specialist at digital marketing agency atom42, told us: "The aspect of this that I don't think can be downplayed is the trust element. I personally feel very motivated by the fact that we're simply trusted to do our jobs and to strike a balance between life and work as we see fit. I think this has benefited the collective mental health and happiness of the business, which in turn means we produce better work, so it's a win-win situation."
At CMI, we believe in the benefits of flexible working. Read our research paper to find out more and see how it can be implemented swiftly and simply.
If you found this article useful, why not get access all our Insights and more - for as little as £5 a month? See our subscriber levels here.
Recommended
› GROW: How universities and students can transform and thrive in Covid-19
› Future skills you'll need: insights from the Management 4.0 project
› Why university students must acquire real leadership skills: new CMI research
› Five innovative ways Higher Education is developing 21st century leaders
You might also like these posts on this topic:
Don't miss out - get notified of new content
Sign-up to become a Friend of CMI to recieve our free newsletter for a regular round-up of our latest insight and guidance.
CMI members always see more. For the widest selection of content, including CPD tools and multimedia resources, check out how to get involved with CMI membership.