Returning office workers will want secure, safe workspaces that are primarily for collaboration, not administration. Managers must not favour on-site workers over remote staff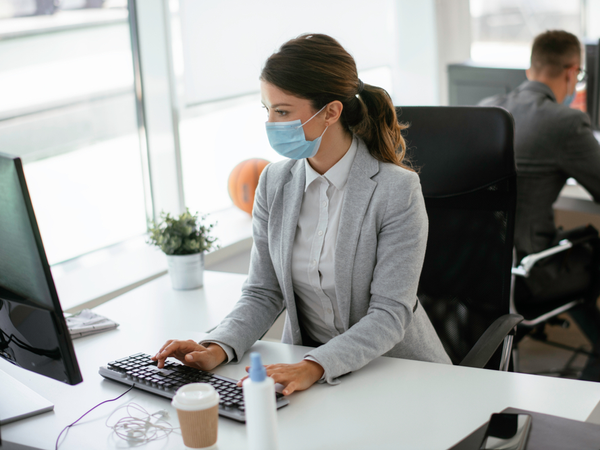 We've been working from home long enough to know what works. Expecting an obedient full return to the office may therefore be naive. Simply barking orders to "get back" will probably be met with, "Why?" So unless management can give coherent, persuasive reasons, employees are unlikely to respond favourably.
Aviva, Lloyds, HSBC and BP have announced cuts to office space by up to 40%, but Goldman Sachs and Barclays have signalled a full return to their offices. So what can leaders do to set the right balance and achieve a successful but appropriate reboarding?
I believe they should start with the needs of the organisation. If the business model really requires face-to-face interaction, it's important to explain why. There may be legitimate challenges to the (previous) business model. Managers must therefore be prepared with persuasive answers.
Perhaps a more likely outcome is a flexible, hybrid way of working. Leaders therefore need to consider the right blend of physical and remote working. One CEO said to me in a Zoom meeting: "From now on, the office is for collaboration not administration." He envisaged more individual tasks being done from home with teamwork and collaboration taking place in the office. That mandates different layouts and different space allocations.
It's likely that employees will want more security and safety in the office. Physical distancing – personal space, may well take on a new importance. Previous space allocations of 120 sq ft per person may not attract people, and hot desking may require much stronger evidence of facilities cleaning. Air quality – clean air that circulates effectively – might be high up the list.
I suspect employees will also want office environments that enable concentration – the ability to focus, free from distractions. Therefore we might see fewer ranks of workstations in open plan layouts. Simply halving the office space and cramming people in won't be a compelling proposition. Equally, if people are tired of working from home, does the office really need sofas and table football?
A more creative use of the space might be to rotate different combinations of teams such as: "Everyone should aim to work at least X days a week in the office but this month, department Y's core days are Mondays; department Z's are Tuesdays." And so on. Another alternative might be to make greater use of flexible office space. In this model, teams meet for one or two days a week at a serviced office facility. Using different locations would give the benefit of variety; and could mark a shift towards a more variable cost model.
People will still want to achieve mastery, autonomy and growth through their work. They will also want more control over their work schedule. They'll probably ask for more time-shifting to enable greater flexibility, more job-sharing and more responsiveness to individual circumstances and needs. Flexibility won't just refer to location, but also time.
Perhaps the biggest change will come from the way managers manage their people. They may need to respond to two teams with inclusivity, for example those who have been working twice as hard and those who are ending furlough. "Command and control" gives way to "Convene and ask." By that, I mean managers must be able to get the right people in the room – be it physical or virtual. Those people must be inspired to do the right thing as willing contributors.
If presenteeism is dead, management must focus on ensuring everyone knows what's expected of them. The focus is shifting away from inputs (effort) to outputs (results). That shines a clear, bright spotlight on management capability. At all levels, managers need skills of rational, emotional and rhetorical persuasion to reach agreement. Managers also need skills to confront difficult topics and issues. They must handle disagreement without becoming disagreeable. They need to explain "what the deal is" for those who work for the organisation and why the deal is what it is. Diversity and inclusion issues will be even more important. If men are more likely than women to return full time, managers must take great care to avoid preferential attention, reward and task allocation to the most visible men. All the rules on discrimination, safe systems of work and so on still apply to people working from home.
Leadership needs to be explicit about values, organisational culture and what performance actually means. All the time leaders are sending signals via their decisions, actions, language and behaviour. Leaders also need to be very transparent about the "Why" and the "How" of decisions. Ultimately, leaders need to demonstrate they are acting in the best interests of their people as well as the organisation. The office can no longer be seen as the unquestioned default operating location. How managers re-engage and re-board their workforce will be key to the recovery.
As workplaces around the world reopen, CMI is bringing insights from frontline managers leading the return-to-work process. Here's Hitachi Europe's deputy MD Stephen Pierce on employee consultations. If you'd like to share your experiences of what's working and what's not, please email us at editorial@managers.org.uk
For more articles and advice exploring the challenges of managing through Covid-19 and beyond, check out our Leading Through Uncertainty hub.
You might also like these posts on this topic:
Don't miss out - get notified of new content
Sign-up to become a Friend of CMI to recieve our free newsletter for a regular round-up of our latest insight and guidance.
CMI members always see more. For the widest selection of content, including CPD tools and multimedia resources, check out how to get involved with CMI membership.