The digital age has re-defined what is needed for business success. Find out about the barriers your company faces in this tech-enabled world, and how to overcome them and stay competitive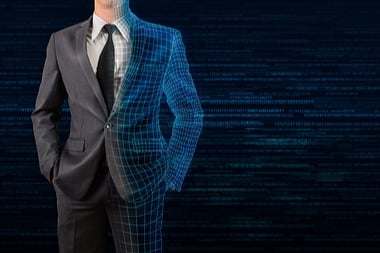 Research shows that the main barriers to digital technology use are the inability to work across silos and a risk-averse culture. These prevent many organisations from taking advantage of major opportunities facilitated by data and digital technology.
Opportunities include optimising operations, creating customised and real-time customer engagement and using prescriptive data to drive future strategic direction. Digital technologies can help organisations become hyper-responsive, predict customer needs and achieve fluidity to respond to emergent trends in the competitive landscape.
Businesses often struggle with the development of a solid digital strategy. Many also find it difficult to acquire people with the right competencies, capabilities and mindset to implement it.
Our research with organisations in the UK shows that 61% found the biggest barrier for digital transformation to be the lack of relevant IT systems and 59% consider the lack of people with appropriate skills to be of greatest concern.
However, those organisations that have embarked on clear digital transformation are achieving greater benefits.
Some 30% of the businesses in our study have automated their business processes and 82% find this change effective. There is also a push to use real-time data to optimise customer engagement and employee efficiency.
We believe that there are five challenges that prevent organisations from making the most of digital technology:
Inability to re-imagine the business: Many organisations believe that they must prioritise and protect their core business rather than invest in innovation to discover new opportunities.
Lack of relevant skills, capabilities and competencies: Transforming into a digital organisation requires the skills and expertise to execute the new digital strategy. This may require upskilling or the buy-in of completely new insight and experience.
Missing a digital-first mind-set in the leadership team: Senior leaders have a wealth of tacit knowledge and understanding of the organisation, but often lack a fresh perspective to re-imagine the business with digital at the core.
Lack of digital infrastructure to gather, analyse and apply data-driven insight: Even with the management team and employees on board the digital transformation journey, the relevant digital systems need to be in place with a clear focus on how to effectively use the new data and insight gathered.
Complexity of a large-scale digital transformation: Digital transformation requires re-thinking at the organisational core. A comprehensive and large-scale transformation is often complex, costly and time-demanding.
What can organisations do to adapt and stay competitive in the digital age? We propose three digitally-charged ideas that can help businesses to get ahead in their digital transformation journey.
Re-invent or Re-imagine the Business Model
Organisations must consider whether their business models should be re-invented or re-imagined.
Re-invention refers to taking the existing business model and changing or extending it to take advantage of new technologies. Re-imagining means thinking of business, customer value, value capture, product/service design and purpose in completely new ways, leading to a new business model.
Business model innovation is essential in times of significant change and fierce competition.
Organisations that change too slowly are often left behind. For example, Ford Motor Company is re-inventing their business, while new entrants such as Tesla are re-imagining the automotive industry.
Involve Tech-savvy Leaders in Decision Making
In developing the digital transformation strategy, it is essential to involve tech-savvy leaders in decision-making who can imagine the opportunities digital offers.
This expertise will often come from outside the organisation or through new recruitment.
Our research shows that 19% of organisations have employed a Chief Technology Officer (CTO) and 67% believe that the CTO is effective in driving digital transformation.
It is important that decisions are future-orientated and not only based on the status quo.
Collaborate to Thrive in Dynamic Ecosystems
All organisations work within an ecosystem of partners, however not all make full use of the value embedded within the network.
In the digital age, organisations can strengthen their position and competitiveness by co-operating, collaborating and co-creating with network partners through a multi-stage strategy.
This approach can extend an organisation's reach and engagement.
The pharma company, Novartis, for example, anticipates new growth opportunities in emerging markets and digital health. In both areas, new expertise and skills are required for Novartis to take full advantage of the opportunities and this means collaborating with network partners.