We boiled down the 2021 CMI Management Book of the Year shortlist to these ten insights...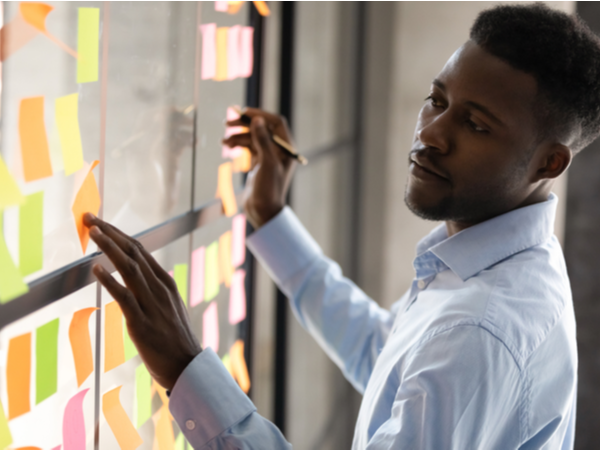 The way we lead was changing even before Covid-19 struck. Now those changes are being turbocharged. Over the past few months, we've been reviewing the contenders for the 2021 CMI Management Book of the Year award. In advance of the winner being announced – and in case you don't have time to read all 20 books – here's our 2021 leaders' playlist...
1) It's hard to plan for the future when the future keeps getting more unpredictable. Margaret Heffernan's stand-out book Uncharted makes the case for ditching forecasts (the world is far too complex for these to be useful) and for abandoning the idea that the solutions we used for similar situations in the past can be replicated. Being prepared, she argues, means developing a practical form of resilience that capitalises on our knowledge and experience, as well as the power of imagination, creativity and compassion. This will help us better identify where the opportunities for experiments lie.
2) If there's one thing the past year has shown us, it's that the quality of our relationships makes or breaks our success at work. Knowing how to rub along with everyone else under intense pressure, and to cleverly resolve conflicts when they do arise, is a must-have skill for managers (even more so when most of our interactions are on Zoom). In Connect, siblings Guy and Tami Lubitsh-White show us how to dig deep and make better connections.
3) The leader of tomorrow needs to be an explorer, argues Jacob Morgan in The Future Leader. This means being someone who believes in questioning assumptions and challenging the status quo; someone who's curious, a perpetual learner, has a growth mindset, is open-minded, agile and nimble. This mindset and these qualities cannot be faked. You already have it in you somewhere. Now's the time for you to liberate it.
4) From our workplaces to our planet, now is the time for us to reimagine our environments, argues Rae André in Lead for the Planet. As we slowly reconvene post-lockdown, it's time to rethink what we use our workspaces for. Hybrid working seems to be here to stay, so should our offices be maximised to suit the creative, collaborative and social parts of our working lives? At the big-picture level, business leaders need to become 'climate leaders' who inspire their organisations towards global solutions and who take their sustainability initiatives beyond the confines of their businesses.
5) There's one word in leadership circles that keeps buzzing: purpose. Whether it's the 'we're all in it together' community spirit or the huge number of volunteers who came together to get us through the pandemic, creating a sense of purpose is something that managers should try to carry over into their working lives. That's why Alex Edmans' book Grow the Pie chimes so well right now. The question on every leader's lips should be: how do great companies deliver both purpose and profit?
6) Could the pandemic be the final nail in the coffin for the five-day working week? Alex Soojung-Kim Pang, author of Shorter, encourages companies to think seriously about allowing their workers to work a four-day week in the knowledge that productivity will only increase. The Silicon Valley consultant says the pandemic has brought an unexpected productivity upside to many businesses, which might now be brave enough to experiment with fewer hours.
7) Innovation is one of those buzzwords that we've all grown sick of. It's easy to pay lip service to the concept, but fearless innovation, as Alex Goryachev argues in his book of the same name, means doing innovation for real and weaving it throughout the culture and processes of your organisation to become something that can be measured. Innovation 2.0 means going back to basics and taking it seriously.
8) We've all had to dig deep into our reserves during the pandemic. We've had to be brave in facing the uncertainties and difficulties that COVID-19 has thrown at us. Let's not lose that courage. Leaders now need to think boldly, choose bravely and go beyond what they assume can be achieved, argues Terence Mauri in The 3D Leader. He refers to the Finnish concept of sisu, which is all about showing extraordinary determination, courage and grit in the face of extreme stress or adversity. You've proven what you can achieve when pushed beyond your limits, so why not start to capitalise on that fear and uncertainty?
9) Creating organisations as amazing as the people inside them is the mission of management, says guru Gary Hamel, who – along with co-author Michele Zanini – has coined the concept of humanocracy. The advent of machine learning and AI (and the lack of our usual face-to-face social contact during the pandemic) has thrown into relief the importance of the human side of business and work. It's time to ditch bureaucratic systems and organisational cultures that are hangovers from the industrial age. The 2020s are about encouraging human qualities and creating workplaces where everyone belongs. As Kathryn Jacob and her co-authors write in Belonging: "Without the involvement of everyone in the workplace, diversity initiatives will not succeed". It's not something that a CEO or head of HR can simply impose.
10) Breakthrough performance is often built on a smorgasbord of existing ideas that are brought together in new ways. To create a more effective business DNA, leaders should be picking and mixing from the most inventive leaders and entrepreneurial experimenters, argues Peter Fisk in Business Recoded. This, in his terms, enables you to 'recode' your leadership and organisational approach so that you can thrive in the future. "Change drives new attitudes and behaviours, new ideas and solutions," he says. Now's the time for leaders to step up and recode their business DNA.
The winner of the 2021 CMI Management Book of the Year will be announced soon… But for now, you can see the full shortlist here.
You might also like these posts on this topic:
Don't miss out - get notified of new content
Sign-up to become a Friend of CMI to recieve our free newsletter for a regular round-up of our latest insight and guidance.
CMI members always see more. For the widest selection of content, including CPD tools and multimedia resources, check out how to get involved with CMI membership.