The secret, says this renowned creative agency leader, are "low-pressure moments" and bringing offline and online experiences together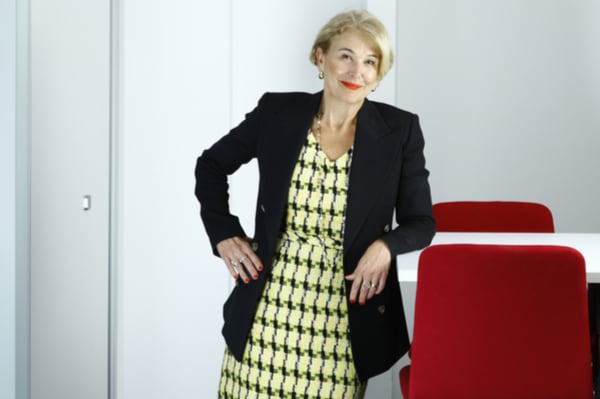 With economists predicting that the gender pay gap will widen by five percentage points as a result of the pandemic, the resumption of pay gap reporting in October won't come a day too soon. This is a topic close to the heart of Jackie Stevenson CCMI, immediate past-president of Women in Advertising and Communications Leadership (WACL) and global managing director of The Brooklyn Brothers, a creative agency she co-founded in London in 2008.
I welcomed Jackie to our latest Better Managers Briefing to discuss the impact of the pandemic and what managers can be doing to play their part as we emerge from it.
Watch our conversation and read the summary below.
Creating low-pressure moments
The pandemic has provided incredible learning opportunities, says Jackie. "As a creative agency that thrives on creative ideas, our first challenge was how to support and motivate our people," she explains. "Creativity and creative thinking need confidence, security and positivity, which have all been in short supply. So, like many managers, we invested in communication and over-communicating – but we quickly realised the value of full transparency and honesty, too. As a leadership team we also decided it was important to show real vulnerability, explain that things were uncertain, share plans and invite dialogue."
Isolation breeds uncertainty, says Jackie. If we're used to being part of a team in a busy office, it's much harder to feel "plugged in" when we're working alone in our bedroom, office or kitchen. "We found it vital to create low-pressure moments where we could be together online as a team, just to chat." Jackie says that out of these sessions came the idea for a new department whose sole purpose is to look for ways to alleviate daily pressures on employees. "We now have Brooklyn Blue Zones – times you can block out in your diary as times just for you, where you can go for a walk or maybe do a bit of online yoga or eat with your family. And it's time that everyone respects."
Rocket fuel for business creativity
The pandemic has spurred greater business creativity, reckons Jackie. "So many businesses have profited from not doing things in the old way, not going through the old modes of pressure-testing ideas, but just jumping in and trying them," she says. "That's just been rocket fuel, certainly for our business and many businesses that we've been working with." According to Jackie, the past 18 months have seen a complete redefinition of bricks and clicks and the way that they work together. "We're seeing consumers excited to come back into stores, for example, but then be disappointed to see they're still being presented with the old experiences of fewer product choices than online, not all sizes, or brands in stock, or even having to carry their shopping home," says Jackie. "Instead, people want to be inspired, they want to talk to somebody knowledgeable about the research they've been doing online, they want to be entertained. It's a huge opportunity for brands who can link online and offline together in a completely new way."
The experience of Covid-19 has also aligned brand reputation and purpose more closely together, argues Jackie. "Consumers want to know about the people behind the products, they want to know provenance and the working practices behind what they're buying. So that will demand a more proactive marketing toolset that creates stories about brands that go way beyond just communication."
Deeds not words
Organisations must make diversity a measurable priority, says Jackie. "When you start looking at intersectionality and the layers of inequality around ethnicity and gender and disability, the stats are just getting worse," she warns. "Businesses are readily engaging with diversity and signing up to codes, but the talk isn't pulling through into tangible action. Talking the talk doesn't equal walking the walk. And to quote the Suffragettes, we're now looking for deeds, not words." Deeds at Brooklyn Brothers include running a "night school" that introduces young people from ethnically diverse backgrounds to creative careers and helps them find jobs in the industry.
One important lever for change is flexible working, Jackie believes, as organisations seek stronger retention tools in the post-pandemic war for talent. "But we need to think through how flexible working can be implemented at every level and how we can genuinely empower teams to curate and create working practices that can allow them to thrive." In the London office of Brooklyn Brothers, individual desks have been replaced with shared workspaces. Its Los Angeles office has gone even further – relinquishing its offices altogether and renting instead small WeWork-style hubs around the city so that staff can work closer to their neighbourhoods in which they live. "Other industries might find that harder, but enabling employees to make choices and curate the way they want to work is imperative if we're going to win in this war for talent."
You might also like these posts on this topic:
Don't miss out - get notified of new content
Sign-up to become a Friend of CMI to recieve our free newsletter for a regular round-up of our latest insight and guidance.
CMI members always see more. For the widest selection of content, including CPD tools and multimedia resources, check out how to get involved with CMI membership.