Blog:
We've gone platinum…
Tuesday 13 October 2020
CMI were recently awarded Investors in People Platinum status. Here are some responses from the CMI team on this huge accolade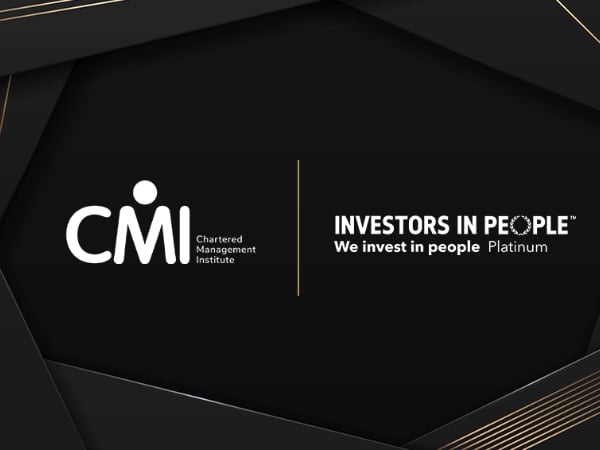 The Chartered Management Institute (CMI) is delighted to have been awarded Platinum accreditation by Investors in People (IIP). Platinum is the highest level of accreditation and is something only three per cent of organisations achieve. It means policies and practices around supporting people are embedded in every corner of CMI. And in a platinum company, everyone knows they have a part to play in the organisation doing well, and is always looking for ways to improve.
CMI had previously achieved IIP's Gold standard accreditation. The advancement to platinum indicates the Institute's continued and sustainable commitment to leading, supporting, and managing people. Paul Devoy, chief executive of Investors in People (IIP), said that "to be at the highest end of the highest quality standard is an absolutely enormous achievement. To put that in context, only three per cent of our organisations achieve Platinum accreditation. IIP's normal standard is something you have to work hard to achieve, but to achieve Platinum shows an organisation that is committed to high values in terms of leadership and people management over a long period of time. Huge congratulations to Ann Francke and the team at CMI on this really fantastic achievement."
Ann Francke OBE, Chief Executive of CMI, agrees that this is major cause for celebration:
"On behalf of everybody at CMI, we're thrilled to be Platinum accredited," she says. "It is everybody's achievement. Thank you also to the CMI community for encouraging and motivating us to do great work. It's really important in these times that we remember to carry on investing in great management and leadership, and looking after our teams."
We spoke to other CMI team members to find out how they reacted to the news, and how it can feed into the work we do at CMI.
Chelsie Keatings, Senior Marketing Executive
"There is a real culture of appreciation at CMI. In my short time here, I have witnessed acts of recognition for all employees and I think that really helps to keep everybody motivated to do more. The award is a testament to our open and transparent culture of working, where each individual is valued and encouraged to get involved and help shape the future of the business through the strategy and values. Our values aren't just words, they are a reflection of our culture and practices - they are ingrained into everything we do and I think that's what sets us apart for our members. When people choose to get involved with us, they know that they'll be supported and encouraged at every stage of their journey.
Platinum status will demonstrate our commitment to creating sustainable success for all of our learners, members and partners. We already position ourselves as the pioneer of Management and Leadership training and development, but to have that affirmed through IIP Platinum will propel us even further - we can only continue to grow, and I'm very excited to see what the future looks like for us!"
Jamil Karkach, Regional Manager
"As someone who works with, and supports, CMI members on a daily basis, I hope that the award shows that as an organisation we 'walk the walk and talk the talk' in terms of good people management. An organisation's success begins with it's people, and I hope our members can take confidence in the recognition CMI has received for a commitment to high performance and investment in staff development.
One of my favourite principles is that, 'a good leader knows the way, shows the way AND goes the way.' I think this award demonstrates that in addition to 'knowing the way' and 'showing the way' [to good people management], CMI is also 'going the way' itself!"
Hannah Ritchie, Media Relations Assistant
"The Platinum IIP award is a recognition that at CMI we practice what we preach. Not only do we work to create the best managers, leaders, and workplaces for others, but we also embody that standard within our own organisation. I hope that the award demonstrates this to our members, and highlights that CMI is committed to excellence for all of our people, whether they are CMI staff, part of our membership body, or in the wider CMI community.
Platinum Status gives us a framework to benchmark ourselves against - a clear path of committed, sustained leadership and development, which will empower staff to be their best and continue delivering excellence for our members and wider community."
Katie Dawson, Member Experience Manager
"Not only will Platinum status help to raise CMI's profile with managers, leaders, employers and partners, it also ensures we will consistently achieve the highest standards year on year. To be in the top 3% of accredited organisations demonstrates the dedication and hard work of the whole CMI team. Achieving Platinum status demonstrates to our members that CMI lead by example and it will certainly set a precedent for them as managers and leaders."
Simone Lavelle, Partner Engagement Manager
"I'm very proud and delighted at this news, which will let everyone know that CMI nurtures a happy and healthy workforce. It recognises that staff play a big part in successes by encouraging collaborative working to continuously look for new ways to improve what we do.  CMI members will know they are in good hands with an organisation who embraces their values that can be seen in our culture and everything we do.
Platinum status will enable us to further build on our reputation as a professional, progressive, passionate and practical organisation – and be seen by businesses as the go to Professional Body for insights, guidance and services to help them achieve better led and managed organisations."
Karen Nichols, Membership Operations Manager
"This news really made me reflect on the last few months and how CMI has stepped up to ensure staff feel supported and cared about, to make working from home as easy as possible in terms of physical/practical set-up, but also in offering support emotionally/mentally at a time that was really quite scary and could have been isolating.
For CMI, this award recognises us as a caring employer, one that's committed to supporting and developing staff whilst still focused on business goals, and is a great draw for attracting and retaining talent. For CMI members, this award underlines the credibility of CMI and how we can support them as managers to be effective, whilst at the same time leading by example in its own working practices."
Lord Mark Price, CMI's new President, agrees with the sentiment of those interviewed above. "What an exciting time to be inaugurated as president of the CMI community; I'm sure this heralds the start of a productive, exciting, and innovative period for CMI and its members," he says "I'm thrilled that CMI has gained this recognition which is a real testament to the hard work of every single employee."
If you found this article useful, why not check out CMI membership to see our other exclusive benefits.
You can also watch Lord Mark Price and Ann Francke OBE in conversation.
You might also like these posts on this topic:
Don't miss out - get notified of new content
Sign-up to become a Friend of CMI to recieve our free newsletter for a regular round-up of our latest insight and guidance.
CMI members always see more. For the widest selection of content, including CPD tools and multimedia resources, check out how to get involved with CMI membership.