Interview:
Empathy: the management attribute that we all need to develop now
Written by Mark Rowland
Monday 15 June 2020
The Covid-19 crisis has made all managers more aware of the personal circumstances in which their teams are trying to work. Here's the story of how one leader found her empathy…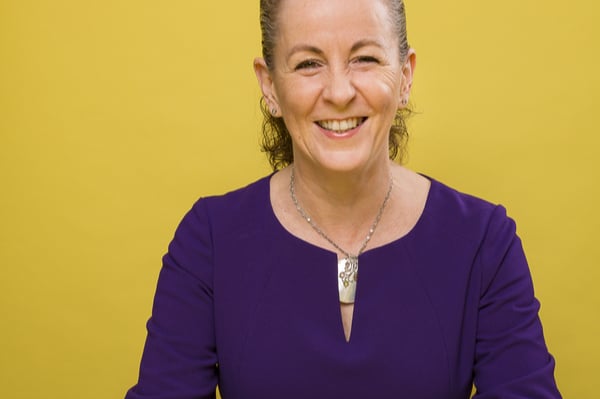 In a recent Better Manager's Briefing, Ann Francke spoke with Tamara Box, EME managing partner of the law firm Reed Smith. Tamara made this point about the effects of the Covid-19 crisis on how we manage: "Don't underestimate what a difference it's made to see your colleagues and your clients in their pyjamas, meet their pets, meet their children – it creates a closeness that is totally different to what you have in an office".
A rise in empathy may be one of the big results from this crisis. Just look at this chart of Google searches for 'empathy' over the past few weeks.

Gill Wootton CMgr is one leader who realises the importance of empathy in leadership. She acknowledges that she used to have a laser-like focus on promotion during her time at Thames Valley Police – until feedback from her team made her question her choices. Here's her story, which she told us even before the Covid-19 crisis took grip...
Gill's story
The police service needs good managers, and Gill Wootton was absolutely determined to be one of them. She had been a retail manager before becoming a police officer, and she missed the responsibility. "So I sought early promotion," she says.
Wootton climbed the ranks quickly, driven to prove herself as an indispensable asset. She never really stopped to reflect and assess what she was doing, so focused was she on achieving her ambitions. She had a rational and logical approach to the work and a no-nonsense attitude.
"My basic philosophy was 'If you've got a headache, take an aspirin'."
However, a series of events got her thinking about her career differently. She was turned down for the role of chief inspector, forcing her to slow her trajectory, take stock and think about what she wanted to do. A colleague also introduced her to the concept of emotional intelligence, recommending Daniel Goleman's books on the subject.
"Up until that point, although I'd done a lot of training, I don't think I had a huge level of self-awareness," she says. "It was around that time that I started doing the things you'd expect to do in leadership development – Myers-Briggs profiling and 360-degree feedback from people you work with. I could have done with that earlier on in my career."
The 360-degree feedback was the real turning point. Being very driven and highly logical, Wootton had been focused on the success of the organisation and proving her worth. But she hadn't really thought about the people side of things. Her first 360 put that in black and white. It was a shock. "I was quite upset by it," says Wootton. "Like any 360, there were lots of positive things in there, but the thing that came out of it quite starkly for me was that I could be aloof and not that warm to people. So for the next four jobs, I worked hard on that."
While it was always a conscious effort to maintain, Wootton became better at reaching out to the people around her. As she climbed the ranks into senior leadership, her focus on people, plus her growing desire to help others, drew Wootton towards coaching and mentoring. "I became interested in helping other women. While there are now more women in the service, the level of representation at a senior level has not made the progress it needs to, in my view. I was happy to coach anybody, but I was particularly motivated to find women in the service at all levels and try to find ways to help them unlock their potential and enable them to progress."
Wootton worked across a broad spectrum of policing roles over the course of her career, which taught her to adapt to new circumstances. She worked in roads policing, followed by homicide and serious crime as detective chief inspector. She later became superintendent for contact management, focusing on bringing change to Thames Valley Police and Hampshire Constabulary's call handling and radio operations.
It was around this time in her career that Wootton took the CMI Strategic Management and Leadership qualification, which she followed up with CMI Coaching and Mentoring. She achieved Chartered Manager (CMgr) status in 2018. What she learned helped her to understand when it's best to switch management style. "Police officers are used to working in a hierarchy, but you also have staff, volunteers and others who aren't used to that hierarchical approach. You have to change your management style to reflect that."
You have to deal with traumatic incidents regularly in the police service. Putting the time into the people around you can pay off when dealing with these, Wootton explains, as you won't always recognise how they're affecting you. It helps to have a network of supportive colleagues.
"I dealt with an incident in my last couple of years that had a huge impact on my staff and a huge impact on me," she says. "And when you're wrestling with the sort of issues that are affecting your wellbeing, you need to have people you can trust, who will keep an eye out for you."
That incident was one of several occasions when Wootton's decision to focus more on the people in the organisation paid off – for her staff and herself. She has now committed to mentoring and coaching, having started a business helping others reach their potential. She hasn't entirely lost her logical approach to problem-solving, but she knows how to sugar the pill. "I'd still say, 'If you've got a headache, take an aspirin', but I'd be a bit more thoughtful and caring about how I delivered that message."
You might also like these posts on this topic:
Don't miss out - get notified of new content
Sign-up to become a Friend of CMI to recieve our free newsletter for a regular round-up of our latest insight and guidance.
CMI members always see more. For the widest selection of content, including CPD tools and multimedia resources, check out how to get involved with CMI membership.