Management apprentices transform careers, businesses and productivity. To find out more, I spoke to the first UK Government Apprenticeships Minister who's herself an apprentice and three leaders who've seen their impact first-hand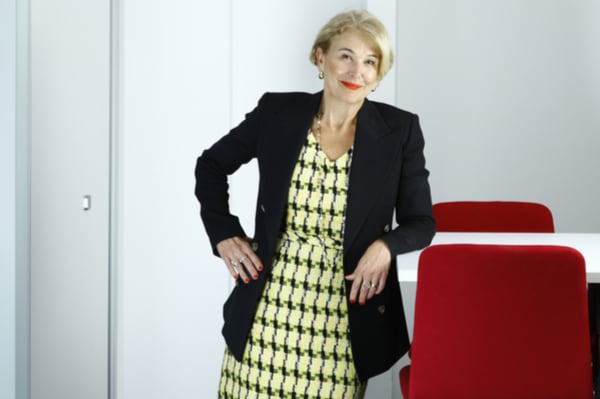 Apprenticeships are "a life changer," says Gillian Keegan. And she should know. Now a Government Minister – she's Parliamentary Under-secretary of State for Apprenticeships and Skills – Gillian began her career as an apprentice at automotive supplier Delco Electronics on Merseyside. "I am officially the world's biggest fan of apprenticeships because it changed my life completely," she recalls. "You can get literally anywhere now with an apprenticeship. In this fast-moving world, you can never be out of date if you do an apprenticeship."
For a special National Apprenticeship Week Better Managers Briefing, CMI convened a discussion panel where Minister Gillian Keegan was joined by Rob Nitsch CBE, former personnel director for the Army and now chief operating officer of the Institute of Apprenticeships; Sue Saunders, an NHS apprentice who is operations manager at the Castle Place GP practice in Tiverton; and Mike Green, founder and managing director of specialist glazing company Red Systems, who is completing a senior leadership apprenticeship.
Like Gillian, Mike left school at 16 but benefited from an apprenticeship much later in life. He began his career on the youth training scheme with construction giant Alfred McAlpine, before setting up Red Systems. Three years ago, Mike took the decision to study for an MBA through an apprenticeship at Manchester Metropolitan University.
"Turnover had grown to just under £6m, but I'd reached the point where I felt I needed more education. As an employer I also felt responsibility to make the business sustainable," he recalls. The impact of his apprenticeship has been significant. "We're now forecasting a turnover of more than £11m next year, but more importantly, I believe the business is sustainable, with a senior leadership team in place now. My apprenticeship has been a trigger for others too – almost a third of our staff are now in some kind of further training and development."
Sue Sanders' GP practice oversees a patient population of 15,000 and is part of a pioneering venture to integrate primary and secondary care. Right now it's concentrating on the rollout of Covid-19 vaccines, and Sue can also testify to the benefits of an apprenticeship. "I'd reached a level of management through internal promotion, mainly with no formal qualification," she says. "So I saw the CMI Level 5 management leadership apprenticeship as a fantastic opportunity to develop my knowledge and skills while continuing my day-to-day role. It's improved my ability to lead effectively and developed my knowledge in different areas of management, helping me transfer my skills from secondary to primary care."
One of the strengths of apprenticeships is the way they can be personalised and tailored to an individual's career journey, says Rob Nitsch. His former employer, the British Army, has 19,000 people on apprenticeships. "There is such a breadth on offer and you can see the real difference that apprenticeships make in people's lives," he says, "because they provide journeys into work as well allowing people to upskill."
Apprenticeships: unlocking productivity and levelling up society
CMI's regular survey of management apprentices shows that three out of five say their apprenticeship has improved their productivity, while 96% – the vast majority – say they have improved their communication skills. Separate CMI research shows communication to be the number one management skill.
"What I love about apprenticeships is the fact that employers develop the standards with us," says Gillian. "It's a sure-fire way to teach and learn skills that are valuable to a workplace. We have massive skills gaps and low productivity in the UK and apprenticeships are the best way, I think, to solve both problems.
"Some of the largest employers, who used to have massive graduate programmes, are now switching entirely to degree apprenticeships because they have discovered that degree apprentices are hungrier to learn and grow."
According to Gillian, management and leadership skills are "the missing ingredient" to boosting productivity. "What the CMI is doing is vital in terms of helping companies – and particularly SMEs where most people are employed – become more productive," says Gillian, who has completed the Sloan Fellowship Programme in leadership and strategy at London Business School.
"I've walked the walk and know that management and leadership training is vital. People seem to think that becoming a good manager or leader happens naturally or is something that we all suddenly become. No, we don't. Leadership and management is something that you need to have specific training for, to enable you to become the best leader you can, to be the best manager and to give the best opportunities to people around you."
For Gillian, apprenticeships are a core component of delivering on her government's manifesto. "Levelling up is what we got elected for," she says. "And apprenticeships are the best way of levelling up and getting more people into the workplace."
You might also like these posts on this topic:
Don't miss out - get notified of new content
Sign-up to become a Friend of CMI to recieve our free newsletter for a regular round-up of our latest insight and guidance.
CMI members always see more. For the widest selection of content, including CPD tools and multimedia resources, check out how to get involved with CMI membership.