We celebrate the excellence in the CMI community in this year's partner awards - come in and give them a round of applause!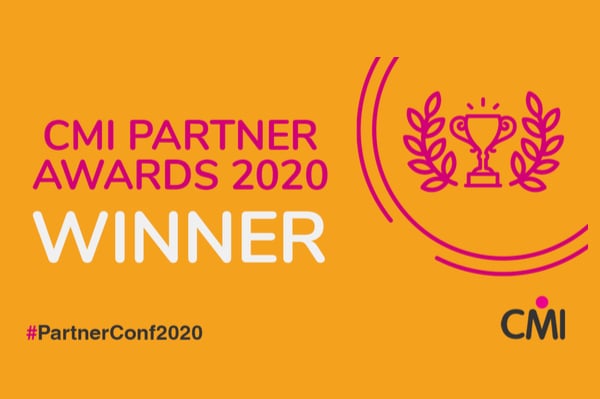 This year, we were overwhelmed by the amazing candidates for this year's Partner Awards. Each submission showed integrity and talent. We're so proud to announce the winner's of the following awards:
Learning Provider Partner of the Year
Outstanding Innovation and Delivery of the Year
HE Partner of the Year
CMI Award of Excellence: Apprentice of the Year
CMI Award of Excellence: Student of the Year
We found out their initial reactions and thoughts on what the awards means to them and their business or career.
CMI's Learning Provider Partner of the Year: Corndel
The CMI Learning Provider of the Year Award recognises one of our non-HE partners for exceptional positive effects on learner experience, professional development and impact in the workplace as a result of their partnership with CMI.
"We are delighted that CMI has recognised Corndel as their Learning Provider Partner of the Year," says Sean Williams, CEO of Corndel. "We believe that our blended delivery model, industry-leading trainers and bespoke learning content makes us the best Learning Provider in the UK. It's great that CMI agrees, too! The independent Education and Skills Funding Agency survey showed that Corndel has 100% employer satisfaction and 91% learner satisfaction, and we've benefited enormously from CMI's reputation, policy voice and stakeholder reach.
"Corndel has grown from 12 learners and one customer in May 2017 to 3,500 learners across 100 of the UK's largest and most prestigious companies today. Hopefully this award will allow us to take our world-class leadership and technology training to even more employers and learners. Corndel currently delivers leadership and management courses, Project Management courses, unique software developer courses and data analytics courses. This year will see us expand our offering into fundraising, coaching and DevOps as well as expanding our bespoke commercial training. We want to work with even more employers and more learners so that we can provide more transformational professional learning that demonstrably makes people better at their jobs."
CMI's outstanding innovation and delivery of the year: Travis Perkins
The CMI Outstanding Innovation and Delivery of the Year Award is presented to one of our partners for demonstrating remarkable innovation in the design and delivery of their management and leadership programmes and its impact on learner outcomes.
"Is it corny to say we're chuffed? Because we're chuffed!" Laughs Andy Rayner, Head of Apprentices at Travis Perkins.. "It makes all the team's hard work worthwhile.
"We are a traditional organisation that tends to employ people who aren't always academic – what we look for in new colleagues is great customer service skills not formal qualifications. CMI talks about 'accidental managers' and we are an absolutely typical 'accidental manager' business. The vast majority of our managers are there because they're great at what they do, not because they have academic qualifications. So we really valued the opportunity to develop their management skills through an approach like apprenticeships.
"It presented us with a challenge, though: how can we do this in a more innovative way that wasn't a switch-off? How can we do this and make sure they don't have lots of written assignments? So we broke the mould and began to use audio and video testimony. Many of our employees don't like writing stuff down, but they are great at talking about it and this meant they could practise their communication skills. CMI's work around flexible assessments has helped us achieve this, and allows us and our employees to demonstrate what they've learned in different ways."
CMI's HE Partner of the Year: Manchester Fashion Institute, Manchester Metropolitan University
The CMI HE Partner of the Year is awarded to one of our higher education partners for outstanding positive impact on student experiences, professional development and employability as a result of their partnership with CMI.
"I'm hugely delighted," says Sam Chandrasekara Programme Leader from the Manchester Fashion Institute at Manchester Metropolitan University. "I'm delighted not just for me, but for my team. Together we have shaped a course that equips graduates with academic skills and commercial know-how to solving real-world problems. Its strength is its view into the future at what businesses need today and in five years' time when learners graduate and are working in the fashion industry.
"We've worked closely with the CMI in terms of developing the programme; working together meant that we were able to create a course that has robust business and management content, with a focus on fashion.
"It's not just clothing that represents fashion today, its lifestyle and everything that it signifies. The course looks at fashion business based on the needs and wants of the customer and analyses the data around it, through the core functions of sourcing, merchandising, marketing as well as finance. It's about looking at the business as a whole. You can't work in silos anymore. What makes our relationship with the CMI so exciting is that we're able to get that commercial viewpoint."
"This CMI's involvement with The Manchester Fashion Institute is the brainchild of Sam, and I really wanted her to be recognised," says her nominator and Manager, Maria Malone. "You would not typically align a CMI qualification with a fashion course, but as far as the student feedback is concerned they, and employers, find the dual accreditation attractive. Employability improves and our reputation increases, much of this success, I believe, is down to our partnership with the CMI."
CMI's Apprentice of the Year Award: Anthony Collins
The CMI Apprentice of the Year award acknowledges the outstanding achievements of an apprentice who has successfully applied their learning in the workplace to the advancement of themselves, their organisation and the community around them.
"I've never been so shocked!" says Anthony Collins, an Operations Manager at Veolia, who studied through Dudley College of Technology. "The course has changed me completely. My mindset has flipped 180 degrees; it went from 'you will' to 'can you?' My attitude was 'you will do as you're told'; my upbringing was very similar. My dad was in the forces for 26 years so it was always 'do as I say'.
"I left school in 1984 with very few qualifications. I chose to join the Armed Forces and spent nine years in the Army Air Corps as ground crew, then I joined the waste industry, where I've been for around 20 years. I had to retake my English and Maths exams to complete the course, because I didn't have anything when I left school.
"CMI's course has made me look at both myself and the way that other people manage staff. I believe now that you should never look down on somebody, but should give them a hand up. My new management style is all about empowering my staff to come up with ideas. In the army, I learned about teamwork, and that the first past the post is not necessarily the winner. So I started a study group with my colleagues and we encouraged each other.
"Dudley College of Technology had a number of open places for the apprenticeship, and I was approached by my manager who thought I'd get something from it. To be honest with you, I thought I couldn't do it. I didn't think it was going to happen. But I'm glad I did. I'm glad my manager put me forward for it. I'm glad that my tutor Philip Raxtor helped us through it. But my proudest moment is what everyone else in that group achieved. I would tell anybody, if they have the opportunity to do a CMI course, get on board. What you learn about yourself is so profound."
CMI's Student of the Year Award: Oniba Khalid
The CMI Student of the Year award is given to an exceptional learner who has demonstrated a positive impact on their own professional development and academic studies through effective application of the theory they've learned.
"It's an extremely prestigious honour!" says Oniba, who has recently graduated with an MSc in International Management from the University of Leicester's School of Business. "I am very grateful and humbled to have received it. To me it represents the beauty in making the most out of the journey. It has taught me that the path is filled with a supportive community, life-long lessons, obstacles and many unanswered questions. Throughout all of that, it is crucial to find a balance between your educational commitments and your professional growth. That's exactly what this award represents. It celebrates the progress of a student who has adapted their capabilities beyond the books, while simultaneously leaving a mark in the lives of others.
"Personally, it has reinforced my perceptions about risk and rewards. It will motivate me to continue pursuing prospects that put me out of my comfort zone. I am very thankful that the CMI community provided me with a platform that enabled me to proactively engage with the students in my course. The CMI community meant being a part of a collaborative network that offered me perspective; CMI itself reiterated the resources and tools that it offered to the students enrolled with this accreditation. It was great to serve as a liaison between CMI and the students in the program, as I was able to witness the impact that the CMI services left on the students."
You might also like these posts on this topic:
Don't miss out - get notified of new content
Sign-up to become a Friend of CMI to recieve our free newsletter for a regular round-up of our latest insight and guidance.
CMI members always see more. For the widest selection of content, including CPD tools and multimedia resources, check out how to get involved with CMI membership.