Research:
Introducing the CMI/Glassdoor Top 20: Rating leadership and culture at work
Monday 09 March 2020
Our exclusive research with Glassdoor reveals the UK organisations with the highest-rated culture and leadership. Time to polish that LinkedIn profile.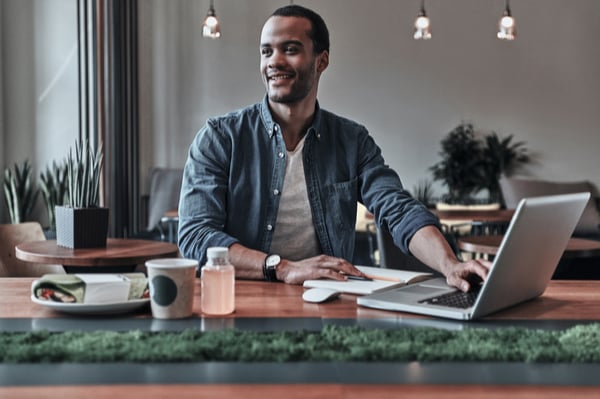 Your organisation's culture matters. It's a big reason why great people want to join you. And they'll only stay with you if that culture is matched by what they see around them, by the leadership they witness in practice, and by how they are embraced and developed.
But how do you quantify the quality and impact of something so intangible? Over the past few months, working with job site and employer-rating platform Glassdoor, we've developed a methodology to identify real-life examples of great culture and leadership in the UK.
'Leadership and Culture at Work: the CMI/Glassdoor Top 20' is a systematic attempt to showcase positive cultures and leadership, and then to reflect their relationship with business performance.
In interviewing these companies, we've discovered that something new and exciting is going on in business today. The best, most innovative modern companies – and they range from global media behemoths to small UK agencies – put their organisational and management culture front and centre.
Their characteristics aren't something you only discover once you've joined; they're integral to how these companies position themselves. In the very best organisations, culture and leadership provide a competitive edge.
Are you living up to the standards of the elite? Time to find out. There are many new practices in our list, from structured hierarchies to self- governing organisations to 'tribes' and 'squads' to cultural interviews.
It may even make you wonder whether moving into management is a promotion or, in fact, a lateral move...
1. Northern Gas and Power: The fast-growing energy consultancy that promotes from within
While most of our Top 20 have a flat team structure, our highest-rated company, energy-management consultancy Northern Gas and Power, says its "properly structured hierarchy" boosts productivity and morale.
"It helps us meet achievable targets, which builds enthusiasm," says Járlath Da Silva Cooke, renewables project manager. "Our developing managers know this and are able to develop their own teams on the back of the experience of their peers."
Most managers are recruited from within. This breeds confidence and trust. "They have a proven track record and we are extremely open about success in our business," says Da Silva Cooke.
Daily management, administrative and revenue-protection meetings, as well as a CRM system that tracks productivity, mean senior leaders react quickly to problems.
"Nothing is more important here than managerial behaviour," says Da Silva Cooke. "It influences employee action and drives our vision of tomorrow."
2. Fourth: A hospitality-tech firm with two types of manager
Teams at hospitality-technology firm Fourth are self-managed and work in an agile way to plan and develop software. Then a cross-department team (a 'primary decision team') meets regularly to discuss commitments, priorities and risks.
The aim is to avoid "getting distracted doing things that don't play to our strengths", explains recruitment manager Heidi Pitt-Cramman.
The structure clearly distinguishes between two types of manager: technical specialists and people specialists. "We try not to confuse the two," Pitt-Cramman says.
Forums are used to reward those who adhere to the company values: 'Keep it simple', 'Be honest', 'Deliver quality' and 'Enjoy the journey'.
"If we all live our values every day, we'll not only achieve our values, but we'll be doing it with an ethos that sets us apart," says Pitt-Cramman.
3. Equal Experts: A self-governing organisation in the making
"The eventual goal is for Equal Experts to become a self- governing organisation, with individuals making informed and responsible decisions through collaboration," explains the tech consultancy's CEO, Thomas Granier.
Employees who have performed well are named 'partners' but continue their day jobs alongside their peers, within a network of permanent employees and freelance experts.
"Equal Experts aspires to be a company of grown-ups," Granier adds.
Staff are recruited on the basis of experience and are trusted to make their own decisions: the introduction of an 'advice process' means that, rather than seeking permission from above when implementing processes or using resources, staff are expected to consult those whom their action will affect.
This saves time and helps to create a culture of transparency and openness.
There is a strong relationship between culture and financial outcomes, says Granier: "When people enjoy what they are doing, they create better work, day in, day out. Great work makes our customers happy, and they ask us to do more for them. And so we find [the company] growing too.
"This growth is reflected in our financial figures. Total sales for the network reached £71m in 2016/17, up from £40m the previous year."
A pro t-share scheme redistributes 30 per cent of all profits to employees. If employees need personal guidance, they are encouraged to approach their network.
4. RHP: The housing provider making work meaningful
RHP sees everyone as a leader and has worked hard to create a culture where all staff feel empowered to make decisions, solve problems and take risks. To encourage innovation, RHP has its own version of Dragons' Den ('4 in 4'), a debating forum, and monthly external speakers.
RHP hires for behaviours before technical skills, so those who join already live its values. This year, 93 per cent of staff said they were satisfied at RHP.
5. Bain & Company: An international consultancy that's straight-talking
At Bain & Company, the global management consultancy, managers are straightforward and visible. "Leaders at Bain are honest – they use direct language, and the 'one team' attitude is crucial. At the same time, working here is a lot of fun, and people, including the leadership, are very active in the Bain social community," says senior manager for talent Matt Trebilco.
6. HomeServe UK: A home assistance provider with a people-first culture
The HomeServe UK mantra is: 'If you put your people first, they will look after your customers and the rest will take care of itself'. Many employees work on the frontline, managing installations and repairs in customers' homes.
The challenge for the management team is to keep them engaged.
"We invest in two-way communication," says CEO Martin Bennett. "Our leaders can really get to know our people, which is a key component of building trust."
He says a £30m fine imposed by the Financial Conduct Authority in relation to the firm's conduct in 2011 was "an opportunity to rebuild and refocus our business and our people". To do this, he says, "it is imperative for leaders to ask the right questions".
At annual 'people cascades', leaders share the business strategy for the future in person with 3,000 staff. "It means everyone who works at HomeServe knows where we are going as a business, what we have to achieve together and the role they each need to play."
The company hosts 'Big Red Sofa' conversations, broadcast live to the whole organisation every fortnight, where senior leaders answer questions. Managers are also active on group messaging app Yammer. The platform sees 1,800 staff engage each month, sending up to 1,000 messages a week.
As they face both customers and staff, middle managers are seen as 'role models'.
"It is imperative that their behaviour is values- based, encouraging their team to deliver in the same way," Bennett says. Annual objective-setting, as well as one-to-one coaching from a senior manager, supports staff development.
7. Lookers: The car dealership built on respect
In 2016, car dealership Lookers acquired two rival businesses and sold one of its own – the combined value of the transactions was £200m. While CEO Andy Bruce describes this as the "most challenging" time of his career, the company went on to be named 'Dealer Group of the Year' at the Motor Trader Industry Awards 2016.
He says this is down to "a culture built on respect".
"We engender this culture by holding our annual Lookers Guild Awards," he explains. "The awards allow us to show appreciation to our brightest and most dedicated people. We've also made a huge number of changes to our benefits package recently. It includes... a full year's maternity leave, which is unheard of in our industry... It's all about making our people feel appreciated."
8. Rentokil Initial: A service enterprise with centralised control
The values of pest-control firm Rentokil Initial are "service, relationships and teamwork". Its business depends largely on field- based colleagues who interact directly with customers. Senior managers tour regional branches and support centres twice a year and can spend up to six months on the road.
Phill Wood, area managing director for the UK, admits local managers could have even more control: "We could, in the short term, be more productive and indeed more profitable, but we find that the support given provides colleagues with the confidence to be more innovative and customer-responsive."
Online, the company is the second-largest user of social network Google+ outside Asia.
"Our core management approach is one of open, accessible, responsible leadership," Wood adds. "Challenges and priorities are communicated regularly and in a timely manner."
9. Auto Trader: Automotive marketplace goes tribal
The UK's largest automotive marketplace is a "fast- paced and customer-oriented business". To this end, a flat structure gives its 'tribes' and 'squads' the ability to "be brave, autonomous and remove any barriers to productivity", says co-head of people and culture Stephen Moss.
Middle managers go through a 'Practical People Leadership Programme' and problem-solving is prioritised across the business. "An important part of our culture is to address negative behaviour in a timely manner, so all managers take responsibility for this," explains co-head of people and culture Christos Tsaprounis.
10. Epos Now: IT firm needs future board members
The average age of the workforce at software provider Epos Now is just 23, but new recruits are regarded as future board members. A dedicated recruitment team works closely with colleges and universities near its Norwich HQ and hires for attitude rather than skillset, feeding into a culture defined by founder and CEO Jacyn Heavens as "Work hard, play hard".
The company then offers comprehensive training through graduate schemes, apprenticeships and accredited management qualifications.
"This sets a benchmark for quality and uniformity of management techniques across the business," says Heavens. Gamification is used to boost productivity.
11. Facebook: The social media company's managers use its own social network
The overall structure at Facebook is "open", "connected" and "very flat". Managers are self- selected. "We recognise that not everyone enjoys management, which is why it's a lateral move to become a manager, not a promotion," says international director of HR Fiona Mullan. "There is no stigma if managers decide to become individual contributors again."
In-house, seven behaviours are said to indicate a good manager: showing care, supporting people, setting clear expectations, giving actionable feedback, providing the resources people need, holding people accountable, and recognising great work. Posters in the office read: 'Nothing at Facebook is somebody else's problem.'
The company knows it can only encourage its staff to live up to its core values – 'Be bold', 'Be open', 'Move fast', 'Build social value' and 'Focus on impact' – by facilitating challenging encounters and evaluation. It hosts self-development classes, including 'Crucial conversations', 'Managing bias' and 'Be the ally', to encourage constructive relationships. It uses its own social network to field feedback about its culture.
Each week, all staff are invited to a live-streamed Q&A with founder Mark Zuckerberg and other members of the management team.
"We want people at Facebook to not only feel supported, but also have the tools and resources to do some of the best work of their lives," says Mullan.
12. First Utility: An energy supplier that champions its values
In the open-plan offices of independent energy supplier First Utility, there are life-size cutouts of figures who personify its values. They are 'reliable, engaging, pioneering and straightforward'. Several times a day, every day, managers identify individuals on internal channels who are putting the values into practice.
"This constant naming and acclaiming has the effect of keeping the values front of mind and enforcing them – after all, who doesn't want a bit of praise and recognition?" says John Wrighthouse, First Utility's chief people officer.
For him, culture and leadership depend on the strength of relationships between leaders and their team. For a company founded in 2008, this is important for the bottom line. "We don't always give people top-percentile reward packages, but we're still able to hire good, capable people, and our values and culture must play a part in this," he says.
13. VistaBee: Autonomy works for video pioneer
VistaBee CEO Steve Reilly leads by giving employees "as much autonomy as possible". The culture at the online-video production company centres on empowerment, and work is allocated by a task-management platform.
The challenge for the organisation's culture is to make 150 contractors feel as at home as the 15 permanent employees; regular social events and a buddy-up mentoring system help each individual to feel supported.
Reilly says VistaBee has thrived through a startup atmosphere, where honesty is essential. Team members share problems in weekly stand-up meetings, which the CEO describes as "very transparent".
14. Skyscanner: Management lessons at travel firm's 'university'
To preserve Skyscanner's values, a 'cultural interview' forms part of the recruitment process. The online travel company's values include 'Daytime is precious': a focus on working flexibly.
Teams are structured into a 'squads and tribes' model that is at, collaborative and hands-on, in the vein of a startup. "There's freedom in how work is executed, with less bureaucracy, and productivity is high," explains chief people officer Ruth Chandler.
Managers are put through internal and external training programmes, and the 'Skyscanner University', which provides hundreds of courses, reinforces the company's commitment to 'Master, Teach, Learn'. For Chandler, this means employees are always "learning, reading and 'failing forward'" when things go wrong.
Other values encourage teams to keep the website easily understandable. The customer- centric approach then ensures they 'Collaborate to comp(l)ete'.
Chandler explains that, when employees are service-driven, competitiveness results: "[It]... puts you as a business ahead of the competition."
15. MediaMath: Marketing via dual management
Marketing-monitoring firm MediaMath has a matrix structure. Employees report to two managers, usually covering function and project. "The structure can sometimes slow down decision-making, but we believe collaboration enables us to create better outcomes for our people and clients," says HR director Lone Jensen. Middle managers receive external, accredited training.
16. Badoo: The dating app is managed through 'check-in points', not meetings
"Ownership is the key to Badoo culture," says the dating app's head of talent acquisition, Brad Richards. "We allow our employees the autonomy to see projects right through to fruition, without hand- holding or micromanagement."
Behind the scenes, projects are managed via a series of 'check-in points', rather than ongoing committee meetings, to speed up decision-making and maximise employees' empowerment.
It means new ideas can be shared and put into action within 24 hours, which consequently "makes people feel valued by senior management". However, if there are problems, "we expect people to put their hands up", says Richards.
'Badooers' embody the values of the organisation: they are "flexible, opportunistic and delivery-focused". The company's middle managers safeguard these values, and meet regularly at forums. Staff can also question the senior team and culture at regular Q&A sessions.
17. Baringa Partners: The consultancy that cares
"Our partners have gained the trust and respect of our employees because they care," explains the business consultancy's managing partner, Adrian Bettridge. Trust is built by giving individual staff the attention they deserve, enabled by a partner-to-employee ratio of 1:9. 'Passion' is a core value.
Baringa Partners is proud that its people show "unrivalled determination to make every project a success"
18. Peninsula: Internal promotions rule at this HR and safety specialist
In the words of managing director Peter Done, Peninsula offers a "welcoming and success-driven environment". The company offers HR and health and safety advice, among other services, to businesses and itself opts for a simple hierarchy of directors, senior managers and team leaders in each department.
Ninety-five per cent of its senior management team have been promoted internally. Employees who express a desire to learn and develop are enrolled on the company leadership programme and mentored by middle managers who completed the same training the year before.
Free Monday morning breakfasts and monthly parties keep the atmosphere positive and upbeat. Done recognises the company culture as key to its performance: "Our reputation attracts the best candidates for roles we advertise."
Reviews on websites such as Glassdoor are monitored on a weekly basis and each new comment is passed to the board of directors for consideration.
19. Cloudreach: Personal growth underpins this tech team
While Cloudreach has always had a flat structure, "it's not really sustainable for personal growth, so we look for creative ways to encourage career progression", says Estelle Roux, head of people operations at the global cloud enabler.
The company offers both leadership and role-specific skill development. Personal growth is a core value. Employees are offered a 30-minute meeting with their line manager each week that focuses on target-setting and review.
However, the term 'middle manager' is not used – "Who wants to be the guy in the middle?" jokes Roux. She says managers "lead rather than manage. The difference for us is that a leader truly inspires and engages those who follow them".
The firm's new training programme will help leaders develop themselves and those around them. They will become accredited by CMI.
20. Thomas International: Psychometric specialist applying its own rules
Measurement safeguards the positive leadership and working culture of Thomas International. That's perhaps unsurprising given that the firm made its name providing psychometric testing to businesses.
The company uses its own Engage software tool annually to assess seven aspects of workplace engagement: voice, togetherness, challenge, freedom, clarity, recognition and growth. Employees are also asked to comment on each factor at manager one-to-ones.
"By identifying areas of strength and vulnerability within each factor, we can gauge where improvements can be made. The tool also identifies the management styles operating in the business, so it gives us the opportunity to make any changes," says CEO Amir Qureshi.
In 2016, Thomas International saw staff report engagement levels of 73 per cent.
How We Ranked Them
Glassdoor hosts around 33 million reviews of 700,000 companies by current and former employees. Staff and recruitment agencies were excluded from the analysis.
To be included, companies must have had:
at least 50 culture ratings;
at least 50 senior management ratings;
a culture score of at least 4.1;
a senior management score of at least 4.1;
at least one review from a UK-based employee showing on the company profile between 1 January and 30 June 2017.
A bespoke algorithm was then created to produce a ranking. The algorithm was ((x+y)*z)/2=C, where:
x is the 'culture and values' rating;
y is the 'senior management' rating;
z is the 'recommend to a friend' rating;
C is the final score.
You might also like these posts on this topic:
Don't miss out - get notified of new content
Sign-up to become a Friend of CMI to recieve our free newsletter for a regular round-up of our latest insight and guidance.
CMI members always see more. For the widest selection of content, including CPD tools and multimedia resources, check out how to get involved with CMI membership.