Resource:
Lack of Promotions for Women Fuelling the Gender Pay Gap
Written by Matt Scott
Tuesday 23 August 2016
Men Are 40% More Likely Than Women to Be Promoted Into Management Roles, According to the Latest Research From Cmi.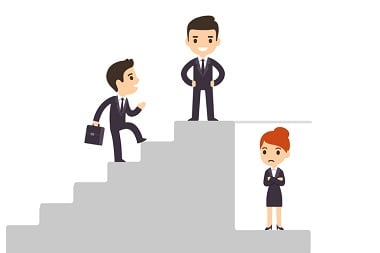 New research from CMI and Xperthr reveals the extent to which men get paid more than women
The 2016 Gender Salary Survey from CMI and XpertHR, which analysed more than 60,000 UK employees' salary data, found that 14% of men in management roles were promoted into higher positions over the past 12 months, compared to just 10% of women.
But this trend is not a new phenomenon, with the CMI research finding that for managers who have stayed with the same employer for the last five years, 47% of men have been promoted, while the same figure stands at just 39% for women.
CMI chief executive Ann Francke said this lack of diversity was holding businesses back, and urged employers to make changes now, rather than wait for the incoming regulations aimed at promoting equal pay.
"Promoting men ahead of women is keeping us all back. Diversity delivers better financial results, better culture and better decision making."

"Even before the new regulations kick in, employers need to get on board with reporting on their recruitment and promotion policies and how much they pay their men and women."

"Transparency and targets are what we need to deal with stubborn problems like the gender pay gap."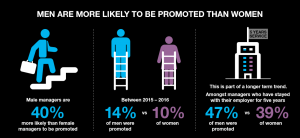 Mind the gender pay gap
And this inequality in promotion prospects is filtering through into the salaries paid to the two sexes.
The 2016 Gender Salary Survey found that men get paid an average of 23.1% more than women, compared to 22.8% in 2015.
The average full-time equivalent salary for male managers now stands at £38,817, £8,964 more than the average female manager's.
The pay gap is even higher for those in the ranks of director and CEO, with men on an average basic salary of £131,673 earning £16,513 more than women at the same level.
Men's pay further outstrips that of women's because of a continuing 'bonus gap'.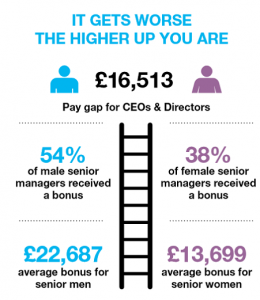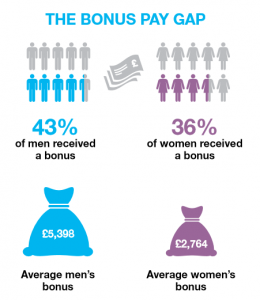 The 2016 survey found that 43% of men received an annual bonus over the past year, compared to just 36% of women, with the average man's bonus standing at £5,398 compared to £2,764 women.
For more senior roles the gap grows, with 54% of male senior managers receiving a bonus compared to 38% females of the same level of seniority. At this level, men command an average bonus of £22,687 compared to women's £13,699.
XpertHR content director Mark Crail said: "The gender pay gap is not primarily about men and women being paid differently for doing the same job. It's much more about men being present in greater numbers than women the higher up the organisation you go.
"Our research shows that this gap begins to open up at relatively junior levels and widens – primarily because men are more likely to be promoted."