Webinar: Leadership Deep Dive
Start Date: 01 Jun 2020
Start Time: 11:00 AM
End Time: 12:00 PM
Duration: 1 hour
Capacity: 1000
A leadership deep dive with the Royal Air Force hosted by CMI; Co-presented by Air Vice Marshal Warren 'Bunny' James, Head of Training and Wing Commander Emma Keith, Deputy Commandant of The Tedder Academy of Leadership.
They will be exploring leadership to support people with the leadership challenges of the current context explaining two models; 'Learn, Earn and Return' and David Rock's 'S.C.A.R.F' Model followed by Q&A.
Speakers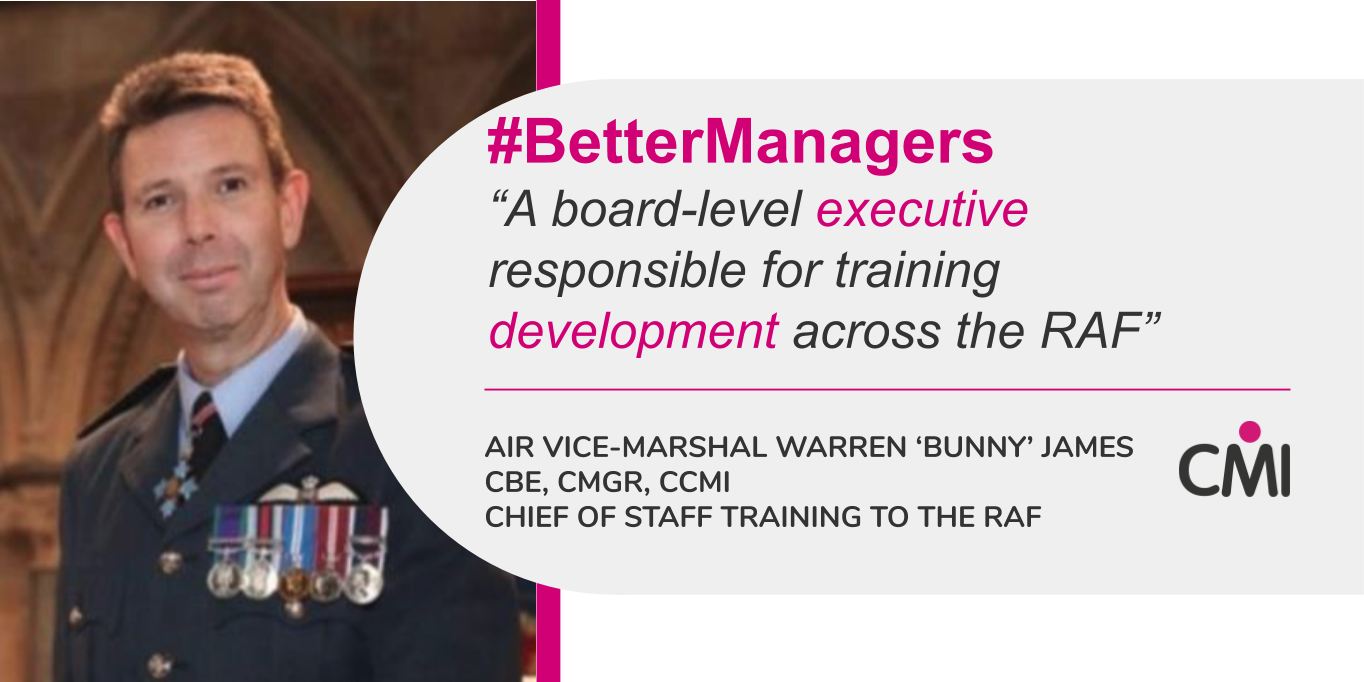 Air Vice-Marshal Warren ('Bunny') James CBE DL
Air Vice-Marshal James joined the Royal Air Force on a scholarship in 1985. A helicopter pilot and instructor in his early service, he has operated all over the world.
During his career he has commanded the UK's tri-Service helicopter instructor school, a Search & Rescue squadron (No 202) and, as Station Commander, the base at RAF Shawbury, delivering the UK's tri-Service helicopter crew training, Air Traffic Control and Flt Operations specializations.
He has interspersed flying with staff functions. These have spanned operational coordination, intelligence, Human Resources, training and Defence policy. He has served in AIR Command (High Wycombe), the Permanent Joint Headquarters at Northwood, Headquarters United States Central Command (Florida), the UK's Joint Staff College (Shrivenham), Joint Helicopter Command (Wilton), the Ministry of Defence (London), and on deployed operations.
Appointed as Air Officer Commanding 22 Group in June 2017, he is one of only 5 RAF Group Commanders and one of only 6 Operational Duty Holders for aviation safety across Defence. As Chief of Staff Training to the Royal Air Force he is a board-level executive responsible for training development across the RAF, with primary oversight of: Initial Officer and Airman/Airwoman training, the Defence College of Technical Training (RN, Army and RAF engineers across aviation, maritime, vehicles, electronics & communications), the UK Military Flying Training System, International Defence Training (Air), all RAF Leadership & Management training, human resilience and Adventurous Training, Apprenticeships, RAF Sport, the RAF Air Cadet organization and the RAF Aerobatics Team (The Red Arrows). This equates to a c£1.5bn per annum enterprise spread across more c.40 locations for around 65000 people.
Married with 2 grown sons, the Air Vice-Marshal is an Inclusivity ally and was appointed a Deputy Lieutenant of the County of Shropshire in April 2020.
With over 4500 hours of military flying, the Air Vice-Marshal was Mentioned in Dispatches during his first tour, awarded a MBE for air operations coordination in 2000 and a CBE for innovative leadership, outreach and engagement activities in 2012. With a Masters degree from Kings College London, he is also a graduate of both the Advanced and Higher Command and Staff Courses.
A Chartered Manager, he is a Companion of the Chartered Management Institute and a Fellow of the Royal Aeronautical Society, as well as a board advisor to the People Development Partnership. He is an alumnus of the Windsor Leadership Trust and Civil Service High Performance Development Scheme as well as an Honorary Companion of Lincoln College and Honorary of the Worshipful Company of Educators.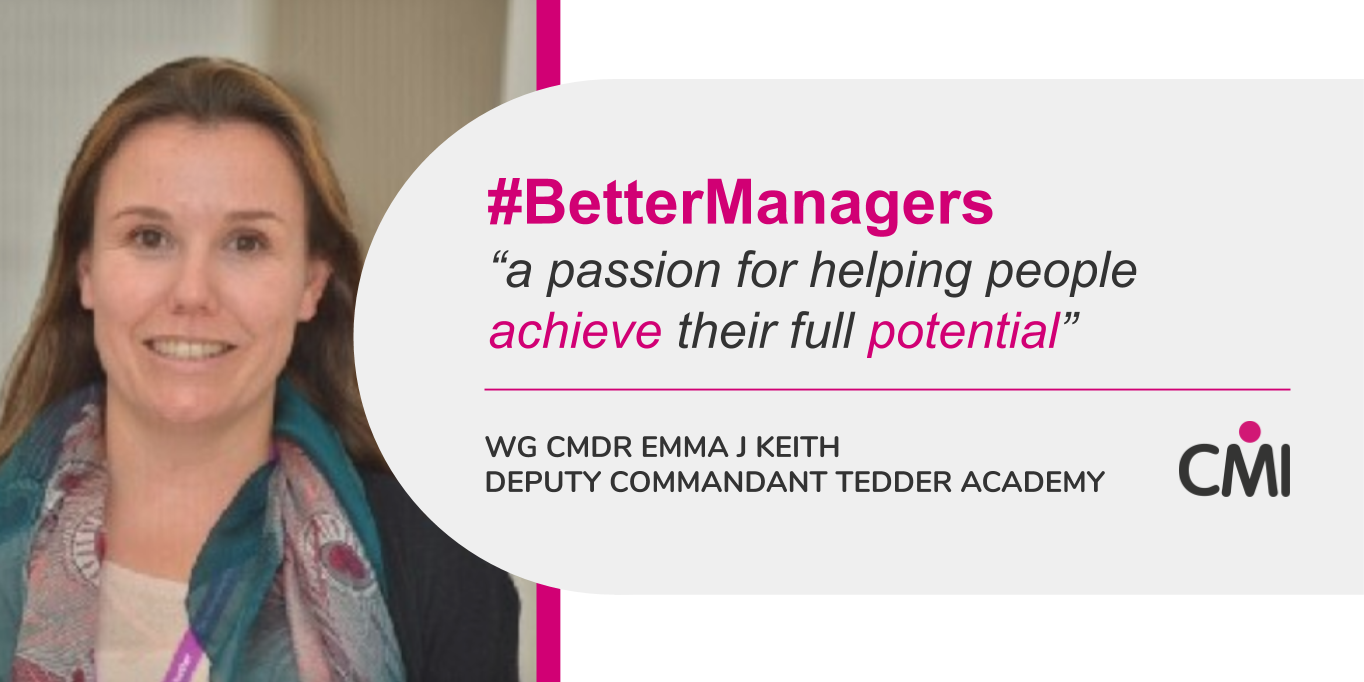 WG Cdr E J Keith BA RAF (Emma), Dep Commandant Tedder Academy
Wg Cdr Keith joined the Royal Air Force as a Flight Operations Officer in October 1999.
On completion of Initial Officer Training she undertook her professional training at RAF Shawbury graduating as prize winner. In August 2000 she was posted to RAF Cottesmore as the Duty Operations Officer supporting 3 Harrier GR7 Squadrons.
During this tour she deployed on numerous exercises and on board HMS Illustrious. From Cottesmore she completed a tour as ADC and then served as the first Ops Officer on the newly established 5(AC) Sqn responsible for setting up their Ops room and implementing their Mission Planning cycle.
During this tour she deployed to Seeb and Basrah in support of Nimrod MR2. This was followed by an airfield tour as Flt Cdr Ops and a detachment to Al Udeid as UK A3 Ops Watchkeeper.
Promoted to Squadron Leader she moved to Warminster to act as the RAF representative within Defence Training Requirements Organisation at the Land Warfare Centre. A tour as OC Ops Sqn followed in 2011. She was selected as the Staff Officer to Comdt RAFC & DRIT in May 2013. Promoted to Wg Cdr in September 2014 she took post as OC OACTU in April 2015.
The first female to undertake the role, the College also received its first ever triple outstanding rating from OFSTED under her tenure. She received a national award as an Agent of Change in 2017. She moved to her current position as Deputy Commandant of the Tedder Academy in May 2017. In 2018 Wg Cdr Keith completed her Masters in Leadership and gained herlevel 8 diploma in Strategic Direction. With a passion for helping people achieve their full potential, Wg Cdr Keith is also an Exec Coach,a qualified leadership instructor an experienced Mediator and is qualified in a number of psychometrics.
Facilities
Enquiries contact
Questions about this event should be addressed to CMI Events at cmievents@managers.org.uk or by telephone on 01536 207485.