Stagecoach boss warns of "State control" in regional devolution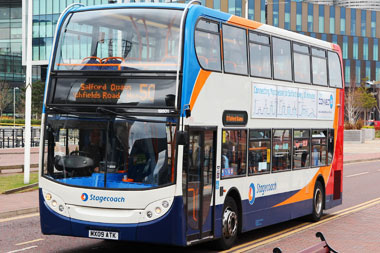 Chief exec of bus and tram firm raises concerns that handing out more power to the regions could lead to pre-privatisation form of governance
Jermaine Haughton
Further English devolution could spur a return to State control of public transport, according to Stagecoach chief executive Martin Griffiths. Arguing that government plans to give more power to the regions could lead to a re-regulation of the buses, Griffiths warned that this would result in a "confiscation of assets", depriving transport firms of the independence they have enjoyed under privatisation.
As Insights reported last month, Whitehall is planning to give northern regions – such as Greater Manchester and Yorkshire – more control over their finances, and chancellor George Osborne believes that better transport, complete with an Oyster-style travelcard, is key to creating what he calls a "northern powerhouse". As the devolution takes shape, councils across the country are likely to leverage deals to boost funding for suburban and rural bus networks with routes to nearby cities, providing more reliable services to help workers get to their jobs on time.
However, speaking on BBC Radio 4's The World Tonight this week, Griffiths said that enhancing regional transport powers could usher in nationalisation that would undo the good work achieved since transport shifted to the private sector. "If the chancellor's observations are taken at face value," he said, "you'd effectively see the confiscation of some assets overnight."
He added: "These businesses were privatised back in the 1980s. Hundreds of millions of pounds were put into the development of the business[es] and the staff … There's been no discussion that we're aware of with the Treasury about how [the new system] would work, or any compensation for that. So I think all of this is a bit vague."
However, the Treasury moved to allay Griffiths' fears by conceding that any plans to alter ownership within regional transport infrastructures would require consultation measures. A spokesperson said: "If the mayor who is elected wants to franchise buses, he or she will need to consult beforehand and consider all aspects of any decision."
According to a recent survey by Grant Thornton, from a management perspective, industry leaders are heavily in favour of regionally controlled transport services. The poll of medium-sized business bosses in England showed that employers want cities to have all the budgetary clout and control they require to improve road links and cut congestion – with just 7% of respondents believing that their current Local Enterprise Partnership understood their firms' needs.
While cities in the north have been portrayed as the main beneficiaries of the plans, London transport organisations are some of the most vocal backers. Another recent study published by economic consultants Volterra – in partnership with Transport for London and Transport for Greater Manchester – says that cities and city regions should be given the freedom to develop projects that create longer-term growth and jobs, both for their local areas and the wider UK economy.
London's transport commissioner Sir Peter Hendy said: "The current system of transport evaluation was developed in an era of under-investment, where governments managed the decline of cities. We are now in a very different world, where cities are the drivers of the country's future growth."
He added: "We need a new system that enables cities to work together to realise their full economic potential. For that, we need more control over the tax revenue we raise and changes in the way in which the real financial return of transport investment is evaluated. If we are given the freedom to do so, we will create new jobs and growth that will benefit the whole country."
For more on these issues, find out about CMI's Level 7 diploma in Strategic Leadership and Management.
Image of Stagecoach bus courtesy of Tupungato / Shutterstock.
Powered by
Professional Manager