Mothercare must modernise to survive, says new chief executive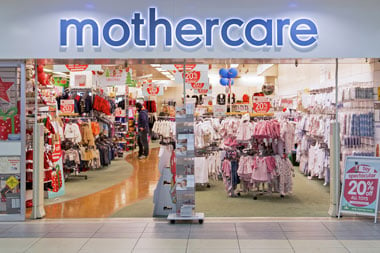 Mark Newton-Jones wants the business to move away from heavy price discounting and focus on its internet business to challenge supermarkets and e-retailers
Jermaine Haughton
Baby and toddler retail brand Mothercare will have to invest in its infrastructure, stores and head office systems to become a profit-making UK company again, according to the company's new chief executive Mark Newton-Jones. Despite the firm's international sales rising by 14.7% in the 15 weeks to 12 July, total UK sales have fallen by 1.2% after store closures. Online sales, meanwhile, sank by 7%. As a result, company shares have dropped by 41% since last year.
Faced with the major challenge of reviving Mothercare's UK operations, Newton-Jones – who has been officially appointed CEO after four months as interim boss – will put an end to large price discounts and promotions. "We've taken the view over the past few months that we need to be more of a full-price retailer," he said, "with less promotions and discounting activity."
Ultimately, though, any transformation in Mothercare's fortunes will derive from investment in modernising the firm's stores and systems, to compete with more advanced bricks-and-mortar and online rivals. With his previous experience including almost a decade at the helm of Shop Direct, Newton-Jones said that Mothercare needs to focus on product improvement, cost cutting and cash generation, plus rebuilding gross margins and improving its physical and digital retail services.
As supermarkets move into areas outside food such as baby clothing, and online retailers offer increasing convenience and speed, the group has been steadily closing UK stores and developing its web presence to catch-up with competitors. With 220 shops in the UK under the Mothercare and Early Learning Centre brands, the group's UK business annual losses in May of £21.5 million, after sales fell by 7.5%.
However, the new chief executive has not revealed where the cash to fund the changes will be found, and is unlikely to do so until he has completed a full-scale review of the firm in the autumn.
Analysts at Oriel Securities estimate that Mothercare will report an overall pre-tax profit rise of 15.7% to £11million this year. A statement from four executives at the financial firm said: "We understand and support management's desire to remove unprofitable sales from the mix but remain concerned that, last time around, disappointing online sales proved a prelude to difficulties to come in the traditional store estate. Price transparency on the internet is greater and we watch the evolution of these sales with interest."
They added: "Comments from Mark Newton Jones suggest there is significant investment to come into the systems and infrastructure in order to return Mothercare to a modern, world-class retailer. We should expect an increased capex [capital expenditure] bill in due course."
With Newton-Jones' long-term view in mind, check out CMI's new Management 2020 report – a timely critique of "myopic management".
Image of Mothercare storefront courtesy of Martin Good / Shutterstock
Powered by
Professional Manager