Come Friday night: Charles Gulland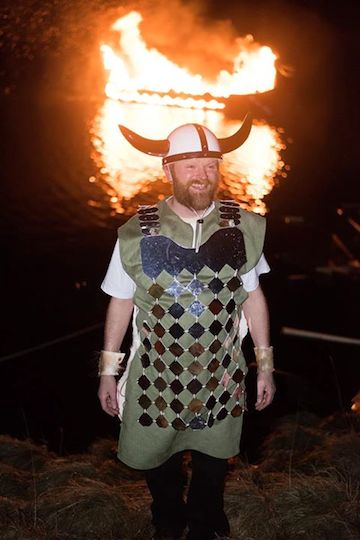 Charles Gulland, director of Wigwam Holidays, says that dressing up as a Viking helps take him out of his comfort zone
What is the festival?
Up Helly Aa comprises eight winter fire festivals held throughout the Shetland Isles, marking the end of Yule.
How and when did you first get involved?
I was asked two years ago to participate in the North Maiven Up Helly Aa by local businessman Magnus Nicholson.
Magnus, proprietor of Braewick Wigwams and Cafe had the lead role in organising the 2015 North Maiven Up Helly Aa festival. As a major event, preparations for Up Helly Aa last all Winter and include building a full scale Viking galley, and designing and building all costumes and weapons including shields, helmets and axes, for the 30 strong Viking Yarl Squad.
The festival itself culminates in an impressive torch-lit procession made up of hundreds of "guizers" wearing a variety of costumes, led by the "Viking Yarl" squad and galley, before ending with the burning of the galley which is cast into the sea blazing in the night.
What is your contribution?
It was a great honour to be asked to be part of the North Maiven Yarl Squad and my contribution involved growing a beard, and participating in the two-day festival. This involved visits to all the local schools and community halls where the Yarl Squad sang traditional Up Helly Aa songs and in the evening joining the "light up" and galley burning followed by performances and festivities at local community dances.
What do you get out of it?
My involvement in the 2015 Shetland Up Helly Aa was a formative and life-changing experience, broadening my knowledge of the Northern Isles and forging lasting friendships and relationships with the Shetland business and rural community. It inspired me to strive to offer music and community events throughout our network and personally reignited my interest in traditional music.
Does anything about it help you in your work role?
The Wigwam Holiday business is reliant on providing great holidays in the great outdoors and all our sites are located in beautiful rural areas throughout the United Kingdom. It was an honour to be a part of a tradition in one such community and reinforced the importance of culture, tradition and people in our wider brand. It is always worthwhile in participating in activities that stretch you and take you out of your comfort zone. Business, as with life, requires constant risks pressure and upward momentum.
Interviewed by Colin Marrs
Powered by
Professional Manager