Internovation: Inspirational tales of interns who grew to greatness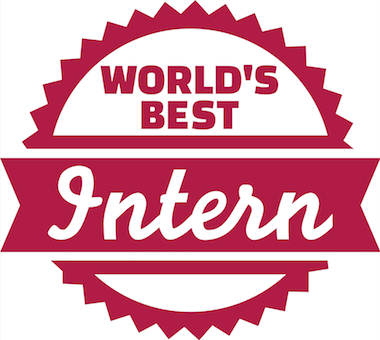 Once they were irritants, consigned to meaningless summer tasks. These days, your interns might become your best ever hires
Matthew Rock
It's summer intern season, that special time of year when, all around the world, multi-thousands of employees' nieces, nephews, partners and cousins present themselves for service at (often) unsuspecting employers.
Traditionally, the results have been mixed. Interns, hopeful of a constructive immersion in the new norms of the workplace, often found themselves tasked with fatuous "research projects" that stood zero chance of reaching their boss's attention, let alone the light of day.
But employers' attitudes are changing. Increasingly, these ardent youngsters are being seen seen as a rare window onto a new world. They may look fresh-faced, but interns are often the most technically advanced and gifted people in the building. Incumbent employees marvel at their swift grasp of technology, their easy facility with social media. No longer the irritant outcasts; these days interns are the smartest guys in the room.
There's a great episode of the BBC's comedy series W1A when the hapless intern Will Humphries saves his bosses' skin by knowing French tennis ace Jo-Wilfried Tsonga. You just never know who and what the intern might know...
If you want to understand the value that some organisations place on intern recruitment, take a look at these salaries paid to US interns.
This was a list put on Twitter at the end of 2014: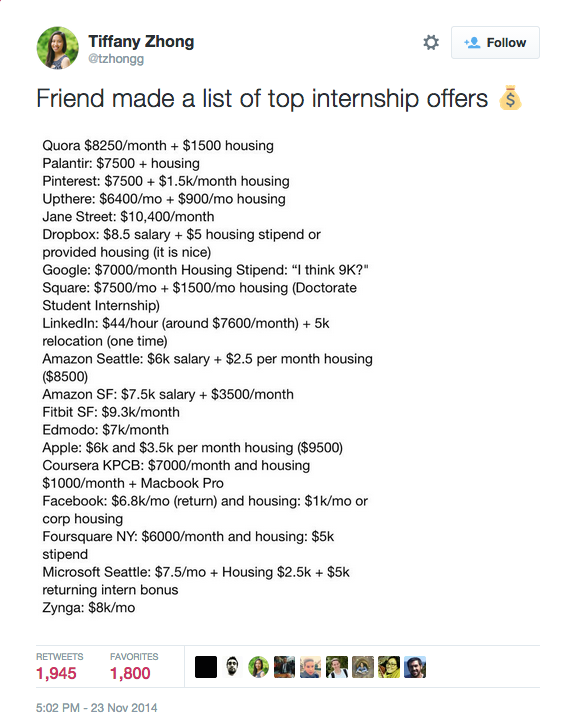 Velvet, has this advice for fruitful intern management:
Offer one-month or two-week paid internship options depending on what suits the intern
For graduates, try extending this to three months if you think they're showing promise
Give them a spread of work, and make them feel part of the business (rather than just the person who makes the tea!)
Appoint a specific staffer as a 'buddy'
Plan tasks in advance
Give them an overarching view of the sort of work you do
It's okay to include ad-hoc tasks such as collecting the post: it's all part of showing how an office functions
Make sure you give feedback on their work, so they leave with tangible learnings on everything – from office etiquette to writing capability, and telephone manners
Still not convinced? Consider some of these interns who went on to greatness…
Kejia Zhu joined Mint Digital as a graduate in 2010 to help with new product development. He soon became indispensable, beginning work on a new product called Stickygram ("Instagram photos on magnets"). Two years later, Stickygram was spun off and sold to Photobox for millions
George Hu is widely regarded as the most successful intern in history, who joined Salesforce when it was a three-year-old start-up and is now chief operating officer at the multi-billion SAAS giant
While doing work experience at the University of Glamorgan's Faulkes Telescope Project, Hannah Blyth identified 22 new asteroids some 300 million miles from earth. She went on to become a Women of the Future award winner
Ellis Jones joined the youth media company Vice on an internship in 2009, becoming editor-in-chief in 2015
Steven Spielberg did an internship at Universal Studios when he was 17. He used the time to network with directors and even made a short film, which was commended by his bosses. They offered him a job and a movie-making legend's career was under way
Some even choose to do internships later in life to pick up knowledge. Global rap star Kanye West did a stint at Gap in New York in order to learn about the industry before launching his own fashion venture of his own
Finally, no management article is complete without a Steve Jobs tale. In 1975, he hassled Hewlett-Packard president William Hewlett into offering him a summer internship and the use of some parts "for a high school project." While at HP, Jobs met Steve Wozniak and the two men went on to found a computer business called Apple
So before you consign your summer interns off to some meaningless back-of-beyond task, try asking them what they're good at?
It might be the most fruitful conversation you have all year.
Images courtesy of Shutterstock
Powered by
Professional Manager