Six Bosses Who Were Rewarded For Failure - And Why It Is So Dangerous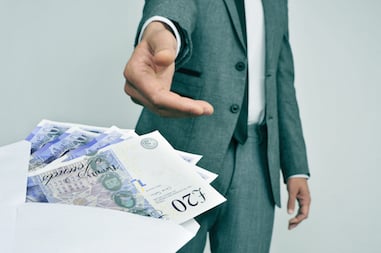 From banking to supermarkets, failing CEOs are often shown to the exit door with a healthy sum of money filling their wallets. But with the general public still baffled by the millions of pounds that follow a high profile dismissal, what impact does these payoffs have on the reputation and financial performance of the companies these failed bosses leave behind?
Jermaine Haughton
For the majority of workers, failure is eventually met with dismissal and all of its negative consequences, from endless job hunting to cutting back on life's little luxuries. However, it seems failed blue chip executives are instead rewarded with multi-million pound payoffs as they exit stage left.
Earlier this week, it was revealed that fired Barclays chief executive Antony Jenkins will receive up to £28m, including a £2.4m 'golden goodbye' and nearly £11m in bonuses, following his failed tenure at the bank.
In 2012 Jenkins replaced Bob Diamond as the boss of Barclays bank following the Libor rate scandal and was tasked with cutting costs and bureaucracy at the high street lender. But he was deemed to have been too slow in paring back costs and was sacked by chairman John McFarlane at the bank's Canary Wharf headquarters. (Source)
Despite the economy picking up in the past 18 months, much of the same public reticence towards chief executive pay remains, particularly as the failures of millionaire bosses tend to result in employee job losses and cuts to resources that make the day-to-day life of frontline staff even more difficult.
But the millions being thrown at failed bosses does not just leave an unsavoury taste in the mouth, the resulting fallout can also cause severe damage to the reputation – and ultimately the financial performance – of organisations who reward failure with a handsome payoff.
Here are five other instances of bosses raking it in after they were sacked, and that their payoffs meant for the fortunes of their former employers.
Dalton Philips
Despite leading UK supermarket chain Morrison to disappointing sales and profits, sacked chief executive Philips received a £1.1m payoff, in addition to doubling his pay during his last year to £2.1m. Criticised for his "butterfly thinking", the well-compensated Philips' underperformance has added to the public's confusion over the direction of the supermarket chain, with many customers wary of whether the brand has steered too far clear of its humble market-stall roots.
New boss David Potts has moved quickly to counter these concerns presenting himself in a more informal manner with his "working middle-aged dad" style to help him relate to shoppers, as well as promising a greater focus on in-store customer service.
Philip Clarke
The former Tesco boss presided over the supermarket chain's biggest fall in market share in at least 20 years. Yet, Clarke's sacking in 2014 still earned him almost £10m, mainly through share schemes and bonuses. Combined with the £262m accounting scandal and its worst profits in 40 years, the hefty financial rewards sent Clarke's way have only served to undermine the confidence of suppliers, employees, investors and customers.
A symbol of Britain's economic success in the early 2000s, the tumultuous last two years have relegated Tesco's image to lowly depths. Clarke's successor Dave Lewis has moved immediately to revive staff and shoppers trust by forcing HQ managers to work in stores during the busy Christmas period and lowering product prices.
---
Find out how Tesco is now trying to claw back some of this payoff
---
Don Thompson
Forced out by shareholders for delivering McDonald's its first fall in sales in 12 years, former CEO Thompson has been placed in a new consultancy role helping successor Steve Easterbrook – with the fast food giant paying him £1.9m for his efforts.
Despite failing to halt the corporation's market share slump to rivals such as Shake Shack and Five Guys, Thompson has reportedly earned more than £20m since becoming McDonald's chief, which provides a startling picture of the salary inequality between the fast food chain's C-Suite and frontline staff, who earn an average of just £6.64 per hour.
The bad publicity has been intensified after McDonald's created a now-private website for workers detailing how they should budget their finances, which critics pointed to as patronising for the fast food chain's employees. (Source 1) (Source 2)
Gregg W. Steinhafel
US retailer Target reportedly paid ex-CEO Steinhafel as much as £18.4m, including his full pay for 2013/14, after he handed in his resignation in May 2014. The multi-million pound parting gift has been particularly hard for the US public to swallow considering Steinhafel was forced to leave the company after he failed to implement recommended levels of cyber security and neglected warning signs that eventually led to hackers making off with 70 million Americans' credit and debit card data.
The lack of customer faith in Target has been significant with a reduction in foot traffic resulting in a 2.5% fall in store sales during the fourth quarter of 2014.
Jim Atchison
While 311 workers at SeaWorld lost their jobs due to cost-cutting measures, former boss Jim Atchison received a £1.7m payoff after resigning as CEO at the start of the year. The severance pay is equal to twice his base annual salary, plus his targeted 2013 bonus. The company also confirmed that Atchison would continue as the company's vice chairman and a consultant on international expansion.
The million pound payoff has done little to counter the bad publicity the company has attracted since the release of the documentary Blackfish in October 2013. The film painted an unsavoury picture of how the company treats its signature killer whales, resulting in outcry from animal activists and the general public.
Powered by
Professional Manager