Underperforming, yet still paid a bonus: 2015 National Management Salary Survey results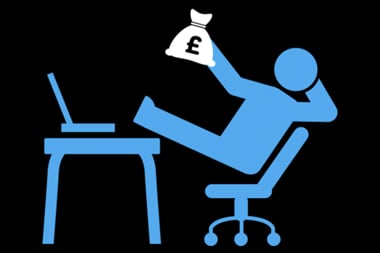 A new survey of 72,206 employees in 317 UK organisations shows an endemic pay-for-poor-performance culture in UK business
Matthew Rock
Almost one-third (30%) of UK managers whose performance was ranked as underperforming were paid a bonus in 2015. This is the headline finding from the latest National Management Salary Survey, conducted by XpertHR and the Chartered Management Institute.
For the first time, the 2015 National Management Salary Survey recorded performance ratings alongside pay and, by doing so, the annual survey found that payment for underperformance is endemic across UK business. Almost half (45%) of senior managers and directors whose performance was rated as "not meeting expectations" received a financial bonus - on average, worth £8,873, but rising to £44,687.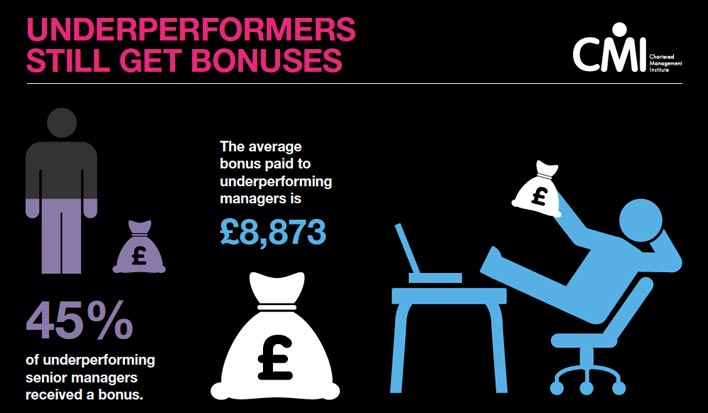 The survey shows managers' salaries rising at 3% in the past year – the biggest annual increase since 2012, and well above inflation. The average salary across all executive levels is £38,328.
The National Management Salary Survey findings come soon after Chancellor George Osborne announced that addressing the UK's poor productivity would be a key priority for the incoming Conservative government.
"Too many managers are reaping the rich rewards of their positions despite being poor performers," said Ann Francke, chief executive of CMI. "Unfortunately, it seems to be a lot easier to reward poor performance than to face the awkwardness of having difficult conversations with underperforming staff."
"There is often a culture of rewarding past glories," said Mark Crail, content director at XpertHR, which conducted the survey. "The biggest and most significant indicator of whether someone will get a bonus this year is whether or not they got one last year. The longer that goes on, the more people come to rely on the money and the harder it is to stop paying it.
Employers need to think about whether it'd be better to address the level of basic pay rather than finding spurious reasons to add on an arbitrary annual bonus that has little basis in performance, Crail continued. Lyndon Wood, CEO and founder of Wales-based insurance company Constructaquote.com, said: "One of the worst things an employer can do is reward sub-standard or work that is not up to scratch".
Recruitment is becoming a pinch point in the economy, the National Management Salary Survey has found: 89% of employers are struggling to recruit new people. The main issues cited were: difficulty in recruiting people with specific skills (75%); poor quality of applicants (37%). Labour turnover has also risen sharply – up from 4.8% in 2014 to 11.4% in 2015.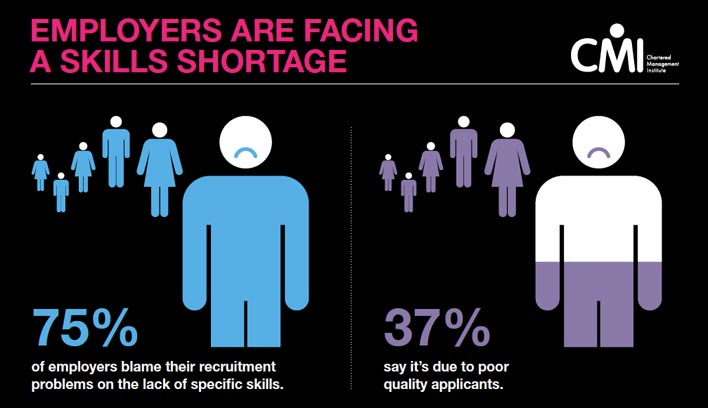 This combination of skills shortages, high staff churn and under-investment in management training is a minefield in the making. Serial digital entrepreneur and investor Martin Leuw said that "since austerity and low inflation kicked in, most organisations have kept pay increases to a bare minimum, so there is a risk that many are carrying 'pay rise debt' which, as markets improve, will require a catch-up to avoid losing members of your team."
Ann Francke was more graphic still: ""A toxic recruitment environment has been created by employers failing to invest in management training and addressing poor performance. The data show that managers are on the move again, and those with the most desirable skill sets are able to demand greater pay and higher bonuses – often without any link to performance targets.
"If employers are to regain the loyalty of their staff and create a working environment that attracts the very best talent in the UK, training and development programmes are critical. By helping staff to achieve their full potential and only rewarding good performance, companies will be reaping the rewards of their investment for many years to come."
Read the National Management Salary Survey 2015.
Need advice on having difficult conversations with underperforming staff? Click here.
How well is performance managed in your organisation? Take the CMI performance test.
Join the conversation on Twitter! @cmi_managers and @InsightsCMI.
Powered by
Professional Manager