The enthralling rise of the purpose-driven enterprise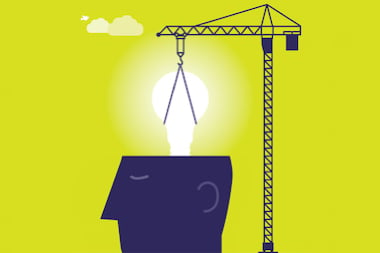 Professional Manager spoke to Sir Ronald Cohen, one of the pioneers of social impact investing, about why businesses need to become increasingly aware of their impacts – positive and negative – on society if they are to keep customers, investors and staff happy
Matthew Rock
Throughout business history, turning points have passed by unnoticed at the time.
In 1912, when an obscure DuPont explosives salesman called Donaldson Brown submitted an internal efficiency dossier to his boss, few realised that the idea of return on investment had just been born, and that generations of future managers would now have the tools to measure a project's performance.
We may look back at a handful of dates in the early 21st century and see these as milestones on the road towards genuinely socially responsible business practice.
September 2008
The global financial crisis that followed the collapse of Lehman Brothers in 2008 shredded public trust in business. At best, events were attributed to business leaders sleeping on the job; for many, though, the banking-induced downturn proved that corporates were only in it for themselves.
The subsequent rise of anti-establishment political parties such as Syriza in Greece and Podemos in Spain shows how raw feelings have since become.
Thomas Piketty's landmark Capital in the Twenty-First Century (2013) gave voice and (apparently) economic rigour to the new spirit of protest. Business, he argued, always has unfair consequences; only deep government intervention could stem capitalism's destructive tide.
But even at this time of despondency, inventive minds were at work on a counter-view.
March 2010
On 18 March 2010, in what still felt like the depths of recession, the UK Ministry of Justice issued a press release announcing its pilot six-year Social Impact Bond (SIB) scheme.
Under this programme, prisoners released after a short sentence from Peterborough prison would be the subject of intensive interventions.
Critically, funding for the intervention was dependent on its success.
As the release put it, "If reoffending in this group of offenders is reduced by a given amount, the investors will receive funds from government which will ultimately result in a long-term saving for the taxpayer, by creating less demand for prison places and so reducing the cost of imprisonment."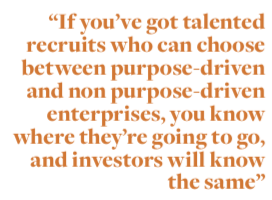 For Sir Ronald Cohen, the pioneering venture capitalist and winner of the 2015 CMI Lifetime Achievement award, this was a historic event.
"That 2010 event was a turning point," he explains. "Up until then, what you had was a world of socially responsible investing where everybody paid lip service to the fact that we shouldn't do bad things. But we didn't really have the ability to deliver positive social returns.
"With the advent of the social impact bond, the thinking began to reverse, I think in a really fundamental way; so fundamental that if Adam Smith were around today, he'd be talking not just about the invisible hand of markets but the invisible heart of markets."
Why was the first SIB so important? "The breakthrough was that we could now measure very accurately an improvement in a social issue," says Cohen. And if we could measure and quantify, we could set targets, and monitor and incentivise performance.
Dozens of new SIBs have been issued since 2010 in fields as diverse as careers advice, nursery education and mental healthcare. Social impact thinking now underpins huge organisations such as Crime Reduction Initiatives (CRI), the charity that provides support to 115,000 vulnerable and homeless people in 160 locations every year.
According to CRI's latest social impact report, the organisation helped 16,269 people beat addiction in 2013/14. Now that's accurate reporting.
August 2010
The ability to measure social impact didn't just provide the social sector with new tools; it opened up many private-sector corporations to the idea that, as well as tracking financial performance, they could quantify social and environmental impacts.
In August 2010, the International Integrated Reporting Council began a pilot programme as part of developing an "international integrated reporting framework".
It would become a new standard for corporate communication that, in effect, provides a formula for organisations to report on their wider social impact and value creation, as well as their balance sheet and P&L.
The process of producing an integrated report forces companies to think in the round about their different 'capitals' – financial, intellectual, human, social and natural – and how these create financial, social and environmental value.
July 2014
Out of adversity, a new dialogue about business's role in society had begun, and in July 2014, CMI's report on the future of management and leadership showed how fast attitudes were changing.
Management 2020 provided evidence that, just six years after trust in business hit rock bottom, managers now expected their organisations to have, and live by, a clear sense of purpose. The landmark report said that in well-led organisations there are three Ps: purpose, people and potential.
"Purpose is the salt in the stew," said CMI chief executive Ann Francke, "because it gives life to the other two."
---
---
Hard evidence has been accumulating that for organisations to prosper they must have a genuine, positive social purpose, not just a well-drafted mission statement.
Deloitte's Culture of Purpose survey has become a consistent barometer of organisations' and employees' views in this regard.
The third survey, conducted in the US in 2014, found that purpose-driven organisations – ones that focus on "making a positive impact on customers, employees and society in general" – are more confident about growth prospects and, significantly, enjoy higher levels of confidence from key stakeholders.
More than 80% of employees working for an organisation with a strong sense of purpose say that they are confident that their organisation will grow this year (compared to 48% in companies where there isn't a similar sense of vocation).
"The passion that is released from having people who are trying to achieve a loftier purpose is huge," says Cohen. "It's all very well trying to enthuse somebody about the corporate mission, but if that's about improving earnings per share, then motivation can hit a glass ceiling.
"But if you say, 'we're doing this because we're saving or improving people's lives and enabling them to improve their education', it taps into a wellspring of empathy."
2015
In 2015, there were signs that purpose-driven leaders are the new icons of management, overtaking more cut-throat entrepreneurs.
Perhaps the world's most celebrated purpose- driven leader is Antonio Luiz Seabra, founder of the Brazilian cosmetics company Natura, which was founded in 1969, is listed on the Brazilian Stock Exchange and employs 7,000-plus people, most of whom are part of the company's profit share scheme.
Natura's raw materials are almost all sourced from Brazilian flora, and there are strict rules about the use of recyclable products.
Paul Polman, chief executive of Unilever, has surprised many with his determination to give the FMCG giant a sense of sustainable purpose. He certainly shocked the markets by moving Unilever away from quarterly reporting.
"I did it on my first day as I figured 'they can't fire me on the first day they hire me,'" he said.
Polman has given clear expression to the dilemmas that can face managers in moving organisations to a more cause- driven model: "We can't all go and join the Peace Corps. We have to produce products, we have to sell them, we have to make money so it's sustainable. But it is possible to do this with a very deep sense of purpose and leave the world a better place," he said on receiving his CMI Gold Medal in 2015.
---
---
Emmanuel Faber, chief executive of Danone, is a much admired purpose-driven leader.
In February 2015, Danone and Mars, two of the world's leading food manufacturers, launched a €120m impact investment fund that aims to improve "the productivity, incomes and living conditions of small rural farmers in developing countries".
While travelling in Argentina in 2006, entrepreneur Blake Mycoskie was profoundly affected by seeing many children without shoes. He created Toms Shoes, a business that matches 'one for one' every pair of shoes that it sells with a new pair of shoes for a child in need. "We believe we can improve people's lives through business," is the company's mantra.
To date, it's given away 35 million pairs of shoes.
Neil Blumenthal of Warby Parker (a company "founded with a rebellious spirit and a lofty objective: to offer designer eyewear at a revolutionary price") and Rob Kalin, the now ousted founder of online marketplace Etsy (which is "committed to using the power of business to create a better world through our platform") are two examples of purpose-driven entrepreneurs.
One of the most remarkable stories is that of Berlin-based software tester Auticon, founded by Dirk Müller-Remus, whose son is on the autism spectrum. The company started in 2011 and today only employs people on the autistic spectrum as IT consultants.
"They have a genuine awareness for quality, outstanding attention to detail and intuitively recognise novel patterns in complex quantities of data. They uncover these patterns swiftly, effortlessly and free of preconceptions," says the company.

Some of these companies are 'B Corps', profit-making companies that are certified by the not-for-profit B Lab and which meet "rigorous standards of social and environmental performance, accountability, and transparency".
Natura is one of the largest B Corps in the world, and Etsy was among the first companies to go public as a B Corps.
Started in the US, B Corps launched in the UK towards the end of 2015 and are making serious headway.
"Essentially, it's a trust mechanism," says Matt Robinson, head of strategy at Big Society Capital, which invests in social enterprises and charities (he was formerly head of social investment in the Cabinet Office). Being a B Corps "gives customers an easy-to-identify, credible and rigorous way to spot a dual-purpose [profit and social benefit] company".
Social media and citizen activism are changing the game. TV campaigns, such as Hugh Fearnley- Whittingstall's assault on the big supermarkets for wasting food, can immediately dent share prices.
For-profit, private-sector companies are attaching themselves to social and environmental causes partly because they know that talent and consumers can be swiftly lured away to higher moral ground.
At the same time, social-sector and government enterprises are developing credible metrics that allow their performance to be assessed – and gives potential investors a likely rate of return.
"For managers, the impact is not unlike the disruption wrought by technology," says Cohen. "It's that big. You'll increasingly find the resources going to organisations that can deliver an attractive combination of financial and social returns.
"And if you've got talented recruits who can choose between purpose-driven and non purpose- driven enterprises, you know where they're going to go, and investors will know the same.
"The time will come, in the next 10 to 20 years, if not before, when people will sell the shares of companies if they're disappointed with the impact they're achieving."
You have been warned...
Sir Ronald Cohen is a guest speaker at CMI's annual President's Dinner on 8 March 2016


Powered by
Professional Manager