FTSE gender diversity 'inexcusable and unacceptable'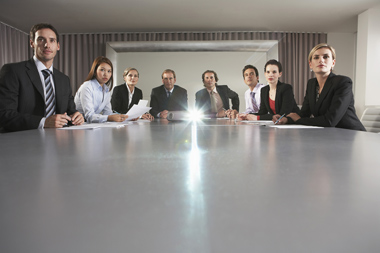 An inquiry by the Equality and Human Rights Commission reveals more than 60% of FTSE 350 and 45% of FTSE 100 companies are failing to hit diversity targets
Matt Scott
Individual FTSE companies are failing to meet their targets on gender diversity despite headline reports of progress among the UK's biggest companies.
A report from the Equality and Human Rights Commission (EHRC) found that 61% of FTSE 350 and 45% of FTSE 100 companies failed to hit their targets of having 25% female representation at board level.
The EHRC labelled the variation in individual company performance on this measure as 'inexcusable and inacceptable' and says 'too few companies are taking action for improvement such as setting targets or encouraging applications from women'.
CMI director of external affairs Petra Wilton said it was now time for all FTSE 350 companies to accept their responsibility for improving boardroom diversity.
"Lord Davies set the ball rolling and we've seen a steady rise in the overall number of women serving on FTSE 100 boards," she said. "As the EHRC report shows, this is being used as fig leaf by less progressive FTSE 350 companies.
"The Davies report proved that setting targets and being transparent in reporting works. It's time for all FTSE 350 businesses to do the same."
---
Currently, only 38% of boards set concrete objectives or targets to increase the number of women on their board, despite more than three quarters (76%) having a board diversity policy.
Wilton said that it was no longer enough for boards to say they encourage diversity, and called on businesses to embed diversity targets into their way of thinking.
"Such targets must be embedded in business planning; just parachuting women into board roles won't lead to sustainable changes at the top," she said. "Companies must adopt measures to unblock the talent pipeline that prevents all too many women from aspiring to and achieving the biggest roles in business."
The report also found that apparent progress on female board representation may actually be masking the true picture, with fewer than half (47%) of companies increasing their female board representation over the period covered by the inquiry, while 46% of boards either remained the same or even decreased the proportion of women.
Of the companies that increased the proportion of women on their boards, almost one third's (31%) overall board size was reduced, rather than more women being appointed.
Equality and Human Rights Commissioner Laura Carstensen said: "'Despite welcome progress and vital work by Lord Davies, our top Boards still remain blatantly male and white, with inexcusable and unacceptable discrepancies between companies.
"The good work of a forward thinking minority masks that many top businesses are still only paying lip service to improving the representation of women on boards."
"The best companies are showing that having talented women on their boards is boosting both performance and fairness," she added. "Unfortunately the recruitment practices of too many businesses still remain trapped in permafrost and that's holding back women and ultimately the companies themselves."
Fuelling the gender pay gap
For executive roles, the position is even more stark. Nearly three quarters of FTSE 100 companies and 90% of FTSE 250 companies had no female executive directors at all on their boards during the period surveyed by the Commission.
And a lack of women in senior ranking board positions is fuelling a gender pay gap that CMI research says stands at £14,943 for senior or director-level staff.
CMI chief executive Ann Francke said it was now time for businesses to address this problem and hire more women in executive level roles.
"While some progress is being made, it's clear from our research that Lord Davies is right to target the executive pipeline," she said. "Having more women in senior executive roles will pave the way for others and ensure they're paid the same as their male colleagues at every stage of their careers."
Old boys' network to blame
The EHRC pointed to the outdated 'old boys' networks' as one of the key reasons behind the low number of women on British boards.
Nearly a third of companies (32%) reported largely relying on the personal networks of current and recent board members to identify new candidates and a similar proportion of companies using personal networks did not use any other means of advertising the post.
The diversity of applicants is also potentially being limited by virtually no open advertising of board roles – just 2% of companies publicise non-executive roles on their websites, in newspapers or on social media.
"The recruitment process to the boards of Britain's top companies remains shadowy and opaque and is acting as a barrier to unleashing female talent," Carstensen said. "Our inquiry calls for more open, fair and transparent recruitment to tackle an alarming disparity in performance across the FTSE 350."
Powered by
Professional Manager