How to Design a Killer Staff Bonus Scheme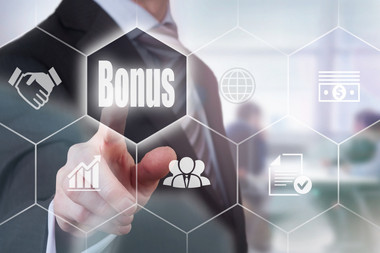 With CMI research revealing many bonus structures aren't working, Insights takes a look at four ways you can make sure your bonus scheme does its job
Jermaine Haughton
Acknowledging the hard work and commitment of the people developing your business, bonus schemes are a brilliant way to stimulate a buzz throughout your company by giving them a contribution from the company's profits.
Since the start of the economic crash eight years ago, however, bonuses have been much-debated in newspaper columns and TV news programmes, especially in regards to how large bonuses payments acted as a motivator for bankers and financial chiefs to act recklessly and unethically during a number of banking scandals.
The announcement of a near £5billion bonus bonanza for the top staff at Britain's biggest banks HSBC, Barclays, Lloyds and Royal Bank of Scotland earlier this year, was widely met with disappointment and cynicism from the public. Over the past decade, each of them has been responsible for at least one banking scandal - ranging from aiding rich clients to dodge taxes to misselling financial products to customers to manipulating the LIBOR rate.
In other industries, large compensation to executives have been equally as controversial in recent years. In CMI's latest Salary Survey, the report found that £4,270 was the average bonus payment made to underperforming managers, equivalent to 12% of their basic pay taking total packages to £40,067. The 2016 Survey incorporates data for 105,394 individual employees, submitted by 425 organisations.
CMI chief executive Ann Francke said: "The truth is that bonuses continue to remain divorced from performance in too many organisations. Fixing the problem means setting clear targets, aligning bonus pay with performance, and being prepared to have difficult conversations with underperformers who don't measure up."
Martin Sorrell, boss of multi-communications giant WPP, was forced to spend much of late April defending his £70.4million compensation deal on various TV, radio and newspaper outlets.
Announced as WPP reported a 5.1% increase in quarterly revenues to £3.1bn compared with last year, Sorrell's annual salary was £1.15m, with the rest consisting of short-term bonuses and other benefits.
His salary dwarfs his peers at rival firms, as Omnicom CEO John Wren received £16 million in total compensation for 2015, while Interpublic CEO Michael Roth got £10 million.
Also, a growing number of activist shareholders are taking a stand.
Investors have voted against pay deals at BP and Smith & Nephew, and there have been big protest votes at companies such as Anglo American, Shire Pharmaceuticals and CRH.
Tomasz Obloj, professor of strategy at business school HEC Paris, explained that employers must be cautious of the possible long-term consequences their financial bonuses will have on staff behaviour.
Obloj has said: "First, the efficiency of such systems changes over time. While the productive effects are pronounced early on, the adverse consequences manifest themselves more and more as employees learn the loopholes in the system and figure out how to game it.
"Furthermore, the negative consequences of this "incentive gaming" are inherently linked to the ability of employees within a firm. The smarter the employees are, the more exposed the firm is to the dark side of incentive systems as high-performing staff are the most likely to work out how such systems work."
Nevertheless, as companies such as the John Lewis Partnership have shown in the past, successful bonus schemes can underpin success, good performance and profitability at their firm for many years.
But there are a number of considerations for managers in creating a thriving bonus system. These include, but are not limited to, should it be paid monthly or annually? Should it be for individual performance or for group performance? What are the risks I must try to avoid?
Here are four ways any employer can produce profit-making bonus scheme for their staff:
Pick the Right Reward for Organisational Objectives: Bonuses and rewards strategies must benefit the employer, as well as the employee. In traditional sales environment, whereby the more products and services sold to customers, the more revenue for the whole company, many directors opt to reward high performers by bonuses and target related commissions.
On the other hand, if a company is looking to improve its employee retention and longevity, providing cash or share bonuses to staff at certain set milestones and anniversaries, such as every three or five years could be ideal.
Include the Whole Team: Bonuses and financial rewards are typically engineered for one or two key performers, i.e. the top salesperson, highest query handler or most productive administrator.
Companies can, however, benefit from building a bonus programme that benefits a wider pool of staff, preventing the demoralisation of non-key performers. Rather than singling out just an individual for special rewards, managers can adopt a strategy that rewards any worker who performs to the level or standard stated in the criteria. For example, a London communications firm award a bonus to all client services manager's customers increase their spend with the company by at least 15% each year.
Reward Other Positive Behaviour: Although there may be a temptation to introduce bonuses simply for client-facing, sales-driving employees in your organisation, effective bonus schemes should also include other targets that recognise other important factors that contribute to the profitability of the respective company - from employee diversity targets to ethical business practice goals.
Peter Garnt, CEO of CloudApps, implemented 'green bonuses' at his firm by rewarding employees for their environmental action – such as recycling waste and switching off lights and computers - and says significant cost savings were made.
He said: "It had an annual travel cost of $24m (£15m); saw a 25% reduction in taxi use; 15% reduction in mileage claims; and a 7% reduction in flights. This in turn led to 10% reduction in its annual carbon footprint; a 9% reduction in annual expense costs; and a total of 27,000 hours spent working rather than travelling.
"This directly created cost savings and could be traced down to individual employees."
Put it in Writing:
Record all the details of the bonus scheme in writing so the terms are easily understandable and outline whether the bonus is discretionary, non-contractual or reviewable.
Plan ahead by making it clear in writing whether they will be entitled to receive a bonus payment that is due during their notice period, which could be very important if a key performer is poached by a competitor or you have dismissed them.
Powered by
Professional Manager