Inside Adnams: Probiotic Management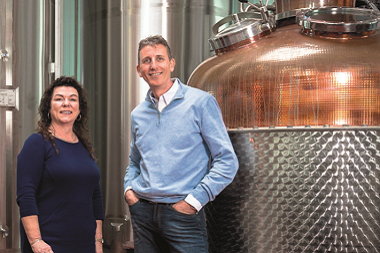 The company you are today probably isn't the one you need to be in a few years' time. So how has the renowned Suffolk brewer Adnams created its uniquely adaptable culture? We take a look inside
Stuart Rock
Rational economic analysis would tell you that a medium-sized company in the brewing and pub business, situated more than 80 miles from a motorway, might be finding current market conditions more than a little challenging.
Competition has not just got bigger, but more numerous. Global brewery consolidation has created an industry colossus; the merged AB InBev/SABMiller will brew three in every 10 pints sold around the world.
At the grassroots, microbreweries are popping up everywhere, and the total number of UK breweries is now at an 80-year high.
Add to this the strident anti-alcohol health lobby and the rising popularity of 'dry January'; the growth in coffee shops and the closure of pubs; and the increase in wage costs due to the National Living Wage – and it looks a bit like that fabled 'perfect storm'.
Yet you can see the weather coming when you are on the coast. And Adnams, based in the historic Suffolk resort of Southwold, is thriving.
Its most recent results show pre-tax profits up from £4.4m to £4.7m (despite overall revenues remaining flat at £65m).
This is a confident company: the dividend has been increased, and its ongoing £7m investment programme continues. Such resilience is the hallmark of an astute business. And, boy, has Adnams changed.
In 2000, when current chief executive Andy Wood joined the board, Adnams was defined by two types of (delicious) bitter, 100 or so pubs and a classy, if small, wine-merchant business.
"Then, we were still largely a top-down autocracy," says Wood.
Today, Adnams is a brewer of more than 20 ales and lagers, and a distiller of award-winning gin and vodka. Its pub estate may have halved to 50, but its beers are now sold in more than 30 countries. It has 13 Adnams stores across eastern England, with a burgeoning online presence. Revenues have nearly doubled, and, equally fundamentally, its management culture has changed.
Brewing up change
A lean and rangy figure whose evident physical activity is matched by an equally evident intellectual curiosity, Wood became managing director in 2006 and CEO in 2010.
"The Adnams board allowed me to promote change. The result is what we have today." At the heart of this change, he says, was the introduction of a set of values and a sense of purpose to the organisation – not just focusing on what the company did, but how it was done.
The change, though dramatic, has been gradual.
Adnams is more than 140 years old. (Beer has been brewed on the same site as the present brewery for at least 670 years.)
Apart from the Adnams family, its shareholders range from Suffolk farmers to a college at the University of Cambridge. This is a resilient and patient business. It is also the largest employer in the area, so it's hardly surprising that the majority of Adnams' employees stick around.
"You could cut most of them in half and they would bleed Adnams," laughs chief operating officer Karen Hester, who has been with the company for 28 years.
Yet loyalty and stability can be inimical to innovation and flexibility.
"When we first diversified into other channels, we made the assumption that all our existing processes would work," says Hester. "Actually, it was all about adapting. Our people had to know that it was OK for the shops to do things slightly differently to the brewery.
"We had to change the way we thought about our customers, asking 'what do they want?' rather than 'what do we think they should have?'"
She recalls a phrase from some early workshops that is typical of her down-to-earth approach: "There's no point having a cupboard full of white bread if everyone wants brown."
One pivotal moment in changing the outlook was the construction of a new distribution centre in 2006. It's a nationally important building in terms of its ecological standards.
"It sent a big message to everyone that we are serious about our social and environmental values," says Hester, who was the project manager. "The company was putting its money where its mouth was."
From the promontories of Southwold, men used to scour the horizon to monitor the movements of Dutch and French frigates. Today, Adnams scours the world for consumer trends. Restless innovation and research buzzes amid the town's ancient trees and 17th- century cannons.
Adnams' inventive master brewer Fergus Fitzgerald tries out recipes for new beers. It was chairman Jonathan Adnams who first saw the emergent trend for artisanal gin when on a visit to the US.
The Adnams family Wood and Hester are obsessive about the company's sensory capabilities. Having a dedicated sales force in London is important for keeping Adnams executives on top of trends.
"London is a global megacity where global trends are set," says Wood. "Our sales team is constantly bringing intelligence back into the business."
The same inquisitive spirit applies to the retail team, which constantly delivers direct insight back to HQ.
"We also look at companies outside our industry who are good at bringing products to market quickly," adds Wood. "We are always talking about how to accelerate our new product development pipeline. It is OK to try something and fail, but we want to fail relatively fast."
As the Adnams portfolio of products and activities grows into retail and distilling, Wood says that it's a management challenge to hold them all under the Adnams brand.
The company is also adding femininity to what used to be an overtly masculine brand: 50% of the executive team are women. The retail business in particular is attracting high-spending female customers.
"Our people live the brand," Wood continues. "I talk about moments of truth. We are delivering beer to 2,000 distribution points. We have hundreds of customers in our shops, and eating meals in our pubs. Every interaction is a moment of truth; it can either go well or badly. I hope we get more of those moments right, because people have at their heart a sense of purpose and values.
"We focus on the potential of people. That means understanding they have different learning styles and speeds. The 18-year-old who joins us out of school may be 21 before they really understand and decide what they can do here. At that point, Adnams has to be there for them and help them blossom, whether that's providing further education or more vocational skills. Of course, this doesn't happen with everyone, and I am not claiming this is nirvana for people development. But being able to spot that potential is so important."
An open system
This is where Hester's story is so valuable. A Southwold native, she joined Adnams in 1988 as a part-time cleaner. A single mother, she had previously served in the army in logistics and transport.
Wood spotted her potential – and the story is now modern Adnams folklore.
She was appointed operations director in 2007. In 2015, she joined the board as the company's first female executive director with responsibility for the operations of the brewery, distillery, hotels, pubs and shops.
"Because I was given that opportunity, I have always been aware that I should try my very best to be a role model," she says.
Similar role models are everywhere in Adnams.
John McCarthy began his career as an electrical maintenance engineer; he's now Adnams' master distiller. Neil Griffin started out supervising the bar at the Crown Hotel in Southwold; he's now Adnams' head of retail.
"Within the world of work, there is still this notion that talent progresses in a linear fashion," observes Wood. "Someone who is good at school goes to university, gets good grades, goes to work at an organisation and progresses to a certain level, and then on to another organisation, and so on up through the hierarchies. That's fine – there's a place for that.
"But organisations miss a trick if they do not consider people with more unconventional backgrounds. Having a bit of life experience is really important. People grow and adapt when they are outside of their comfort zone, not when they are tucked up under their duvet."
It adds up to a determined search for the authentic. "You can't tell a book by its cover," adds Hester. "If I need to interview someone for a job, I won't read about their background or qualifications first. I assume that they are qualified for the job because they have got the interview. I don't want to let bias affect me. I just want to know the person."
The Adnams approach is much more than good managerial hunch, however.
A set of relationships with universities – including the University of East Anglia and Imperial College London – is central to the company's management development, addressing areas such as talent development and succession planning.
"I like to think of Adnams as an open system, not a closed one," says Wood. "All sorts of intangible benefits flow from these relationships."
He continues: "We will always be proud of our 140-plus years of heritage, and will never lose sight of that, but we can't do anything about that. What we can do is respond and shape what will happen tomorrow.
"We are trying to build a business that is truly adaptable; we don't know where the market will go. We all need to learn quickly and work effectively in a volatile, uncertain and ambiguous world. So, yes, we invest in our plant and equipment – but core to what we are doing is developing adaptable people. Individuals need to make sense of this world, for themselves as well as for the business. The journey never finishes."
Or, to put it another way, chuckles Hester, "there's no final-destination bus stop."
Powered by
Professional Manager