Five ways to be a more charismatic leader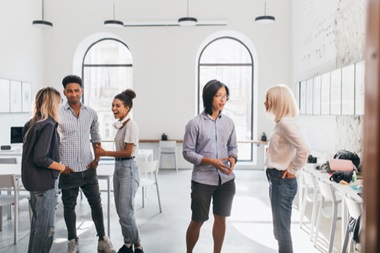 Could a masterclass teach you to be a manager with charm? One writer finds out, with help from psychologist Richard Reid
By Matthew Rock
As a business editor, I get all sorts of invitations, and some are too intriguing to pass up on. When an email came through asking whether I'd like a one-to-one 'charisma masterclass' with renowned psychologist Richard Reid, there was little hesitation, though a touch of fear...
Reid is a calm, thoughtful individual. As you'd expect, he makes you instantly comfortable. He spent his early career as a consultant for strategy consulting firm Booz & Co, but found the work rather process-driven. He was more interested in what makes people tick.
So he retrained as a psychologist and has enjoyed a successful career, including
working with survivors of the 7/7 terrorist attacks in London.
Most of his clients are 'high-functioning' individuals. Many are business people assuming new positions. They need to maximise their potential (and their employers need them to also), so they head to Reid and colleagues at Pinnacle. Here, they develop confidence and what Reid calls "charisma". This isn't about charm, says Reid: "Real charisma is about building long-term, sustainable relationships."
For two hours on a chilly afternoon in a small room in Reid's Mayfair offices, I underwent part of the process that these leaders go through. Below are just a few of the lessons I took away.
FIVE WAYS TO UNLEASH YOUR CHARISMA
WE'RE ALL GETTING MORE ANXIOUS
In Reid's experience of working with business leaders, our tolerance of emotion is diminishing. The pressure of being in demand all the time, allied to the enabling power of technology, is leading to a dramatic rise in mental health issues among leaders. This is compounded by social media, which constantly presents us with images of people performing at their best. This, in turn, makes us anxious about the consequences of making mistakes. "It skews our view of the world," Reid observes. As a result, many people he works with do not enjoy being in a leadership position. His advice is to show some fallibility, which will disarm people and encourage them to do the same.
HAVE A SCRIPT ABOUT YOURSELF
As part of my one-to-one, Reid invited me to pitch myself to him, to explain what I do. I thought I did a decent job, and Reid praised my energy and tonal variety. However, he advised me to shorten my sentences and to think about the structure of my pitch. Don't be too polished, he advises – you'll come across as inauthentic. The most effective leaders have a loose presentation structure but also read the
room and adapt their script accordingly.
PAUSES ARE… CRUCIAL
Specifically, Reid drew my attention to the importance of pauses. Charismatic people appear at ease with the amount of time available to them and do not allow emotions or external events to dictate their pace. Pauses also let the other person process more fully the value of our words and, if they wish, to interrupt. Throughout our session, Reid cautioned against inciting the 'reptilian' part of our own or another's brain – the part that's associated with 'fight or flight'. The best leaders don't trigger hostile, reptilian responses; they make the other party feel safe, as if they've got their back.
LEARN TO LISTEN
Active listening is all the rage in management. Reid and I did a brief exercise in which I quizzed him about his life. I did okay, but I made the common error of interrupting and observing "Oh yes, that happened to me". This hijacking can have the effect of stopping people from saying what they might have. "Allowing people to talk will encourage them
to think positively and feel safe about you," says Reid.
HANDSHAKES ARE A MINEFIELD
In this exercise, I left the room, entered again and reintroduced myself with a handshake. Reid was pleased: good eye contact, nice distance, and not too firm a grip.
Reid says handshakes are complex interactions that reveal a great deal about you. They are increasingly a 'minefield'. Traditionally, a firm handshake was a sign of control and authority – think Donald Trump. With more women holding senior positions, it's less simple. Many people now offer a different style of horizontal handshake. Reid's advice is to read the situation and, if you're a man engaging with a woman, to let them take the lead. Certainly avoid rushing into a handshake and crowding the other person. Remember: real charisma is about making the other person feel safe.
Powered by
Professional Manager