Article:
4 Ways Managers Can Help Their Businesses to Go Green
Wednesday 17 October 2018
These steps can help organisations grow and become eco-friendly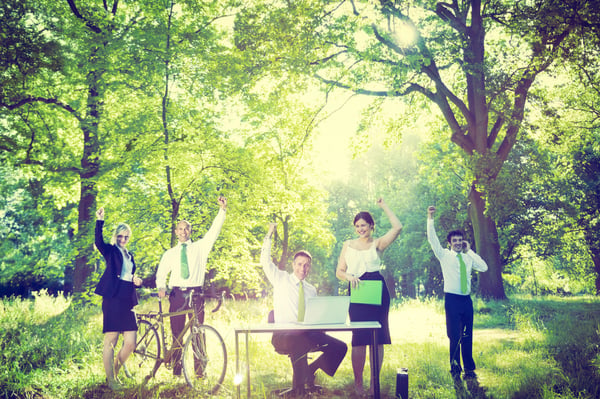 This week is Green GB Week, a series of events and activities that aims to encourage businesses and individuals to reduce their impact on the environment. Over the past decade, the UK has been at the forefront of climate change strategies. In 2008, Britain was the first country to set legally binding emission reduction targets, and in 2015, it played a key role in the global Paris Agreement.
Clean growth – the process of growing the economy while reducing greenhouse gas emissions­ – has been put at the heart of the government's Industrial Strategy, because it could have social, as well as environmental, benefits for us all.
The clean energy industry has the potential to support two million jobs by the year 2030, and Claire Terry, the Minister of State for energy and clean growth, is calling for action. She says: "Clean energy can only be a success if communities and businesses are aware of the opportunities that can be obtained".
CMI's own research on business purpose has shown that values-driven organisations grow faster than their competitors. While overcoming climate change is a hugely ambitious goal, Green GB Week has highlighted four simple actions that managers can take to support greener working practices.
Work With Other Organisations
Collaborations with other businesses – such as green technology providers – can help implement new expertise and ideas. Tech giant HP is part of The Climate Group, a non-profit organisation that works with business leaders to tackle climate change. As part of this project, the company has partnered with Ikea Group and Unilever to increase the use of electric transport within their companies by 2030.
Managers can look into collaborations at a local level by exploring Local Enterprise Partnerships between authorities and businesses. These initiatives encourage organisations to come together to improve their business environment.
Motivate Your Employees To Share Your Goals
From cycle-to-work schemes to green reward schemes, there are many ways that leaders can encourage employees to adopt eco-friendly behaviours.
The University of Strathclyde has recently launched a website and mobile app delivered in collaboration with Green Rewards, which lets staff input their activities, from recycling to commuting on public transport.
Employees who achieve the highest number of 'green points' are able to win individual voucher prizes.
The scheme inspires colleagues to work towards the university's own environmental goals while fostering a community spirit. An organisation with strong values can attract top talent, with the research finding that two in three millennials choose their employer based on its sense of purpose.
Focus On Operations
Of course, organisations can also take practical steps towards workplace sustainability. While businesses may not be able to go to the lengths of Deloitte's Amsterdam HQ, which uses rainwater to flush toilets, and allows employees to regulate temperature through a smartphone app, installing initiatives such as motion-sensor lights and greener cleaning products can help reduce carbon emissions and cut costs.
Businesses can also ask electricity providers and landlords to install a smart meter for their premises. A smart meter monitors energy usage and the data can be used to put energy emissions on the boardroom agenda.
Share Your Green Successes
Whether your organisation has launched a green initiative or cut energy costs, companies should celebrate their clean growth achievements. As part of Green GB week, businesses can encourage to promote their stories through social media, using the hashtags #GreenGB or #Cleangrowth and tagging @beisgovuk on Twitter.
More information about Green GB Week is available here. The CMI's research The What, The Why and The How of Purpose, can also be viewed online