Article:
'A better system': how online and blended learning are changing education forever
Written by Ian Wylie
Tuesday 15 June 2021
What have colleges and universities learned about online and blended learning during the pandemic that they will take forward?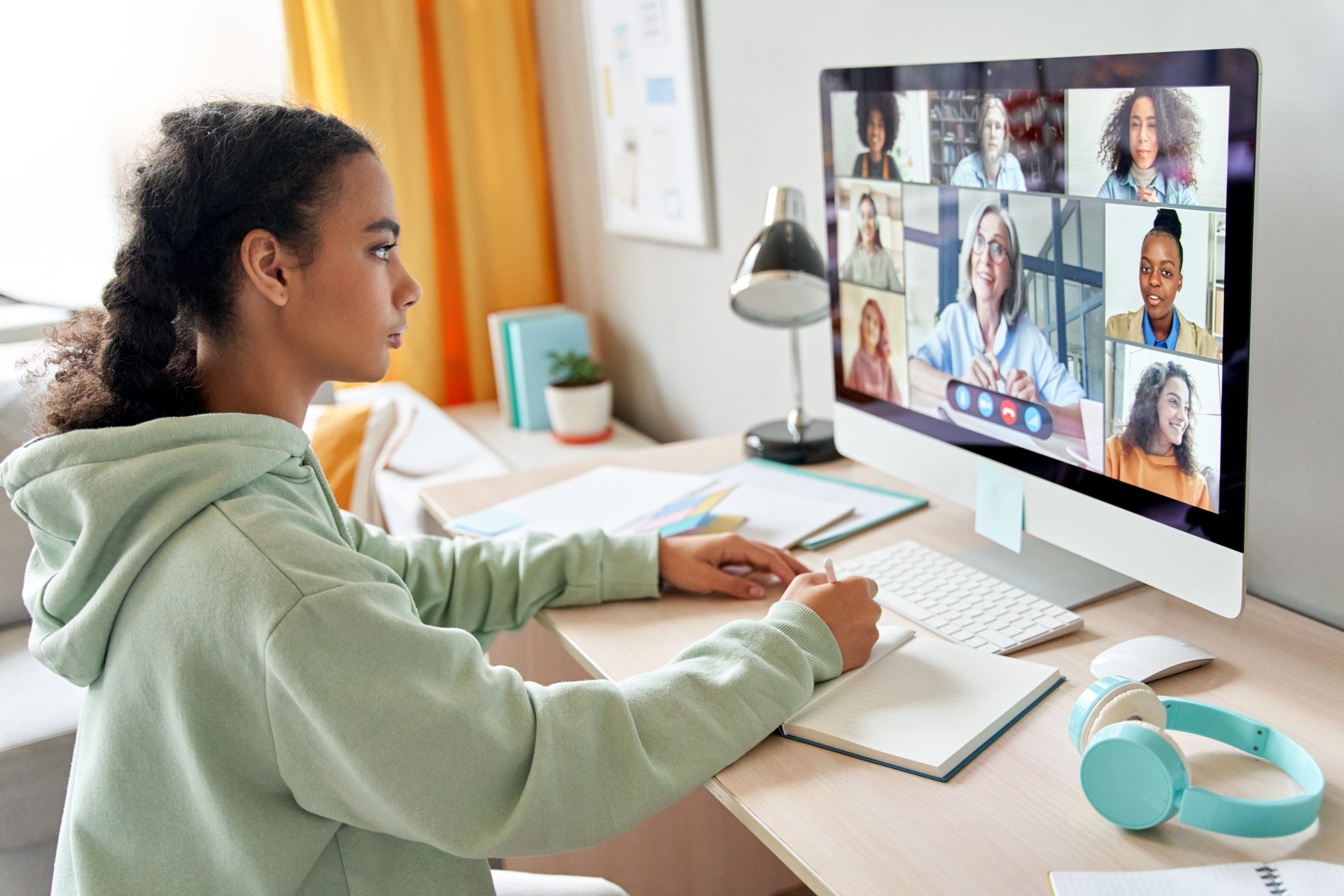 The Coronavirus changed education forever, forcing education establishments to find new ways to engage students and deliver learning. While the process has been hugely demanding, it's led to many exciting innovations.
In Berlin, management school ESMT has transformed three auditoriums into "hybrid classrooms", kitted out with huge video walls, intelligent microphones and tracking cameras so that it can offer similar learning experiences to both remote and in-person learners. Radiography students at Teesside University have been conducting remote experiments using a simulation tool.
The pandemic has also enabled educators to throw open their doors to a wider, more diverse range of learners. Birmingham City University, for example, has launched a flexible online nursing degree aimed at widening access into the profession for people who may have thought about nursing but couldn't balance study with other commitments. The University of Suffolk will be continuing its blend of online and face-to-face learning post-COVID after finding that the mix has worked well for its large proportion of mature students and those who work part-time.
Not all the experiments will work of course, so we asked two leading education thinkers about how to make a sustainable migration to online learning, and where in-person teaching still fits in.
Professor Diana Laurillard, chair of learning with digital technologies at the Institute of Education at University College London
"During the pandemic, people learned that there is more to online learning than they thought. They discovered its benefits and found that there are some things you can do better online than you can do face to face, such as being able to engage a larger number of learners in discussion. Many students are shy or hesitant to take part in a class discussion, but online they can be more confident and take their time.
"Online also means not having to rely on the teacher to do all of the feedback thanks to automated quizzes or through an online peer review process where learners swap and critique each other's work, according to a rubric. That can be a very valuable process, which also improves the quality of final, assessed work.
"There are many ways in which an online environment can help to personalise learning. However, there are still occasions – such as small group projects where the dynamics of social interaction are crucial to thinking and problem-solving – when a video call on Zoom or Teams cannot replicate the experience of a conversation around a coffee table.
"We have also discovered over the past 12 months that online learning is not cheap. Blended learning means more design work for the teacher. There is more upfront investment required in designing what you want and need students to do. But after you've designed it, it can eventually run itself. So, there is a payoff… but it's in the long run.
"In effect, teachers need to learn to act like designers, and also learn to share their ideas within their community, testing them out and building on each other's work, in the same way knowledge is built in science and scholarship. Teachers ought to be able to work like that."
Thomas Arnett, research fellow in education at the Christensen Institute, a San Francisco think tank focused on disruptive innovation
"The conventional approach to education takes a bunch of people of the same age, ideally with the same level of background knowledge or experience, and sits them in front of a teacher who provides the instruction to that group. That has long worked as an effective and pragmatic means of providing education to large groups of people...
"As we exit this pandemic, we have an opportunity to create a better system. Instead of expecting learners to adapt or conform to the system in order to learn, can we make a system that meets the needs of the individual learner?
"Student-centred learning doesn't mean just plugging people into computers to programme their brains. But online learning does make it possible for learners to receive a more individualised experience through self-directed learning. It also frees up the educator's capacity; instead of feeling pressured to cover a certain amount of material in their sessions, they can ask, what are my different students' needs? How do I engage with them individually, to find out and better understand their needs, their motivations? And can I design a learning experience that meets those learning needs?
"Technological infrastructure is fundamental, but it's not the be-all and end-all. Technology can assume some of the role of explaining foundational content in an engaging way and give students basic feedback on their understanding. But the real power lies in the freedom this gives educators.
"It's a very different approach to the educator's practice and mindset. Their role is not to dispense information to a group of people and answer their questions, but to provide them with the resources to explore. It's about co-designing that learning experience with them, according to their needs.
"Learners need a new mindset too – shifting from just turning up and waiting to be told what to do. It gives learners responsibility for deciding when and how they are going to learn. So, learners will need to be coached in this new approach and given guidance in creating structures to help them learn on their own. But in the end, it will be more motivating for learners to have a purpose for learning as opposed to learning because someone told them to do it."
This is an edited version of a longer article first published in CMI's award-winning magazine, available free to CMI members. To find out more about becoming a full CMI member and all the benefits that come with this, visit our members' hub. 
If you've been studying over the past year, why not reach out and tell us what's worked best for you? We'd love to hear from you!
You might also like these posts on this topic:
Don't miss out - get notified of new content
Sign-up to become a Friend of CMI to recieve our free newsletter for a regular round-up of our latest insight and guidance.
CMI members always see more. For the widest selection of content, including CPD tools and multimedia resources, check out how to get involved with CMI membership.